Around The World in 20 Bets
| | | | | | | |
| --- | --- | --- | --- | --- | --- | --- |
| Bet Number | Selection | Sport | Odds | Bookmaker | Result | Running total |
| 2 | Tom Tomsk to beat Torpedo Moscow | Football | 7/5 | BetVictor | Lose | £4.60 |
| 1 | Lokomotiv Moscow to beat Amkar Perm | Football | 13/10 | Stan James | Win | £2 |
Challenger: @prokringe
Around The World in 20 Bets Challenge
Using our trusty pocket calculator, we've worked out that, starting with £2, it only takes 20 bets at average odds of 2/5 (1.4) to win the £1,500 (and a bit of spending money) it costs for a round-the-world plane ticket. Hence, Around The World in 20 Bets.
2/5 shots win all the time. They're banker bets. How hard can it be? Well we'll soon find out. We're offering you the chance to win a round-the-world ticket, or equivalent in cash, by taking a mythical £2 and turning into a flight around the world.
How it works:
1. We give you a mythical £2.
2. You place a series (20) of bets, using your full balance on each bet, by Tweeting your selections to us @FREEbets_org_uk and including the hash tag #AroundTheWorldIn20Bets
3. We document your progress on this page (above).
4. If you back 20 consecutive winners we give you £1,500 (the cost of a round-the-world flight).
5. If you back a loser at any point before your 20th bet then it's game over, sorry, the baton is passed on to the next challenger.
Example entry Tweet:
"@FREEbets_org_uk Bet number 1: Over 3.5 sets in Murray v Federer at odds of 2/5 with Bet365 #AroundTheWorldIn20Bets"
The Rules
1. Your full balance must be staked on each bet.
2. The minimum odds for each individual bet is 1.4 (2/5).
3. All bets must be submitted via Twiiter prior to the start of the event.
4. In-Play bets are NOT eligible.
5. You must state the odds AND bookmaker offering stated odds when submitting your entry.
6. In the interest of keeping things moving you must submit at least TWO bets per week.
6. Only one challenger may partake at any time.
Recent Around The World Challengers
| | | | | | | |
| --- | --- | --- | --- | --- | --- | --- |
| Bet Number | Selection | Sport | Odds | Bookmaker | Result | Running total |
| 6 | Kaya FC to beat Manilla Nomads | Football | 2/5 | Bet365 | Lose | £10.77 |
| 5 | Urawa Red Diamonds to beat Muang Thong Utd | Football | 2/5 | Bet365 | Win | £7.69 |
| 4 | FC Flora Tallinn to beat JK Trans Nava | Football | 2/5 | Bet365 | Win | £5.49 |
| 3 | Bingham to beat Davis | Snooker | 1/2 | Bet365 | Win | £3.92 |
| 2 | Chicago Blackhawks to beat Calgary Flames | Ice Hockey | 2/5 | Bet365 | Win | £2.80 |
| 1 | Al Ahly Cairo to beat Wadi Degla | Football | 2/5 | Bet365 | Win | £2 |
Challenger: @ScottRogan23
| | | | | | | |
| --- | --- | --- | --- | --- | --- | --- |
| Bet Number | Selection | Sport | Odds | Bookmaker | Result | Running total |
| 5 | Brazil to beat Chile | Football | 8/15 | Bet365 | Lose | £9.55 |
| 4 | Carlos Berlocq to beat Daniel Gimeno-Traver | Tennis | 8/15 | Boylesports | Win | £6.23 |
| 3 | David Goffin to beat Adrian Ungur | Tennis | 8/15 | Bet365 | Win | £4.06 |
| 2 | PSG to beat Nice | Football | 9/20 | BetVictor | Win | £2.80 |
| 1 | Over 2.5 goals - R Madrid v R Betis | Football | 2/5 | Bet365 | Win | £2 |
Challenger: @benoakes
| | | | | | |
| --- | --- | --- | --- | --- | --- |
| Bet Number | Selection | Odds | Bookmaker | Result | Running total |
| 2 | Over 2.5 goals - Barca v PSG | 4/9 | Paddy Power | Lose | £2.80 |
| 1 | Dortmund to beat Malaga | 2/5 | Paddy Power | Win | £2 |
Challenger: @ozwaldo1985
| | | | | | | |
| --- | --- | --- | --- | --- | --- | --- |
| Bet Number | Selection | Sport | Odds | Bookmaker | Result | Running total |
| 5 | Pereira to beat Trinker | Tennis | 2/5 | Paddy Power | Lose | £8.30 |
| 4 | Dortmund to beat Furth | Football | 7/15 | Betfair | Win | £5.66 |
| 3 | Vinci to beat Pliskova | Tennis | 4/9 | Bet365 | Win | £3.92 |
| 2 | Over 1.5 goals R Kazan v Chelsea | Football | 2/5 | BetVictor | Win | £2.80 |
| 1 | Zemlja to beat Laaksonen | Tennis | 2/5 | Betfred | Win | £2 |
Challenger: @KurtBrockley
Featured Bookmaker
Paddy Power are currently offering a matched £50 Free bet to new customers
Videos
Kev Lard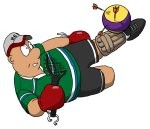 Kev Lard
Comic Strip