Authors on freebets.org.uk
Adrian Clarke is a former Arsenal footballer-turned freelance journalist who has played at every level of English football from the Premier League to the Conference. Since retiring from the professional game he has written for many newspapers, magazines and websites around the world including World Soccer, UEFA, FourFourTwo, Champions, Singapore Today, The Asahi Shimbun, BT Sport and the Premier League...
Exposed to the gaming industry at an early age initially helping out independent bookmakers on the rails at racecourses Anthony has since gone on to work for some of the industries biggest names both in Europe & Asia...
With years of experience and knowledge from working within the industries biggest bookmakers and bet brokers, Antony is our expert on Horse Racing, and often shares his betting know-how and expertise in other fields such as Football and the increasingly popular culture of novelty betting...
Carl Newby is "The newby" to FREEbets.org.uk but has been in around the world of gambling for twenty years. He first started out as a croupier inside his local casino. Thereafter, he set up his first blackjack team and with the help of a backer, played blackjack to supplement his income until 2002...
Chris was born in Leeds but grew up in North West London, a stones throw from Wembley. Unfortunately for him, however, the former of these facts had the larger impact on his sporting life condemning him to become a Leeds United fan...
From an early childhood was nicknamed 'Maradonna' on the football pitch not because of a similar, silky ability as the diminutive Argentinian but rather for his short, stubby and surprisingly hairy legs for one so young...
James has played golf from an early age, but it only became his primary sport when necessary evils such as work got in the way of his other sports: cricket, hockey, football and running. Since then James has played for his club's scratch team, and spends much of his spare time playing scratch events around the North of England...
A big - and we mean BIG - football fan, Jaymes supports one of the lesser teams in the Premier League (at time of writing!) - and yes, this is to cause a stir - but he sticks with them no matter what and it's a credit to a man's stamina when he stubbornly holds on to a futile dream of his team ever taking the title...
Jim writes about sport, television, comedy (sometimes all at the same time) and has written for Mirror Football, Guardian Sport, Sabotage Times, The Independent and ESPN. He is also a standup comedian and has a YouTube channel with comedy football songs thatís had more than 700,000 hits...
Michael Cox writes the Zonal Marking blog about football tactics, and writes a tactical breakdown of a weekend Premier League game in Monday's Guardian. He also writes weekly columns for ESPN and FourFourTwo and has appeared on Radio 5 Live to discuss Champions...
Hailing from Yorkshire is not solely about coal mining and taking your whippet for a pint of bitter; there is also a rich sporting history in the county, and Phil was engrained in this from a young age...
The new voice of golf, Rob is the owner of #GCW one of the most popular golf related twitter pages in the world. A huge all round sports fan Rob comprehensive knowledge of all things golf help pick winners and review areas from a completely fresh angle...
Sam is a big sports fan from Scotland with particular interest in Football, Golf, Basketball and American Football. At 19-years old, he is fairly new to both the writing and betting industries but is hoping to progressively gain more experience...
Tony Ennis is a horse racing expert who has worked for Ladbrokes, SIS and At The Races, amongst others, during an extinguished career. He joins the FREEbets team to bring you racing insight and betting tips...
Get Betting Offers
Get the latest exclusive offers on bookmaker free bets as they happen - It's private & FREE!
100% Privacy, We will never spam you
Get exclusive offers
Videos
More videos »
Kev Lard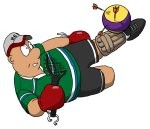 Kev Lard - Comic Strip
Click here to see Kev »
Topical Feature Lists
If you fancy a break from the serious side of betting, take a look at our Topical Feature List for a bit of a giggle.
Click Here To View The List »
Betting Blog
View our latest sports articles in our betting blog
Read Our Blog »