10 Premier League Players who could suffer Second Season Syndrome
Michu, Swansea
Strikers appear most susceptible to 'second season syndrome' – while football's statistical revolution has popularised mathematical measurement of more obscure areas, goalscoring remains the rawest feature of a striker's game.
Michu's debut Premier League campaign at Swansea brought 18 goals from 35 appearances and a Carling Cup medal too. The Spanish striker is difficult to categorise – he's not dependent upon pace, upon his aerial threat, nor can he be regarded as an old-fashioned pure poacher, but his movement is consistently excellent.
That skill repeatedly outfoxed defenders last year, but perhaps they'll work out his strengths the second time around. With 13 goals in the first half of 2012/13, but only five after Christmas, perhaps Michu's amazing early impact was an exaggerated impression of his ability.
Christian Benteke, Aston Villa
Whereas Michu faded in the second half of the season, Benteke had almost the opposite campaign – five league goals in 2012, 14 in 2013. He's an entirely different beast, dependent upon his physicality and supreme jumping and heading ability, and while defenders are fully aware of the Belgian's main qualities, stopping him is an entirely different matter.
Should Benteke remain at Villa Park, his goals output should continue to impress – in fact, with Paul Lambert's side probably becoming more adventurous in possession next season, he should get more service. A move elsewhere might cause problems – Benteke has the quality to play at a superior club, but might find himself linking play as much as providing the goals.
Coutinho, Liverpool
Brendan Rodgers' signing of the Brazilian attacker raised eyebrows considering Inter didn't appear particularly bothered at losing his services, despite selling Wesley Sneijder in the same transfer window. But Coutinho made a huge impression in the second half of last season, demonstrating a penchant for neat through-balls to onrushing attackers, collecting five assists and two goals.
However, those goal contributions all came against bottom-half sides – whereas in home matches against Everton, Chelsea and Tottenham, he was anonymous. Coutinho's first challenge is to make decisive contributions in big games, and his second task is to perform over the course of a whole season – in Italy, he was viewed as a little flimsy and injury-prone.
Arouna Kone, Wigan (set to join Everton)
11 goals, five assists and an FA Cup winner's medal – Kone didn't quite have the impact of Michu or Benteke, but despite Wigan's eventual relegation from the Premier League, the Ivorian can be wholly satisfied with his debut campaign in English football.
Understandably, Kone is reluctant to play Championship football next season, and will join Norwich, Swansea or Everton this summer – with the latter strong favourites. Roberto Martinez understands how to get the best from Kone, but the forward depends upon clever through-balls to meet his runs into the channels – Everton are accustomed to playing with width and crossing the ball frequently, and Kone's adaptation will probably reflect Martinez' level of success at his new club.
Eden Hazard, Chelsea
Somewhat surprisingly nominated for the PFA Player of the Year award following a good, rather than an outstanding first Premier League season, Hazard appears perfect for Jose Mourinho's brand of fast, ruthless counter-attacking football.
The only problem is the arrival of Andre Schurrle – a similar player who starts high on the left flank, then drives towards goal powerfully on the break. Hazard might find himself playing in a different position next season, possibly from the right, but the Belgian is likely to improve under Mourinho's guidance.
Olivier Giroud, Arsenal
Giroud's campaign at Arsenal started slowly but gathered momentum – rather stereotypically, the forward needed to adjust to the physicality and pace of the Premier League before becoming a consistent goalscorer, while his link-up play enabled Arsenal's attacking band of three (Theo Walcott, Santi Cazorla and Lukas Podolski) to all reach double figures in the league.
Giroud was arguably not prolific enough himself – eleven goals isn't a bad return, but there's a legitimate argument that the majority of his goals came when Arsenal were already in command of relatively easy home contests. With Arsene Wenger set to bring in another centre-forward, Giroud might become Arsenal's Plan B – used late on in matches, or against bottom-half sides when others need a rest.
Rickie Lambert, Southampton
Many doubted Lambert's ability to compete at the highest level, but his rise through the divisions hasn't resulted in a significant dip in his goalscoring threat – his record of 0.39 goals in his debut Premier League campaign is similar to his rate of 0.47 when he was playing in League One just two seasons ago.
Lambert's old Rochdale team mate Grant Holt suffered from a classic bout of second season syndrome last time out, managing only eight goals compared to his 15 in 2010/11. Lambert might experience something similar – again, he's dependent upon his movement and the timing of his runs, something defenders are capable of sussing out. Mauricio Pochettino might rotate Lambert if he can purchase a younger striker capable of leading the pressing, too.
Jan Vertonghen, Tottenham
Vertonghen's quality was obvious from his days captaining Ajax, and he was a perfect fit to play in a high defensive line in Andre Villas-Boas' high-tempo, technical Tottenham side. Vertonghen's impact was instant, and his excellent performances were recognised with a place in the PFA Team of the Year.
The Belgian showed admirable versatility, often being moved out to left-back, and his debut campaign was particularly notable for his attacking impact, netting six goals in the Premier League. But there were a couple of defensive lapses in Vertonghen's game – and while he's not renowned as a David Luiz-style defender prone to mistakes, any errors will be more obvious now he's rated as one of the Premier League's finest.
Matija Nastasic, Manchester City
Nastasic can feel aggrieved at not being selected for last year's PFA Young Player of the Year, although the Serbian only actually played in 21 of City's Premier League matches. Joleon Lescott and Kolo Toure were also used alongside Vincent Kompany at times, and the likes of Micah Richards, Pablo Zabaleta and Javi Garcia were used when Roberto Mancini played a back three.
Nastasic's performances were remarkably assured – he's dominant in the air and comfortable on the ground. The next challenge is to perform over the course of the season – it's understandable that the 20-year-old has been protected a this stage of his career, but having played only 56% and 53% of his side's league minutes in the last two campaigns, next season his workload might be significantly greater.
Santi Cazorla, Arsenal
In 2010/11 David Silva was the Premier League's exciting new Spanish playmaker, in 2011/12 Juan Mata was handed the baton, and last year Cazorla was consistently excellent for Arsenal, starting in a central number ten role before switching to a narrow left-sided position in the new year.
Silva and Mata both progressed significantly in their second Premier League campaign, and there's no reason Cazorla can't do the same. He's now played three consecutive top-class seasons with Villarreal, Malaga and Arsenal, and perhaps the stability from one campaign to the next will take his performances to another level.
Cazorla played all of Arsenal's 38 league matches last season, and is currently at the Confederations Cup with Spain, so tiredness is the only obvious barrier to another great season. Otherwise, if Arsenal push on next season, Cazorla might be a candidate for Player of the Season.
June 27th, 2013 by Michael Cox
Videos
More videos »
Kev Lard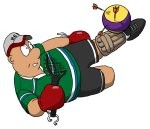 Kev Lard - Comic Strip
Click here to see Kev »