4 Things for Spurs to Consider if They Sell Bale
Don't panic buy
When receiving any sizeable transfer fee – let alone a world record fee – in exchange for a star player, clubs are inevitably tempted to splash the cash on a replacement as soon as possible.
In recent years, this approach has had mixed results. When Atletico Madrid sold Sergio Aguero to Manchester City in 2011 for €45m, it seemed they'd overspent on his replacement, Radamel Falcao, paying €40m for a striker who had enjoyed only one genuinely top-class season. Yet it proved an excellent move, with Falcao's goalscoring record significantly better than Aguero's.
On the other hand, John W Henry thought he'd played a blinder when replacing Fernando Torres with Andy Carroll. "The negotiation for us was simply the difference in prices paid by Chelsea and to Newcastle," Henry told the Guardian. "Those prices could have been £35m [from Chelsea for Torres] and £20m [to Newcastle for Carroll], 40 and 25, or 50 and 35. It was ultimately up to Newcastle how much this was all going to cost. They [Newcastle] made a hell of a deal. We felt the same way." Yet Henry would have been better pocketing the £50m, and saving his money for a better opportunity.
If Bale leaves, every other club in Europe will know Spurs have £80m to spend, and prices will rise accordingly. Spurs need a replacement, but that shouldn't meant they commit to a multimillion deal on someone who isn't right.
Remember what qualities they're replacing
His positional evolution has taken him from a left-back to a goalscoring attacker over the past couple of years, but Bale is still seen primarily as a winger. That's why Spurs have been linked with Angel Di Maria in part-exchange for the Welshman – despite the fact Di Maria has performed consistently over the course of his three years in Madrid, and deserves to be at a Champions League club.
But last season, Bale became almost exclusively a goalscoring attacker, rather than a creative force. Only Robin van Persie and Luis Suarez scored more than his 21 goals, but Bale was one of 65 players to register four or more assists. He created the same number of goals as Kyle Walker and Tom Huddlestone, for example.
When coupled with Andre Villas-Boas' probable switch from a 4-2-3-1 system towards a 4-3-3 – which seems likely given the purchase of Paulinho – it means Spurs wide players will push even higher up the pitch, becoming wide forwards rather than wingers. It remains to be seen how Aaron Lennon, for example, would fit into that system – he prefers getting the ball to feet and dribbling, rather than getting into the box to score goals, his major shortcoming.
The arrival of Nacer Chadli – a perfect 4-3-3 player – means Tottenham will have goals from wide zones. But Di Maria, for example, naturally plays much deeper – for Benfica and for the Argentine national side he's played on the side of a diamond. If Spurs are to invest in a direct replacement, they're primarily looking for a goalscorer, not a creator.
Consider strengthening other positions first
Along with Di Maria, the other Real Madrid player Spurs have been linked with this week is Fabio Coentrao, the Portuguese left-back. While Di Maria would be an imperfect Bale replacement, Coentrao would improve Spurs in their current weak position.
Benoit Assou-Ekotto's Spurs career has been peculiar – initially he appeared something of a liability, although he grew into his left-back role and appeared one of Spurs' better performers a couple of seasons ago.
However, his good form always seemed to coincide with Bale's presence on the left flank – once the Welshman developed into a top-class winger, he helped protect Assou-Ekotto, and also meant the opposition were focused upon stopping him, rather than attacking Assou-Ekotto. But Bale became a roaming, goalscoring attacker last season, and when Assou-Ekotto played at left-back, he was much more exposed.
With the Cameroon international set to turn 30 this year, and Danny Rose still mildly promising rather than a sure-fire superstar, Spurs could certainly do with a player of Coentrao's quality at left-back. Although he's occasionally found life at Real Madrid difficult, Coentrao is one of Europe's best full-backs on his day, capable of tough tackling as well as powerful, enthusiastic bursts down the left flank. If Spurs were to sign the Portuguese left-back, they'd be strengthening their weak spot, while also providing some of the directness lost following Bale's departure.
Consider a loan deal
It may become clear that an immediate replacement isn't possible, in which case Spurs might be better off taking a player on loan for a year. Clearly, the side will be strengthened in some form – with Roberto Soldado set to arrive regardless of Bale's future.
But when it comes to a wide forward, Spurs might consider loaning a player as a short-term replacement – with a view to buying him in a year's time, should he impress. This would provide another attacking option for Villas-Boas, while keeping Spurs' options open should a better target become available in January, or next summer.
Italian clubs, in particular, are particularly open to one-year loan deals for a relatively small fee – with an option to buy at a later date. Spurs have been persistently linked with Roma's Daniel Pablo Osvaldo – a talented but undisciplined wide forward, and therefore perfect for a 'try before you buy' deal. Juventus' Fabio Quagliarella, who has dropped down the pecking order following the arrival of Carlos Tevez and Fernando Llorente, is arguably too old and injury-prone for a permanent move, but could be a decent stopgap. Milan youngster M'Baye Niang – widely expected to become available on a temporary basis after the Champions League qualifiers have been played – could be another option.
It wouldn't be the most exciting response – and fans might be left rather underwhelmed – but it could make financial sense.
July 31st, 2013 by Michael Cox
Videos
More videos »
Kev Lard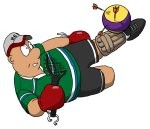 Kev Lard - Comic Strip
Click here to see Kev »