Even when Mario Balotelli isn't on the pitch, he's still the centre of attention. Milan's 2-0 victory over Barcelona on Wednesday night depended upon extraordinary effort from the eleven players, and a superb tactical plan from coach Max Allegri – but even as Milan celebrated at full-time, television pictures flashed to a pitchside Balotelli, celebrating with friends.
Milan might have been better off without Balotelli against Barcelona. Their tactical plan depended upon discipline and commitment from all ten outfielders, with Stephan El Shaarawy playing high up on the left trying to break in behind Daniel Alves, and Kevin-Prince Boateng tucked inside on the right. Giampaolo Pazzini provided the target for long balls, but also dropped back to help Milan get men behind the ball. At times this season, Milan have often lacked the excitement and invention their new signing offers – but Wednesday wasn't a night for Balotelli.
This Sunday certainly is. The Milan derby is a fixture of enormous importance for both sides, and Balotelli's appearance against his former side brings added anticipation. It's relatively common for players to represent both clubs – the likes of Clarence Seedorf, Andrea Pirlo, Christian Vieri switched from Inter to Milan without playing elsewhere, and Pazzini swapped clubs with Antonio Cassano last summer with little controversy.
But Balotelli is a different case: his love for Milan was widely acknowledged, even when he won the Champions League with Inter under Jose Mourinho in 2009/10, and wearing the Rossoneri stripes in the Derby della Madonnina will be an emotional moment for the former Manchester City man.
Balotelli's impact in Serie A so far has been extraordinary. He scored within 25 minutes of his debut against Udinese, then netted a controversial penalty in stoppage time to complete the victory. He scored another late penalty to secure a point at Cagliari the next week, then scored Milan's second in the 2-1 win over Parma. Three matches and four goals – albeit two from penalties – underlines his influence.
Whereas Balotelli was frequently used on the flank by Mourinho, Allegri has placed him firmly in the central striking role. He's the focal point of a Milan side now possessing three quick, tricky runners upfront – El Shaarawy has been a revelation on the left, netting 15 goals, while on the opposite side, M'Baye Niang will probably return to the flank after Boateng was preferred in midweek. For so long Milan's side was based around packing the centre of midfield and distributing the ball calmly and patiently – now, they're about power and energy with the ball.
Balotelli has drifted towards the right since joining Milan, and will relish battling against Inter's left-sided centre-back Juan Jesus. The Inter backline was torn apart by Fiorentina last weekend – their 4-1 defeat actually flattered them, having allowed Fiorentina 11 shots on target, with only Antonio Cassano's late consolation from distance testing the opposition goalkeeper. This recent tendency to allow the opposition plenty of opportunities will play into the hands of Balotelli, who has recorded an amazing 19 shots in his three games for Milan so far. At 6.3 per game, that's a more prolific rate than any other player in Serie A this season (although the caveat is obviously a very low sample size). He will surely have multiple attempts on Sunday night – although in Samir Handanovic, he is facing a goalkeeper in good form.
But Balotelli's temperament is also crucial. Although both Milan clubs play at the San Siro, this is technically Inter's 'home' fixture – which means the stands will be dominated by nerazzurri shirts. Expect Balotelli to be whistled from the outset and throughout, while Inter have a few wily, sneaky players who know Balotelli's tendency to get into trouble with the referee, and will wind him up, testing his cool. Balotelli is yet to be booked in Serie A since his switch from Manchester City, but he's been slightly fortunate to avoid a card, having conceded 12 fouls in three matches.
Keeping an eye on the odds for Balotelli to be booked is worthwhile, but I fancy him to have a positive impact on the game. Three of his four Milan goals have come in the final 15 minutes, so backing him as Last Goalscorer rather than First Goalscorer is wise, with [6.0] on offer at SkyBet.
Videos
Kev Lard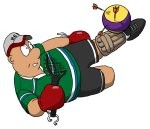 Kev Lard
Comic Strip