When Bayern Munich meet Borussia Dortmund on Saturday evening at Wembley, it will be their tenth meeting in the last three seasons, spread over five separate competitions.
The first five of those nine meetings ended in Dortmund victories – but the previous four matches have seen two Bayern victories, and two league draws that played into the hands of the Bavarian side. Here's a look at each match in turn, and what lessons we can learn from each contest.
Borussia Dortmund 2-0 Bayern Munich, October 2010, Bundesliga
Before we were fully aware that Dortmund against Bayern had become such a key rivalry, Dortmund underlined their title credentials with an impressive, controlled 2-0 home victory.
The pattern of this mini-series was established: Bayern would dominate possession, but Dortmund would excel at transitions. The away side's 65% possession was fruitless, as Mark van Bommel and Danijel Pranjic were overrun by Dortmund's boundless energy on the break, and Dortmund created significantly more chances – two were finished by Lucas Barrios and Nuri Sahin.
The lesson: Dortmund won't attempt to out-pass Bayern, and will instead play on the break
Bayern Munich 1-3 Borussia Dortmund, February 2011, Bundesliga
Dortmund extended their lead over Bayern with a fine away victory – Sahin and Barrios were on target again in an excellent first 20 minutes, while Mats Hummels got on the scoresheet in a comfortable second half for Jurgen Klopp's side.
The key tactical feature of the game was Bastian Schweinsteiger's amazingly deep position – he effectively played as a third centre-back, but was frequently caught in possession when pressed by Dortmund's attackers, was responsible for the opening goal, and was fortunate not to be culpable for another. He was flustered when pressed in the early stages, something that happened against in the European Cup quarter-final second leg against Juventus this season.
The lesson: Schweinsteiger can take time to settle, and should be pressed in the opening minutes
Bayern Munich 0-1 Borussia Dortmund, November 2011, Bundesliga
Klopp's side recorded an important victory at a relatively early stage of the Bundesliga campaign, at a time when they were struggling in the Champions League. Mario Gotze scored the only goal to settle a slow, uneventful game.
Tactically, both sides pushed up and played very high defensive lines, pressing heavily in the midfield. The two central attackers, Shinji Kagawa and Thomas Muller, helped pressure the opposition centre-backs, so both sides' starting 4-2-3-1 often looked more like a 4-4-2. With the game squeezed into the middle third, and both sides lacking creativity from central positions, long balls over the top of either defence looked the most promising route to goal.
The lesson: When both sides press, a more direct approach can be successful
Borussia Dortmund 1-0 Bayern Munich, April 2012, Bundesliga
Robert Lewandoswki's clever flicked finish settled the game – and meant Dortmund took a commanding lead on their way to a second consecutive title.
Whereas both sides had pressed heavily in the reverse league meeting, here both were more passive without the ball. Dortmund closed down individually but then dropped into shape, while Jupp Heynckes' front two retreated into a compact shape, goalside of Dortmund's midfielders. The major contrast here was Mario Gomez against Robert Lewandowski – the Pole won more in the air, made better runs, and provided the finish for the winner.
The lesson: Lewandowski is a fine all-round striker, useful in various zones and phases of play
Borussia Dortmund 5-2 Bayern Munich, May 2012, German Cup Final
Dortmund triumphed with a stunning victory in the DFB-Pokal Cup Final in Berlin, playing scintillating counter-attacking football throughout the game, with Shinji Kagawa and Robert Lewandowski starring.
This was a perfect demonstration of Dortmund's strategy – they played in a deep, compact defensive shape but used the ball brilliantly at transitions. Kagawa, Jakub Blaszczykowski and Kevin Grosskreutz – the three midfield runners in the 4-2-3-1 – played their roles superbly, tracking an opponent without the ball before springing forward immediately on the break to attack Bayern's stranded centre-backs immediately.
The lesson: Bayern are defensively vulnerable when both full-backs push high up the pitch
Bayern Munich 2-1 Borussia Dortmund, August 2012, German Super Cup
Bayern finally ended a run of five consecutive defeats by Dortmund – Arjen Robben and Franck Ribery provided assists as Thomas Muller and Mario Mandzukic scored early goals.
This pre-season contest showed Bayern had the psychological ability to get the better of their title rivals this season, and although the game wasn't tactically fascinating and played at a relatively slow tempo, the immediate impact of Mandzukic was clear. It was also the first time Robben and Ribery had a significant influence on this fixture since Dortmund rose to become title contenders, perhaps because the slow tempo meant they recieved possession more often.
The lesson: The opening to the game is crucial – when Bayern settle quickly, they're capable of winning
Bayern Munich 1-1 Borussia Dortmund, December 2012, Bundesliga
Mario Gotze scored an equaliser from a corner to cancel out Toni Kroos' opener.
The interesting tactical feature of this game was Klopp deciding to change his formation, selecting a defensive minded 4-3-3 that looked more like a 4-5-1, rather than his usual 4-2-3-1. This effectively indicated that he believed Bayern's quality in possession necessitated an extra player in the centre of the pitch, with Marco Reus and Gotze wide, rather than either playing as the number ten. Dortmund pressed in midfield but continually left Kroos free between the lines.
The lesson: Dortmund showed tactical flexibility, but Klopp's belief he needed to adapt his system showed Bayern had become a superior side
Bayern Munich 1-0 Borussia Dortmund, February 2013, German Cup
Arjen Robben settled the game with a classic curler into the far corner – Bayern's nine shots on target to Dortmund's one demonstrates their dominance.
The key feature of this game was the storming performance of Bayern's midfield duo, Bastian Schweinsteiger and Javi Martinez. Whereas two seasons ago Bayern lacked anything like the mobility of Dortmund's duo, here they could compete in terms of energy, physicality and technical quality on the ball. They commanded the centre of the pitch – with Klopp again trying to stop Bayern with three central midfielders – by dominating possession and also storming forward into attack.
The lesson: The signing of Martinez was crucial, allowing Bayern to dominate the centre ground
Borussia Dortmund 1-1 Bayern Munich, May 2012, Bundesliga
Bayern were already champions, and the sides knew they'd be facing each other at Wembley – so they played out a half-hearted draw.
In all likelihood, only three Bayern players who started this match – Manuel Neuer, David Alaba and either Daniel van Buyten or Jerome Boateng – will also begin Saturday's Champions League final. Dortmund, on the other hand, used no fewer than seven players who will hope to start at Wembley. It was not far off Dortmund against Bayern B, and yet the scores were level.
The lesson: Bayern have a significantly deeper squad than Dortmund
Champions League Final £50 Free In-Play Bet
Bet365 are again running their superb in-play free bet offer for Saturday's Champions League Final between Borussia Dortmund & Bayern Munich.
Place a pre-match bet on the Champions League final and you will receive a free In-Play bet to the same stake on the big match, up to £50.
If you do not already have a Bet365 account, sign up here and also claim a £200 free bet as a new customer.
Videos
Kev Lard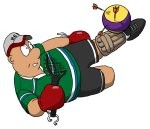 Kev Lard
Comic Strip