For a coach renowned as one of the finest in Europe, Carlo Ancelotti's domestic record is far from sparkling. In fact, it's rather underwhelming. Every season since the summer of 1999, Ancelotti has been in charge of a big club with genuine title aspirations – Juventus, Milan, Chelsea or Paris St-Germain. That's 13 seasons, and yet he's won only two league titles.
It started at Juventus – in two seasons, Ancelotti was twice a runner-up. Sven-Goran Eriksson's Lazio side of 1999/2000 was highly impressive, Fabio Capello's championship-winning Roma team even better the next season. Ancelotti hadn't failed, as such, but he acquired a reputation as a bit of a bottler, someone not quite ruthless enough to lead champions, perhaps the same way Claudio Ranieri is viewed.
It was a surprise when he was appointed by Milan the next season. Let's be fair: we can forgive him for not competing in his first season, 2001/02 – he took over in November with a fractured squad. With Rui Costa struggling to settle, Andrea Pirlo not yet converted to a deep-lying playmaker, Clarence Seedorf still at crosstown rivals Inter, and Kaka in Brazil, Ancelotti's task wasn't to win the title. His final position of fourth was as good as Milan could have expected – it qualified them for the Champions League, which they went on to win the next season.
Make no mistake: Ancelotti built a legendary side that played beautiful football. His Milan were arguably the most consistent side in European competition throughout the last decade – with Real Madrid's Galactico era coming to an end and Barcelona's genuinely golden age yet to begin, Milan were the team to beat in Europe. They won the European Cup in 2003 and 2007, and should have done so in 2005. Under Ancelotti, no European side earned more UEFA coefficient points than Milan.
Yet their league record was terrible. 2003/04 showed what they were capable of, losing only twice on the way to Ancelotti's only Serie A title. But only once under Ancelotti did Milan finish runners-up; they were one of the most feared sides in Europe, yet barely fighting for their own domestic title.
At Chelsea he was slightly fortunate to win the title in his first campaign – never truly discovering his best side, but Chelsea ploughed on with individual brilliance from Frank Lampard and Didier Drogba. The next season, they collapsed dramatically and lacked any kind of character or cohesive strategy; Ancelotti's sacking was inevitable, and although frequently cited as one of Abramovich's harsher dismissals, in reality Ancelotti lacked the vision to succeed, and left no real legacy at the club.
Then there's PSG – Ancelotti took over midway through last season with the Parisian club top of the league thanks to the efforts of his predecessor Antoine Kombouare, but they fell away under Ancelotti and surprise package Montpellier were crowned champions.
This summer, PSG outspent the rest of Ligue 1 combined, last year's champions Montpellier are languishing in the bottom half… Yet PSG are only in fourth position. It's incredible, and yet in keeping with Ancelotti's reputation for poor domestic performances. Of course, in the Champions League, it's a different story. PSG topped their group, winning five games from six, only going down to a late James Rodriguez winner in Porto.
What is it about Ancelotti's sides that sparkle in Europe yet struggle in the league? Maybe it's his preference for packing the pitch with central midfielders, useful for patient tactical battles over two legs on the continent, but less likely to batter defensive-minded minnows in the league. Ancelotti now finds his position in Paris under threat, and PSG's owners must decide what they want – European status is their ultimate aim, but surely they intended on winning Ligue 1 first?
PSG are currently available at 8/13 with Bet365 to win Ligue 1, and around 25/1 with Betfair to win the European Cup. If Ancelotti remains in a job come January, the former should be avoided and the latter is a good back-to-lay bet, for the Italian is a European specialist.
Videos
Kev Lard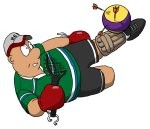 Kev Lard
Comic Strip