With the dynamic duo of Lionel Messi and Cristiano Ronaldo around, it takes something special to grab any headlines in Spanish football, but one man is creating a few of his own thanks to his goal scoring exploits, that man being Radamel Falcao.
Having now scored in eight consecutive games for Athletico Madrid, the Colombian has taken his season's tally so far to 13 goals in nine games for his club and 17 in 13 if you include his strikes for Colombia in the World Cup qualifiers this season. Unsurprisingly, big clubs from around Europe have begun to make gentle enquiries into his availability with the two financial giants of the English game Chelsea and Manchester City leading the way in terms of odds for his signing.
The Stamford Bridge outfit are the strong favourites to land the prolific South American and are odds-on with Paddy Power to do just that. However, they are not expected to do so this season with the price stretching to 3/1 for them to bring him in during the January window.
It is easy to see why Roberto Di Matteo would want the forward in his ranks given the Blues' lack of depth in that department and especially when you compare Falcao's figures to those of Chelsea's premier striker Fernando Torres.
The Spaniard has played one more league game of the two men this season but has managed six fewer goals and this is for the sole striker in a team topping the table with the best goal difference in the division. In Torres' last eight games for his club, he has bagged just two goals, whereas Falcao has notched 13 including two hat-tricks.
Current form has to be considered, but Falcao has the edge in the longer term as well as he banged in 36 goals in 50 appearances for Athletic last year compared to Torres' meagre return of 11 in 49.
Athletico Madrid have had a great production line of strikers in recent years starting with Torres, but after El Nino came Sergio Aguero who would be Falcao's strike partner if Roberto Mancini could lure him to Eastlands. The Argentinian's record stands up much more closely to his fellow South American's after a stunning first year in the Premier League. 30 goals in 39 starts in his first season in England is a memorable achievement and although he has struggled with injury thus far this season, similar statistics will be expected of him this year.
Of course though, as Emile Heskey will tell you, there is more to a frontman's game than simply goals but the Colombian holds his ground across other stats as well. Given his muscular physique it is no surprise that he leads the way considerably between the trio of strikers in terms of dispossessions. Falcao has had the ball taken away from him just 11 times in his eight La Liga matches so far, an average of 1.4 times a game, compare this to Aguero's 2.8 per game and Torres' 3.1 then it shows he has a significant edge in terms of holding the ball up as well as putting it in the net.
Where the Madrid man does dip is in his passing, he is extremely gifted with the ball at his feet for such a powerful forward, but he can't match up to the technical ability of Aguero when knocking the ball around. The Argentine has an impressive pass success rate of 83.6% in the league this season compared to Falcao's 73.1% although the former Porto star still puts Torres to shame as he is lagging behind at 70.8%.
Without being unkind to Fernando, it is difficult to find much evidence in his performances of late that would see him match up to Falcao at all. Even following the controversy around his "dive" at Stamford Bridge against Manchester United it turns out he picks up less free-kicks for his team than his opposite number at Athletico Madrid; Falcao leading the way as he is fouled 1.6 times per game compared to Torres' 1.4 and Aguero's surprisingly low 0.2, according to whoscored.com statistics.
So of the two frontrunners to land the Colombian hitman it seems Chelsea are in greater need of his services. He had also been linked with a move to Real Madrid or Barcelona but given that Ronaldo has equalled his nine league goals so far this season and Messi has gone two better, they should be fine without him. The fact that a man who has scored ten goals in his first eight games of the season can still be backed at 11/1 to be top scorer in the league is further evidence, if we needed any of the outrageous achievements of Leo and Ron. Maybe having half a sniff of winning a golden boot could be enough to tempt Radamel over to England.
Videos
Kev Lard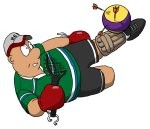 Kev Lard
Comic Strip