While Spain were the deserved winners of the 2010 World Cup – with Holland, Germany and Uruguay also emerging from South Africa with great credit – it's worth remembering that Brazil started the tournament as joint-favourites, or even outright favourites with some bookmakers.
Indeed, until the quarter-final stage, it seemed Brazil were the world's strongest side – as Spain struggled through the group stage and negotiated the knockout stages with a succession of tight 1-0 victories, Brazil looked free-flowing, fluid and excellent on the counter-attack. Even at half-time of the quarter-final defeat to Holland, Brazil seemed almost invincible – just one terrible half, featuring both an own goal and a red card from Felipe Melo, sealed their fate.
All this counts for extremely little, of course. However, it's interesting that the 2014 competition will probably start with exactly the same two sides, Spain and Brazil, as favourites to lift the trophy. That duo currently in a group of four, also including Argentina and Germany, with odds of 11/2 or under. At the moment, it appears a four-horse race – every other side is generally priced up at 20/1 or over.
Spain are currently considered fourth favourites – slightly surprising considering they're the holders, and widely regarded as the best side in international football with just one year until the World Cup starts. That partly reflects their uncertain qualification position, but while Germany are continuing to develop and Argentina will boast the World Cup's best player, Spain are likely to start as joint-favourites once their participation is confirmed.
With both currently competing in the Confederations Cup, Spain and Brazil are in significantly different situations. Spain have a consistent squad and a reliable, cohesive gameplan – although Vicente Del Bosque changed his midfield structure for the 2-1 victory over Uruguay, there was still great familiarity about the way Spain played. With no Xabi Alonso, Spain fielded five Barcelona players in the midfield roles of their 4-2-3-1 system.
Brazil manager Luiz Felipe Scolari is unable to depend upon a long-standing strategy, but he's done a quietly impressive job since taking charge late last year. Brazil's 3-0 victory over Japan wasn't scintillating, but there was evidence of harmony between the units of the side – the defence is the most settled area of the team, the holding midfielders play a much calmer, reliable role than under Mano Menezes, while Oscar and Fred play functional, selfless roles to get the best from Neymar and Hulk.
Nevertheless, it's still slightly difficult to accept Brazil's status as favourites for the World Cup considering their underwhelming results since Scolari took charge. Home advantage counts for a great deal in World Cups, with the hosts generally exceeding expectations – even South Korea reached the semi-final in 2002 – but Brazil still suffer from a lack of raw quality in the final third.
However, whereas mentions of Spain and Brazil conjure up thoughts about beautiful, attack-minded football, both are likely to play cautiously at next summer's tournament. Scolari understands the quality within his back four, where Brazil boast the world's best centre-back in Thiago Silva, while Del Bosque admitted last week that his sides depend upon defence. "Although Spain has been considered an attacking team who gets a lot of goals," he said. "The success in short tournaments was based on our defensive system."
Over the last decade, winners of major international tournaments have been excellent at keeping clean sheets in the knockout stages. In 2002, Brazil kept three clean sheets from four matches, in 2004 Greece three from three, in 2006 Italy three from four – and in 2008, 2010 and 2012, Spain have played ten knockout matches without conceding a single goal. In all probability, a strong defence will decide the 2014 World Cup – and both managers are understandably concentrating upon keeping it tight at the back.
Hopefully, this Confederations Cup will produce a meeting between Del Bosque and Scolari. Despite being arguably the strongest two sides in international football, Spain and Brazil haven't played each other this century– football was denied a showdown between the sides at both the 2009 Confederations Cup and World Cup 2010.
If the meeting does happen, however, don't expect goals – despite what the clichés would suggest, both of these sides put defence first.
Videos
Kev Lard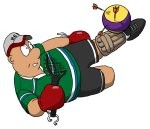 Kev Lard
Comic Strip