Sir Alex Ferguson has become a master of squad rotation in recent years, planning line-ups in 'blocks' of matches, often weeks in advance. He works out when he can afford to rest his star players, and when they need to be fresh ahead of a crucial match.
It's not an original concept, and it's no different to the strategies favoured by many top coaches, but Ferguson has rarely been criticised for his rotation. Rafael Benitez encountered much opposition at Liverpool for resting key men, and that issue (along with zonal marking at corners) was one of the obvious lines of questioning when unveiled at Chelsea. Granted, reports might treat the two men differently in general – but managers only get criticised for rotation when it doesn't work.
Despite his constant rotation, Ferguson is always aware of his best XI, or at least his 'big game' XI. Often, he won't use it three or four times within one season, instead saving it for the most difficult opposition. For example, in United's 2010/11 campaign – when they won the league, reached the Champions League final and the FA Cup semi-final, Ferguson had decided on his favoured XI by the second half of the season. Michael Carrick and Ryan Giggs were the midfield combination, while Wayne Rooney played just behind Javier Hernandez. Antonio Valencia and Park Ji-Sung were fine 'defensive' wingers, while a back four of Rafael or Fabio da Silva, Nemanja Vidic, Rio Ferdinand and Patrice Evra protected Edwin van der Sar.

Ferguson played this line-up – or as close as he could, if one player was injured – away at Arsenal, in a crucial title decider at home to Chelsea, and (on paper) in the three trickiest Champions League ties of the season: away at Chelsea, away at Schalke, and in the final against Barcelona. Against lower opposition, he used others. Nani started 31 of 38 league games but wasn't trusted in big matches, while Dimitar Berbatov started the majority of league fixtures and won the Premier League Golden Boot. But they were never going to start against Barcelona – Berbatov didn't even make the bench.
Therefore, following much speculation about United's line-up against Manchester City at the weekend, it was fascinating that Ferguson named this line-up: De Gea; Rafael, Ferdinand, Evans, Evra; Valencia, Carrick, Cleverley, Young; Rooney, van Persie.
Why? Because Ferguson named exactly the same XI which had defeated Chelsea at Stamford Bridge in October, and exactly the same XI that had recorded a comfortable victory over Arsenal at Old Trafford the next week – which was a rare example of an unchanged side. Aside from these matches against Chelsea, Arsenal and Manchester City, Ferguson has only named nine of those players together in any other match. This XI is his 'big game' XI for 2012/13.
We've witnessed his 'big game' strategy, too. All three matches featured United attacking strongly down the right, especially in the early stages. Rafael and Valencia have a fine partnership – they overloaded Ashley Cole at Stamford Bridge, made Arsenal's Andre Santos look woeful, then set up Rooney's second against City by charging past David Silva and exposing Gael Clichy.
Although United generally dominate possession in the league, there hasn't been a big emphasis upon ball retention in these matches. Arsenal and City dominated possession clearly, as did Chelsea until they were reduced to nine men. United prefer to sit back, are confident Valencia and Ashley Young will perform their defensive duties, and then break quickly. Both goals against City were classic counter-attacking moves.
Playing on the break has often been Ferguson's most profitable strategy in big matches, particularly on the continent, and United now look well equipped to perform well in the Champions League knockout stages – 12.0, available at Boylesports, seems a little too high.
Videos
Kev Lard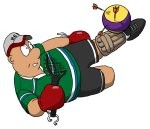 Kev Lard
Comic Strip