Five things England need to do for World Cup 2014
1. Retain the ball better
England have always thrived when playing a more direct form of football than the tiki-taka favoured by Spain recently, and even before the Bundesliga's dominance of the European Cup this season, a German style of football seemed a better template for England than the Spanish style of football.
Still, a consistent problem for England at major international tournaments is tiredness. This was particularly obvious when England were eliminated by Italy at Euro 2012 last year – Roy Hodgson's side may have scraped a 0-0 draw, but they were outplayed in the central midfield zone, with Scott Parker and Steven Gerrard exhausted at an early stage because they spent so long defending.
There's a belief that the more a side retains possession, the less they have to run. That's statistically uncertain, but constantly chasing the ball is certainly mentally draining – England must become less reactive and impose their own football on the game.

2. Excel at attacking transitions
At both ends of the pitch, Hodgson believes that it's difficult to make the breakthrough against an organised, deep, compact defence. For the majority of his coaching career he's favoured a system featuring two solid banks of four, with the midfield protecting the defence keenly.
There's also a strong emphasis on breaking quickly, particularly down the flanks, before the opposition can organise themselves into a good shape. England have a variety of decent wingers, but at Euro 2012 the problem was that these players didn't receive the ball on the run – the first pass out of the defence was often wayward.
Borussia Dortmund have shown how to play counter-attacking football – the way Jurgen Klopp's side sit deep with midfielders tracking opponents before springing past on the break is highly impressive, and an obvious side England can look to for inspiration. Often England's attackers have been criticised for their poor contribution under Hodgson, whereas in reality, they haven't been given the opportunity to make the difference.
3. Establish reliable partnerships
Ideally, international sides are comprised of like-minded individuals who have grown up together and are comfortable playing a defined type of football. The Spain side of the past six years is a perfect example, and they clearly benefit from so many players being together at Barcelona.
If you can't depend upon familiarity throughout the side, you can compensate by creating a succession of good partnerships. In the 5-1 victory over Germany in 2001, still England's outstanding result of this century, there were familiar club partnerships across the pitch. The entire side was comprised of players from three clubs who broadly played in the same sections of the pitch. At the back, there was Arsenal's David Seaman, Sol Campbell and Ashley Cole. Manchester United's Rio Ferdinand, Gary Neville and David Beckham to the right of the defence and midfield, with Paul Scholes in the centre of midfield. Meanwhile, Liverpool's Steven Gerrard and Nicky Barmby provided key attacking contributions to support club teammates Emile Heskey and Michael Owen, who had a great relationship upfront.
They don't necessarily have to be club partnerships, of course, but it would be good to see a growing sense of familiarity across the England side, particularly in key zones such as the centre of defence.
4. Earlier subs
England's 1-1 draw against Montenegro in March was worrying because of Roy Hodgson's lack of intervention, as the opposition increasingly dominated the second half. England had started excellently and were 1-0 up at the break, but Montenegro coach Branko Brnovic made three attack-minded substitutions, with three subtle changes in shape, to get his side back into the game.
Eventually Montenegro managed an equaliser through one of the replacements, Dejan Damjanovic, in the 76th minute. By that stage, England still hadn't made a substitution – and Hodgson said after the game that he didn't think he possessed any options that could have altered the course of the contest.
That was a surprising omission. Recent triumphant international managers have utilised their whole squad excellently, and while England may lack world-class footballers, they do have a decent 23-man squad. Hodgson must use all his players intelligently, for both tactical and morale reasons.
5. Focus on set-pieces
Under Hodgson, England are unlikely to outplay opponents in open, free-flowing matches. Instead, games are set to be tense and tight, with a limited number of chances at either end.
In matches like these, dead ball situations can be vital. At Euro 2012, England scored three of their five goals from set-pieces, with Steven Gerrard's delivery consistently impressive – especially from the right flank. As Greece showed in Euro 2004, if you keep it tight at the back and have limited quality going forward, set-pieces can be a tremendous way to record narrow victories.
However, remember England's two concessions in the 3-2 victory over Sweden, and the way Montenegro snatched a point in March, and it's clear England need to become more efficient at defending set-pieces. It's hardly the most glamorous way to approach a tournament, but excelling at dead ball situations could be the difference between a 0-1 and a 1-0.
May 29th, 2013 by Michael Cox
Videos
More videos »
Kev Lard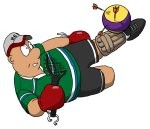 Kev Lard - Comic Strip
Click here to see Kev »