Froch Vows To Mack It Happen
Carl Froch steps back into the ring on Saturday evening, ready to defend his IBF Super Middleweight World Title against challenger Yusuf Mack at the Capital FM Arena in Nottingham.
It's nearly six months since Carl Froch (31F-29W-21KO-2L) brutally punished the previously undefeated Lucian Bute to win the Super Middleweight World Title. There were stirrings of a rematch against Bute (Froch is contracted to fight the Romanian-Canadian in a rematch in Montreal) but after such a beating, it's doubtful he'll want anything to do with the Nottingham fighter for some time.
This has given American Yusuf Mack (37F-31W-17KO-4L-2D) the chance to step-up from the light middleweight division and challenge Froch for the IBF Super Middleweight World Title.
The bookies don't fancy the American much and Sportingbet are offering odds of 14/1 of a Mack victory. There's not much temptation in backing 'The Cobra' to win this fight when the best bet going is 1/20 from Ladbrokes. Even the draw is 40/1 from Boylesports. Head to our dedicated boxing free bets page and choose a free bet from our selected bookmakers.
Round betting looks more promising odds.
Previously, to defeating Bute, Froch has went the distance in his last 7 fights, winning 5 of those and losing to Mikkel Kessler and Andre Ward in the Super Six Final.
Before entering the Super Six World Boxing Classic, Froch was stopping his opponents by knockout or technical knockout on average by the 6th round (taken over 11 fights between June 2006 – May 2008). Paddy Power have Carl Froch to win the fight in the 6th round at 10/1.
Lucian Bute was finished by the 5th, how he even managed to make it to that round under such ferocious punches thrown by Froch is a credit to Bute.
Which leads us to how Froch will come out fighting against Yusuf Mack. Mack has nothing to lose in this fight – which makes him dangerous – will Froch display the same power he showed with Bute and underline to Mack he's facing a fighter that has fought the very best which the Super Middleweight division has to offer.
Prediction : Carl Froch is just too strong for Yusuf Mack. The last time the American fought at Froch's division was five years ago and he was beaten by the 7th. I expect a repeat performance on Saturday evening.
Claim your Free Bet now on Carl Froch v Yusaf Mack
Latest FREEBets.org.uk Carl Froch v Yusaf Mack Round Betting Odds
Carl Froch v Yusaf Mack Round Betting Odds Last Updated: 06/11/2012 (Correct at time of writing)
November 16th, 2012 by Paul Wilson
Videos
More videos »
Kev Lard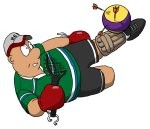 Kev Lard - Comic Strip
Click here to see Kev »