G'Day!
Strewth, is it that time of the year already? Here I was, cracking open a couple of cold tinny's and going over reruns on the ol' VHS of Scott and Charlene's wedding day, as you do, when I noticed the TV listings for this Sunday night (11th of November). Those two blokes out of Byker Grove are back in the 'Jungle' with "I'm a Celebrity…Get Me Out of Here!"

Bailing out of a helicopter that's dangling over Oz will be Dr Who, a former World Heavyweight Champ, a Tory MP, a couple of Soap Stars, a pop songstress, a comedian, an actress, a reality TV soap member from thingamajig and the Crafty Cockney himself all wanting to be crowned King or Queen of the Jungle.
So let's meet these fair dinkum blokes and sheila's who'll soon find out why its called a Bushtucker trial as they get plastered in creepy-crawlies before swallowing a plate of appetising cockroaches, worms and dead dingo's dongers!
Brian Conley – 10/3 Favourite with Betvictor
Funny man and television personality, Brian Conley, starts as the bookies favourite to win I'm A Celeb. Was a big chook on pommy TV during the 90's and early naughties, then went into theatre. Guess he's looking to rebuild his TV profile by giving I'm a Celeb a burl.
Charlie Brooks – 9/2 Freebets best price with Betfred
This is the sheila who plays Janine from Eastenders whose always popping off her husbands. Not really sure about Charlie as I've never seen her just being herself before. I don't think she's doing I'm A Celeb for the moolah, so it must be one of these personal experiences that she's in there for.
Helen Flanagan – 11/2 Freebets best price with Sportingbet
There's a couple of things I like about this sheila and I guess you could call her an up-top kinda girl. Famous for playing Kevin and Sally Webster's daughter, Rosie, on Coronation Street. Jungle shower scenes a must for every red-blooded bloke about.
David Haye – 15/2 Freebets best price with Stan James
Former Heavyweight Champion of The World and built like a brick wall. David Haye is famous for his trash talk and being a big physical boxer he'll be used to eating protein packs. So how will he cope with rationed food? Plus we'll be watching him closely to see if he acts like a big sheila's blouse the first encounter he has with a creepy crawly.
Linda Robson – 11/1 Freebets best price with Bet365
This sheila is a right bird of a feather. Linda who played Tracey in hit pommy sitcom Birds of a Feather isn't really an outside person – she loves her mod-cons – so heavens knows how she's going to cope, bedding down on an ol' matilda in the middle of a jungle.
Hugo Taylor – 12/1 Freebets best price with Skybet
Hugo who! I'll be honest I had to Google this bloke, seemingly he's dripping in moolah and plays himself on a reality soap called 'Made in Chelsea'. This posh boy might be a right ripper to watch.
Eric Bristow – 16/1 Freebets best price with Coral
The ol' Crafty Cockney in the flesh. Eric was big with the darts in the 80's. Eric also likes a smoko or two – in fact I'm well informed his puffing habit is about 30 a day – strewth!
Ashley Roberts – 20/1 Freebets best price with Ladbrokes
This sheila is a real life Pussycat Doll. She'd even look good in a pair of Ugg boots. Ashley is an American in the Australian jungle – it's not going to end well, is it?
Colin Baker – 20/1 Favourite with Paddy Power
This bloke played Dr Who in the mid 80's. Pushing 70 years old he might need the use of his sonic screwdriver to battle a few of the jungle elements.
Nadine Dorries – 25/1 Favourite with SportingBet
Now this sheila is a Tory MP who has skipped her job for a month in Oz. Fair play to her is what I say. Although she hasn't a XXXX chance of becoming the Queen of the Jungle.
Hooroo for now!
Videos
Kev Lard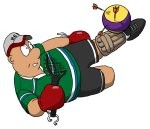 Kev Lard
Comic Strip