La Liga's title race has been exclusively a battle between Barcelona and Real Madrid for the past five seasons now, but season previews have necessarily become increasingly extreme – from discussing their incredible dominance, to complaining about their incredible dominance, to predicting quite how incredible their dominance will be.
Even though third-placed Atletico Madrid had a solid campaign last year, finishing just 10 points behind their more illustrious rivals (the previous points gaps between second and third had been 25, 21 and 30 points) this could be the most staggeringly two-pronged season yet.
The reason is simple: the big two have strengthened; the main challengers have been weakened. Barcelona have purchased Neymar to provide goals and creativity in a forward line increasingly dominated by Lionel Messi, and have only lost David Villa and Thiago Alcantara – two players at opposite ends of their career, but neither was a regular last season.
Real Madrid, meanwhile, have added two extremely talented Spanish youngsters – passing midfielder Asier lllaramendi from Real Sociedad, and versatile playmaker Isco from Malaga – and have also secured the return of the excellent young right-back Daniel Carvajal. One more significant signing is expected – possibly Gareth Bale or Luis Suarez. The only departures have been players Real were keen to sell.
Elsewhere, everyone else has lost key players, particularly in attacking positions. Third-favourites Atletico, fourth-favourites Valencia and fifth-favourites Sevilla have all lost their major striker from last season, with the departures of Radamel Falcao, Roberto Soldado and Alvaro Negredo evidence that players are increasingly either moving to the top two, or leaving Spain altogether. Aside from Lionel Messi and Cristiano Ronaldo, they were the only three players to score 20 goals last season, and La Liga is significantly weaker for their absence – both in terms of individuality and competiveness.
But which of the top two will actually win the title? Both, of course, have a La Liga debutant as manager for this season. Barcelona's Gerardo Martino was appointed in sad circumstances after Tito Vilanova's ongoing health problems finally forced him to step down, and while his previous sides have shared many characteristics with Barca, he's a more pragmatic coach than they're accustomed to.
Whether that will have a significant impact upon Barcelona's playing style is doubtful – Martino will almost certainly play a familiar system, with Neymar the only major difference from last season. Martino's primary challenge might be in terms of motivation rather than tactics – both Guardiola and Vilanova had strong connections with the club and players before taking charge, whereas Martino is somewhat of an outsider. Messi was certainly pleased to hear of his appointment, but in a league lacking regular challenges, and with Jose Mourinho no longer providing a permanent reminder of precisely why Barca want to finish above Real Madrid, insisting upon 100% commitment and intensity throughout every match of a 60-game season will be extremely tricky.
Ancelotti, meanwhile, seems a perfect fit for Real Madrid. Whereas Barcelona emphasise teamwork and cohesion, Real are still obsessed with the concept of the individual – as evidenced by the chase for Bale, a player the club doesn't particularly need. Ancelotti has always been about getting the best out of individuals, particularly talented attackers – he's not a manager that brings a template from his former club and attempts to stick square pegs in round holes.
Despite Ancelotti's reputation as one of Europe's top coaches, there remains a question mark about his ability to win league titles. That might sound crazy considering he's won Serie A, the Premier League and Ligue 1, but one title in eight years at Milan wasn't spectacular, he was slightly fortunate to win the 2009/10 title with Chelsea for various reasons, and in his first campaign at PSG, he took over a side who were top of the league, then guided them to a disappointing runners-up spot. He could hardly fail in his second season given PSG's outrageous signings, and he remains a better European Cup manager than a league manager.
For value at the top of the league, look elsewhere than the outright winner market – Barca hit 100 points last season and Real achieved treble figures the previous campaign – so the 4.0 offered by 888Bet for a side to reach that barrier in 2013/14 looks generous, with the gap between the top two and the rest widening.
Atletico Madrid should finish third. The departure of Falcao is a setback, but they can hardly complain about the transfer fee they received, and he remains their only significant departure. Villa is an excellent replacement, and having missed Euro 2012 through injury, he'll be determined to win a place in the Spain side for World Cup 2014. Atletico are everything you expect from a Diego Simeone side – snarly, feisty and occasionally dirty – but the Copa del Rey, the Europa League and the European Supercup in 18 months as Atletico coach demonstrates his ability to get the best from his squad.
Favourites for fourth are Valencia, but last season's failure to qualify for the Champions League was a gigantic blow. They've lost Soldado, Tino Costa, David Albelda and Nelson Valdez from last season, and their net transfer spend is currently around the -€40m mark, evidence of their financial problems. The likes of Javi Fuego and Helder Postiga are poor replacements of midtable quality, and while Valencia still have a technically gifted midfield, they might lack the overall quality to re-qualify for the Champions League, especially with the unpredictable, fiery Miroslav Djukic as coach.
Five other clubs are trading in single figures to finish in the top 4. Last season's fourth-placed side Real Sociedad have lost Illarramendi and failed to strengthen, and might miss former coach Philippe Montanier, who created a fine counter-attacking outfit last season. Former assistant Jagoba Arrasate will continue with the same strategy, but is untested at the highest level.
Sevilla's Unai Emery has experience of finishing in the top four with Valencia, although the Andalucian club have lost Negredo, Gary Medel and Jesus Navas. Carlos Bacca and Kevin Gameiro are clever signings upfront, but Sevilla have regressed – it's just a question of whether they've regressed less than everyone else. Rivals Betis could be a better bet – they've lost talented midfielder Benat, but purchased intelligently from cash-strapped Liga clubs, as well as from South America.
Another southern club, Malaga, impressed in the Champions League last season, but are unlikely to return having lost several key players and coach Manuel Pellegrini. In fact, the 21.0 price from Betfred for them to be relegated looks too large – with Barcelona, Valencia, Sevilla in the first three games, that price should fall. Athletic Bilbao should return to the top half, but aside from the signing of Benat, they haven't strengthen enough to be considered genuine top four challengers, and might take time to adjust to Ernesto Valverde's strategy, having been accustomed to Marcelo Bielsa's energetic system.
Newcomers Almeria and Elche are favourites to go straight back down, with Villarreal expected to impress in their first season back, having retained players like Cani and Bruno Soriano, who guided them to fourth in 2010/11 – and recruited talented Mexican attackers Giovani dos Santos and Javier Aquino.
Celta, 6.0 at 188Bet, look the best bet to join them. Having finished one point off relegation last season, the loss of Iago Aspas robs them of their main source of goals, and while they've recruited some promising youngsters, few guarantee success.
A potential overachiever could be Granada – the minnows are part of the Pozzo empire that also controls Watford and Udinese, and there have consequently been a variety of transfer moves this summer. However, the arrival of veterans Riki and Piti provide Liga experience upfront, while Manuel Iturra strengthens the midfield. Their priced at 15.0 from Unibet to finish in the top 6 – a 15-point improvement upon last season isn't unreasonable, with others becoming weaker.
Recommended bets:
Any club to reach 100 points @ 4.0 with Unibet
Malaga to be relegated @ 21.0 with YouWin
Celta to be relegated @ 6.0 with 188Bet
Videos
Kev Lard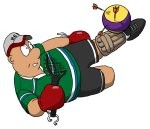 Kev Lard
Comic Strip