Brendan Rodgers has used his SSS attack in the last few games, with Luis Suarez, Raheem Sterling and Suso as his front three. Liverpool's key feature against Everton on Sunday continued the theme. Speed – not the speed of Liverpool's attackers, but the speed of the attacks.
Rodgers adapted his tactics for the Merseyside derby. It wasn't just the half-time switch to a 3-5-2 – although that, in itself, showed his flexibility – but the entire manner Liverpool played from the outset. Rather than pressing high up the pitch, Liverpool sat deep in the first half, looking more like 4-1-4-1 than 4-3-3.
The change in defensive strategy altered Liverpool's performance with the ball. By winning possession in deeper positions, they had more space to break into – and rarely this season have they moved forward with such immediacy, as Everton's defence was exposed before the midfield could protect them.
Rodgers impressed last season at Swansea with his short passing football; their pass completion rate was 85%, the joint-highest in the league alongside the two Manchester clubs. Swansea moved the ball carefully, methodically, and few risks were taken in possession. Rodgers greatly admires Barcelona, who move the ball quickly from player to player, but slowly in terms of how attacks flow from defence to attack. Often, Xavi Hernandez will purposefully halt a counter-attack, almost encouraging the opposition to get into a decent shape, knowing Barcelona have the incisive passing and integrated movement to break through. Not every side is capable of this, however, and Liverpool lack the penetrative passing ability of someone like Xavi, Andres Iniesta or Lionel Messi.
Instead, they have midfielders that like to attack at speed. Steven Gerrard is an excellent passer of the ball over longer distances, Jonjo Shelvey has energy and drive, Nuri Sahin was brilliant at Dortmund in a transition-based side. Joe Allen and Lucas Leiva are generally sideways passers, but ones that move the ball quickly. Rodgers likes to control the game through possession, but sometimes an overwhelming emphasis upon ball retention results in predictable, slow attacks. Sides that can attack in either way – with speed or through possession football – are considerably more difficult to play against, giving the opposition manager a strategic dilemma.
A more direct strategy would also suit Liverpool's best player. Suarez loves working the channels – when Liverpool attack quickly it means he's dragging centre-backs around and then exploiting the space in behind them – Sylvain Distin was terrified when isolated against the Uruguayan. When Suarez drifts wide against a side with eight men behind the ball, it is less successful – he tries to dribble past too many opponents, then snatches at half-chances. As his performance at last year's Copa America shows, he's a natural at playing on the break, drifting towards the right. He was voted player of the tournament.
Liverpool recorded their lowest pass completion rate under Rodgers at the weekend. In their previous eight league matches, they averaged an 85% completion rate, always within the 80-90% range. Versus Everton, that dropped to 76%. Rodgers likes statistics, and his reaction to that figure might determine his future strategy – does he rue Liverpool's lack of accuracy, or appreciate that a lower percentage is by-product of attacking with more gusto?
This is currently a more direct squad than Rodgers had at Swansea, and certainly a more direct squad than Tito Vilanova has at Barcelona. Liverpool were cruelly denied three points at Goodison Park, but there are plenty of positives to take from the overall display – despite the drop in ball-related statistics.
Of course, Liverpool won't be able to break quickly every week. At Anfield, for example, many opponents will park the bus – this weekend, Alan Pardew's Newcastle United will defend deep and narrow. Liverpool are troubled by this type of challenge – which means opposing them at 1.6 on Betfair looks a fine bet, as Rodgers' side might be more suited to away fixtures.
Michael Cox is the editor of Zonal Marking.
Videos
Kev Lard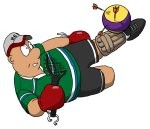 Kev Lard
Comic Strip