When the 2012/13 Premier League fixtures were announced last July, this appeared to be the season's pivotal match: another crucial Manchester derby, just eight games from the end of the campaign. However, with United 15 points clear and Sir Alex Ferguson's 13th Premier League medal effectively already won (you can't even back United at 1.01 on Betfair) the result will be irrelevant in the context of the title race.
Nevertheless, United will be determined to triumph in Monday night's clash at Old Trafford. Memories of last season's embarrassing 6-1 defeat are still fresh in the memory – even if Ferguson doesn't want to discuss it. "Do you think I'm going to mention that?" replied Ferguson after being asked at a press conference this week. "Do you think? Jesus Christ. I can talk about our form this season – I will concentrate on that."
Nevertheless, Ferguson will be encouraging his players to make a statement, and demonstrate they are capable of beating City in a direct clash – without the need for a last-minute, deflected free-kick helped on its way by Samir Nasri's laughable attempt at a block – which was the decisive moment in United's 3-2 victory at Old Trafford earlier this season.
If Ferguson's side are determined to record a famous victory, the obvious obstacle is their lack of attacking firepower in recent weeks. Robin van Persie hasn't scored for eight matches, Danny Welbeck hasn't been finding the net all season, and Wayne Rooney missed last week's defeat to Chelsea through injury. With United's wingers also struggling for form this season, United lack goalscoring potential – amazing, considering they're the Premier League's top scorers, by a margin of 11 goals.
Nevertheless, they have an impressive record in defence, boasting six consecutive clean sheets in the Premier League. Interestingly, this has been achieved despite Ferguson constantly rotating his centre-backs: judging by recent line-ups, Nemanja Vidic will start on the left side of defence, but Rio Ferdinand, Chris Smalling and Jonny Evans are all in the running to partner him. Their fine defensive record also owes much to the protection from deep in midfield – Michael Carrick has been excellent all season, but recently he's benefitted from the presence of Anderson or Phil Jones alongside him, a more study partner than Tom Cleverley, who roams forward.
Last week at Stamford Bridge, United concentrated on denying Juan Mata, Oscar and Eden Hazard space between the lines – their treble creative threat was broadly neutralised, and Chelsea's only goal arrived when they effectively bypassed that zone, with Mata dropping deep and chipping the ball over the top for Demba Ba. A similar strategy might be in operation against City, who broadly play in a similar manner to Chelsea; denying the likes of David Silva, Carlos Tevez and Samir Nasri (in the unlikely event he starts rather than James Milner on the right) – will be the priority.
The objective for City, then, might be assessing how to create goalscoring opportunities without depending upon their traditional playmakers. City, like Chelsea, lack a deep-lying playmaker – Javi Garcia and Gareth Barry distribute the ball reliably but lack incision, while Yaya Toure depends upon his ability to storm forward into attack with a burst of power. Therefore, it might take some clever movement from Silva, replicating Mata's intelligence to drop into deeper positions last week, for City to test David De Gea.
The alternative, of course, is to play direct football. Sergio Aguero's pace in behind the United defence might cause problems if he starts, while Edin Dzeko could become a target for crosses, as City push their full-backs into advanced positions.
Nevertheless, there's a fine chance De Gea could keep a clean sheet for the seventh successive match – pretty impressive for a goalkeeper still regarded, by some, as United's weak link. Backing a Manchester United clean sheet, available at around 3.7 on Betfair, is pretty good value.
Videos
Kev Lard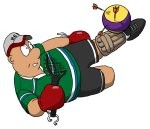 Kev Lard
Comic Strip