Memo To Ricky Hatton – Comebacks Can Succeed But Most Fail
After a 3 year absence from boxing, Ricky Hatton makes him comeback tomorrow night against decent opposition in the form of Vyacheslav Senchenko.
Boxing is synonymous with comebacks, it is after all what kept the 'Rocky' franchise in business producing feature films for 30 years.
Many boxing fans get teary-eyed when they reminisce of their heroes in past glories. There's the Sugar Ray Leonard – Marvin Hagler epic or you could choose Floyd Mayweather vs. Juan Manuel Marquez as your preferred comeback battle.
But for every boxing comeback success there's twice as many failures.
There's Evander Holyfield's comeback, 4 straight wins led him to WBO Heavyweight title shot against Sultan Ibragimov. Don't worry if you can't remember the fight though as it was basically a bore and Ibragimov retained his title after an unanimous decision.
In 1980 Larry Holmes quickly put an end to Muhammad Ali's comeback in his quest to win the Heavyweight title for a fourth time. The tables were turned on Holmes 8 years later as he was tempted back into the ring after announcing his retirement to face a fresh-faced, undisputed champ called Mike Tyson. Holmes lost to Tyson by KO in the 4th and went back into retirement.
At FREEbets, we wish Ricky Hatton all the best in his comeback and hope it leads to a title fight.
We've posted probably one of the greatest comeback fights ever, not really to help get Ricky inspired, but because its fantastic to watch – Sugar Ray Leonard v Marvin Hagler from 1987.
November 23rd, 2012 by Paul Wilson
Videos
More videos »
Kev Lard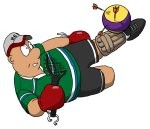 Kev Lard - Comic Strip
Click here to see Kev »