Luiz Felipe Scolari has arguably taken on the biggest job in the history of international football. Managing any hosts at a World Cup is an incredible task – limitless expectations, mixed with a lack of competitive games to serve as adequate preparation – but when it's Brazil, with the added pressure and history, there's an obligation to succeed.
Scolari also takes over following two disappointing World Cup campaigns, and an underwhelming period under his predecessor Mano Menezes. Scolari has been out of the Brazil job for just over a decade, having won the World Cup in 2002, but his recent managerial history does little to inspire confidence of a repeat performance.
This century, amongst various managers and a multitude of playing styles and systems, there's been an ongoing dilemma about whether Brazil should play four attacking players, or simply three. Brazil famously used a 4-2-4 system to great effect in the 1970 World Cup, while more recently the 4-2-2-2 has become highly popular (and was the foundation for the 1994 World Cup win) despite being an alien system to Europeans. Part of Scolari's task – and that of his predecessors – is how to adapt that style of football for the modern international game. Can four attackers together work?
At World Cup 2002, Scolari based his side around three major talents – Ronaldinho, Rivaldo and Ronaldo in a 3-4-1-2ish formation – but he changed the balance of his side significantly midway through the competition. Whereas Scolari had previously used another playmaker, Juninho Paulista, linking midfield and attack, for the quarter-final against England he chose a second holding player, Kleberson, to assist Gilberto Silva. That's how Brazil stayed until the final. Scolari's reason for meddling was unclear – Juninho had actually been very good against Belgium, the match he was withdrawn from – but it proved successful.
Since then, this dilemma has continued. At the 2006 World Cup, Carlos Alberto Parreira wanted to play four outright attackers – Kaka, Ronaldinho, Adriano and Ronaldo – but ended up 'doing a Scolari' and ditching Adriano for the quarter-final against France, in favour of Juninho Pernambucano, an extra midfielder, albeit a creative one. This time, the switch failed, and Brazil crashed out.
Dunga, who coached Brazil until 2010, experimented with an attack-minded 4-2-3-1 system in his early days, but eventually settled for a strange hybrid formation featuring two holding midfielders, Ramires playing a shuttling role on the right, then Kaka, Robinho and Luis Fabiano as the three attackers. He nailed his colours to the three-attacker mast, but found himself lacking firepower as Brazil crashed out of the 2010 tournament.
Since then, it's been a familiar tale. Menezes started with a 4-2-3-1 – Pato, Robinho, Neymar and Ganso – but this failed at the 2011 Copa America, partly because Ganso played too high up and couldn't 'connect' the side. From then, Menezes too frequently reached for the safety net of another cautious player – for last year's Olympic final he fielded the functional Alex Sandro, rather than Hulk, and Brazil were shocked 2-1 by Mexico. Menezes didn't last until the end of the year.
So, enter Scolari. His probable team selection for tonight's match against England is widely known – Luis Fabiano upfront, supported by Neymar, Ronaldinho and Oscar. Four attacking players – but what shape will they play in? Fabiano will certainly be upfront, while Ronaldinho has flourished back in Brazil in a traditional number ten role, staying high up the pitch between the lines. Therefore, not only will Neymar and Oscar start in wide positions, they'll also be forced to help defend.
Oscar has shown himself to be tactically disciplined – witness his job on Andrea Pirlo in the Champions League at Stamford Bridge – while Neymar is a more responsible player than you might expect. But while Oscar should play relatively deep on the right, Neymar is a forward rather than a wide midfielder, and Scolari knows that asking him to protect left-back Adriano would be a waste of his extraordinary talent. Instead, expect to see him playing high up, working the space between England's right-back and centre-back.
This early, cavalier attitude from Scolari provides an opportunity for Neymar to run riot – but it will surely see Adriano exposed versus Theo Walcott. If England can get Walcott running with the ball before Brazil can double up against them, the Arsenal forward has a great chance of influencing this game, and odds of 10/1 with Stan James for him to open the scoring tonight looks good value.
Videos
Kev Lard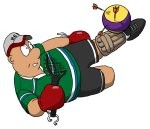 Kev Lard
Comic Strip