The stars have aligned to conjure, potentially, the greatest PDC World Darts Championship ever. Since the Premier League: Phil Taylor, Robert Thornton, Phil Taylor, Simon Whitlock, Michael van Gerwen, Raymond van Barneveld and Phil Taylor have all won PDC majors.
Taylor has three; in the form of the Matchplay, Premier League and Players Championship finals.
Three majors is a pretty shoddy outlay from Taylor in a year of darts. Of course, for anyone else, three majors in a year would be the crowning achievement of a lifetime's work; a twelve month span never to be equaled, something to tell gathered grandkids.
"Little Timmy, Grandpappy won the Premier League, Matchplay, AND Players Championships all in one year. The year of our lord 2012."
"Grandmama, Pappy's finally gone senile. He says he won three majors in a year, he's gone mad. Get the old man sectioned."
But that's anyone else. Three in a year is amazing. But for Phil? It's all a bit – and I hate this word – meh. Whatevs. I hate that word as well.
Meh, whatevs. Totes meh.
Sorry.
The point is, for anyone else ever, it would be an achievement too fantastical to countenance. But with Phil it's all a bit underwhelming. This is the price of astounding success.
For each of the other 2012 PDC major winners, that singular title is somehow more impressive than Phil's trio. Each, in his own way, overcame something that was holding them back to finally triumph. Or, for Barney, to finally triumph again after so long.
Each of these winners should be considered the major contenders. They've done it in 2012, actually conquered a whole field of players; they've crossed the finish line against the deepest field of darting talent ever assembled. Because make no mistake, the current top PDC pros are the best darts players ever. By a country mile.
Robert Thornton overcame pneumonia, and an extremely unforgiving draw, and a final against Taylor, to win the UK Open.
Simon Whitlock overcame years of doubt – that he could ever win a major trophy, to triumph at the European Championship.
Michael van Gerwen overcame the doubt that he was merely a wunderkind, now grown up. A man full of ultimately fruitless potential, destined to never quite reclaim the glories of his youth. Well, with a phenomenal comeback over Mervyn King in the Grand Prix final, he reclaimed those old glories, and opened a window onto future ones.
Raymond van Barneveld overcame demons, and doubts, and doubters, to win the Grand Slam. The five time world champ was washed up, a No Longer Man. He just wasn't the old Barney any more. Five years he'd gone without a major; would he ever win one again?
Well he did.
We got the old Barney back in a thriller of a final against Mighty Mike: the man, only a month earlier, who had positioned himself as the undisputed future of the sport.
And then, with that Players Champs victory, Phil overcame the doubt that arises when he misses even one major title.
It looked to be the year when the pack finally caught up to, and then superseded, Taylor. But the old man has a way of peaking exactly when he has to. Of reminding all and sundry that this is his sport, his game, his livelihood, his destiny.
All of these men are Champions in 2012. They are all in form, now, at the prefect time. If Phil Taylor is a rock, the chasing pack is a hard place; and they're about to collide. And when they do, at the PDC World Championship; there's going to be fireworks. Big exploding ones that hurt your eyes to look at.
Videos
Kev Lard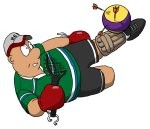 Kev Lard
Comic Strip