Replacing a particularly successful manager is widely regarded as an extremely difficult task – Jose Mourinho's successors have always struggled, for example, and the next managers of both Manchester United and Arsenal will have extremely tough jobs when replacing club legends.
But while Brendan Rodgers enjoyed great success at Swansea, he was actually a decent manager to follow. As Swansea fans were keen to point out even before his departure, the Northern Irishman simply embraced and furthered the identity and the style of the club, rather than being an ideologue who dramatically imposed his short passing football against fierce opposition. He, in turn, had inherited a steady ship from Roberto Martinez. Kenny Jackett and Paulo Sousa also played their part.
Rodgers' Swansea were relentless ball hoarders – their pass completion rate was the second best in the league behind Champions Manchester City, their average possession was third behind City and Arsenal. But while the football was attractive, and Swansea's comfortable mid-table finish justified the approach, they weren't very efficient with the ball. They recorded fewer shots than their possession would normally dictate – and also conceded a high number of shots considering their dominance of games.
Swansea's manager is more of a first-team coach, with little influence over financial issues or the clubs long-term vision, which are the responsibility of the board. In that sense, Michael Laudrup's task was simple – to make Swansea more ruthless and progressive on the pitch. The statistics support the theory that the Danes Swansea side are less patient in possession: they may see, on average, 2.7% less of the ball per game, and their pass completion rate has declined slightly, but they've recorded more shots, more shots on target, and are allowing the opposition fewer attempts than under Rodgers.
So what has Laudrup done? First, his signings have been excellent. Michu – relatively unknown in this country but excellent in a deep-lying forward role with Rayo Vallecano last season – has been a revelation. He prefers playing just behind another striker, which has caused a slight problem for Laudrup in terms of the format of his side – Michu's been prolific from either role, but until Danny Graham's sudden burst of goalscoring form in the past couple of weeks, Laudrup was better off playing three central midfielders behind him.
Other signings have also fared well. Jonathan De Guzman, signed on loan from Villarreal – a club that shares Swansea's focus on good passing football – and former Spanish international Pablo Hernandez currently lead the way in terms of assists, with four each. Both aren't afraid of playing dangerous, penetrative passes in the final third.
Ki Sung-Yeung has also been excellent in the centre of midfield, and is crucial to Swansea's attacking. His midfield colleague Leon Britton is a reliable distributor, but Ki's passing is equally assured, and more inventive. Swansea now break through the opposition lines much more readily – Ki is a forward-thinking player that attempts to feed the attackers in space, and Michu's ability to hold the ball up makes a vertical pass more of an option. The departure of Joe Allen – another who generally passed sideways – has contributed to more immediacy with the ball.
Last year Swansea were an interesting side in terms of the under/over 2.5 goals market, as they averaged exactly 2.5 goals in their 38 Premier League matches. This year, Laudrup has them scoring more readily – but the extra attacking intention hasn't resulted in a more porous defence, as Swansea are also conceding fewer goals. There's been an average of 2.71 goals per game in their Premier League matches this season, which is less than the league average – despite Laudrup's positive approach.
Tonight's trip to Chelsea must be considered in the context of the tie – this is a first leg, and Laudrup might urge caution, confident that Swansea can win the return leg, in a fortnight.
Similarly, Rafael Benitez has generally approached two-legged ties in a conservative fashion, and the [2.55] available at Betfair for Under 2.5 goals looks very tradable.
Videos
Kev Lard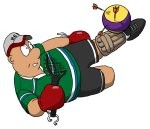 Kev Lard
Comic Strip