Darts is tough to predict at the best of times. But the Grand Slam of Darts throws a real spanner in the works with its combination of BDO and PDC players. I have an irrational fear of the BDO website, I don't have a scooby what those characters are doing over there; so probably best I concentrate on the PDC guys. One of them will win it anyway.
Although former champ, and runner up, Scott Waites, of Her Majesty's British Darts Organisation, is available at an intriguing 50/1. He has a great record in the competition, even if he failed to get out of the group stages last year.
It's easy to follow the current form of the stars of the PDC circuit. It helps that the PDC site doesn't make you feel dirty when you click on it.
Simon Whitlock has won the Dutch Darts Masters and a Players Championship since winning his first major – the European Championship – in September.
Likewise, Michael van Gerwen is enjoying a phenomenal run of form. Since lifting his first PDC major in October, the World Grand Prix, he's won another couple of Players Championships.
He was a chucker possessed, capable of anything, in his meteoric comeback against Mervyn King in the final of the Grand Prix. He came back from 4-1 down to conquer the King 6-4. And he's continued in that vein.
So if form doggies are your thing, Michael van Gerwen and Simon Whitlock are the chuckers for you.
Paddy Power, Ladbrokes, Coral are all offering van Gerwen at 12/1
Sky Bet, BoyleSports, Stan James, pretty much everywhere actually, are doing Whitlock at 10/1.
Then again when anyone offers me 7/4 on Phil Taylor, as BetVictor and William Hill are for an outright Grand Slam winner, I'm tempted to bite their hand off like one of the zombies in the Walking Dead.
There's a movie idea: Darts and Zombies.
Ally Pally, height of the World Championship, a strange meteor strikes the earth, releasing a deadly virus. The dead start rising from their crypts. A terrible hunger overwhelms them, a hunger, of all things, for human flesh.
The Ally Pally crowd start drooling even more, if that were possible. Maybe they're not just inebriated.
Good God.
They're zombies!
It's up to a plucky band of darts players to survive the coming zombie apocalypse, armed with nothing but their preternatural accuracy and their weight advantage. It is my dream to see Terry Jenkins take a chainsaw to a horde of undead brain-eaters.
Anyway, where was I? Oh yeah. If anyone is offering 7/4 on Phil it's always a temptation. No matter his current form. He was unimpressive at the European Championship, then kind of impressive, in moments, at the Grand Prix, before his exit to Robert Thornton.
Side note: head to heads between Thornton and Taylor in 2012? The Thorn 2-0 the Power. Alec Salmond has those matches playing on a loop in his parliamentary office.
As Eric Bristow recently tweeted, Phil is enduring his yearly slump. An annual festivity to be warmly anticipated. A recurring event on the calendar, as familiar as Christmas, as comforting in its regularity as Easter, or your birthday, or whatever. It happens every year is the point.
So the question you have to ask yourself is, when will Phil be done with his slump? Is it now? Will he wreak havoc in Wolverhampton, slaying all and sundry with his accustomed aplomb? Chucking grannies off buses? Kicking kids in the privates? Will he do all this, or are we, gamblers/traders/prognosticators, to endure another slumped tournament from the man who is the best at darts?
You pay your money you take your choice. We all know he'll unslump himself at some point. But you've got to be smart enough to jump on the bandwagon while you're still getting 7/4.
Phil is running out of tournaments to unslump himself in 2012. The Grand Slam, the Worlds, Players Championship Finals. He'll win one, you've got to think. But which, and when? I think I'll take that 7/4.
There are consecutive paragraphs at the start of this blog mentioning 'first PDC majors' for van Gerwen and Whitlock. Will another noob lift the title? The Grand Slam will confirm whether this is the year of the newbie, or it'll confirm that Taylor has unslumped himself and the World Championship, with or without Zombies, will be that rare tournament where, cliche or not, any chucker could win it; and Phil is hitting form at the right time.
Recommended bet: Eric Bristow outright winner: I'm a Celebrity…Get Me Out of Here! with Coral at 25/1.
Videos
Kev Lard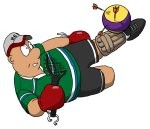 Kev Lard
Comic Strip