The Difference Between Benitez and Di Matteo
Such is the emotional connection between Liverpool and Rafael Benitez, his opening weeks at Chelsea haven't been judged in isolation, but instead through the prism of his status as a former manager of a (modern) rival. For his debut match in charge, the story was Chelsea fans booing, then afterwards attention turned to some minor comments he'd made about Chelsea's plastic flags several years ago.
When talk turned to football, Benitez's Liverpool past still dominated proceedings. At Anfield, Benitez was frequently criticised for two things he did reasonably well – he defended zonally from corners, and his side generally had a fine defensive record, while he rotated his squad like the majority of other top-level managers. Would he persist with those strategies at Chelsea?
Zonal marking and rotation?
Well, he's used a hybrid system when defending corners – three players defend the edge of the six-yard box while five players man-mark. Another man is 'spare', ready to pick up an additional attacker or defend space, while the final outfielder stays on the edge of the box. It's worked fine – there were a couple of nervous moments against West Ham, but defending corners has yet to become a problem.
Rotation, in a broad sense, has been more noticeable than under Roberto Di Matteo, who fielded Oscar, Juan Mata and Eden Hazard as his attacking band of three in the vast majority of fixtures in the run-up to his sacking. It's difficult to tell whether Benitez is primarily simply rotating, experimenting or picking according to the tactical demands of the individual game (in all probability, it's a balance of the three), but the most interesting thing is his use of Victor Moses.
Moses
The Nigerian winger has started four of Benitez's seven games in charge – compared to only 3 of Di Matteo's 13 Champions League and Premier League fixtures after his arrival from Wigan. He was used in the World Club Cup final because Benitez decided Corinthians were weak at full-back, and believed a natural winger would cause more problems than a midfielder drifting inside – although Moses' runs were frequently very central, defeating the purpose of his involvement.
Still, the logic behind Moses' use is interesting. The obvious problem with using Mata, Oscar and Hazard in the same side is that they all move into central positions. Therefore, opponents can defend very narrow in order to prevent through-balls, and be confident Chelsea won't use the flanks effectively. Under Di Matteo, Moses had offered width as a supersub late on, but Benitez's intention is seemingly to stretch the play on one flank, and it makes sense to use Moses on the right – Ashley Cole is Chelsea's best attacking full-back, giving width on both sides.
Caution
But behind all this lies Benitez's love of structure. Chelsea play more conservatively than under Di Matteo, with the wide players protecting the full-backs and the entire side positioned deeper. We're yet to see reliable passing combinations or integrated movement, although the comfortable 3-1 win over Monterrey in the World Club Cup semi-final featured some good attacking play between Cole and Hazard down the left – which resulted in Corinthians playing cautiously down that side in the final.
Benitez has also been cautious with his use of substitutions – seldom has he injected more creativity into his side from the bench. Chelsea's second half performances have been poor, and an interesting statistic is that Chelsea have scored the final goal only once in Benitez's seven games, and that was against Nordsjaelland, when the game had already been rendered meaningless by events elsewhere.
Torres
The final part of Benitez's jigsaw is Fernando Torres – just as it was for Carlo Ancelotti, Andre Villas-Boas and Roberto Di Matteo. His sudden burst into life, with back-to-back doulbes against Nordsjaelland and Sunderland, suggested Benitez had found the magic formula for Torres' success.
But it's difficult to see any tactical cause for his slight improvement. There were more balls slid into the channels in those matches, but previous coaches had prescribed this, only to find Torres' pace lacking. If anything, he might simply be enthused by the return of a former coach. The match against Corinthians was interesting, because Chelsea constantly hit aimless long balls towards Torres, who surprising performed competently from these deliveries. That would support the idea that his confidence has been lifted by Benitez's arrival, rather than a shift in approach towards his preferred style.
Tonight's trip to Leeds United could become tricky fixture, especially as Benitez's side will be still recovering from jetlag on their return from Japan. Rather than looking to an overall result, I'll back Leeds to score the final goal of the game, because of Chelsea's aforementioned poor second half performances. You can back that at [2.75] with 188Bet.com.
December 19th, 2012 by Michael Cox
Videos
More videos »
Kev Lard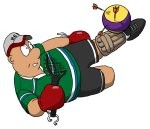 Kev Lard - Comic Strip
Click here to see Kev »