Amongst new arrivals, big-name departures, frequent injuries and inconsistent attackers, Arsenal's most consistent player over the past 18 months has been obvious. Mikel Arteta seemed like a panic buy when purchased from Everton on the final day of 2011's summer transfer window, maybe a desperate attempt to compensate for the loss of Cesc Fabregas, but he's become a vital part of Arsene Wenger's side.
Arteta's current injury lay-off because of a calf problem (initially expected to be three weeks, although now Wenger says it's only a 'grade one' strain, and might be less serious than first feared) is a significant problem for Arsenal. Perhaps this is a sign of their fragility – Arteta, after all, has only been playing in his current position for half a season. In his debut campaign, although Alex Song charged forward and created goals for Robin van Persie, his starting position was deeper, directly in front of the defence. When Song wanted to venture forward, Arteta was happy to drop deeper and protect the back four. Now, he's forced to do that permanently.
"I'm playing in a deeper role this year, now that Alex has left," he told Arsenal Magazine in October. "It's a very important job, balancing the team between attack and defence, and that's what I've been attempting to do. I've had to change my mentality a little bit – I know that I can't go forward as much as I used to, and I need to sacrifice more in attack." Although Arteta's positioning isn't that of a natural holding midfielder, there's little question about his defensive commitment and his readiness for ball-winning – after all, this is a player who served his footballing apprenticeship with Rangers, as well as in Spain.
The problem is – even allowing for the fact Arteta doesn't naturally belong as the deepest midfielder – there's no true back-up. Abou Diaby was once cast as the new Patrick Vieira but lacks his fellow Frenchman's solidity – he's a more energetic player that likes bursting forward. Jack Wilshere is capable of scrapping, but he also likes leading the transitions, while Aaron Ramsey has been fielded wide this season, underlining Wenger's belief that the Welshman is predominantly an attacking option.
Diaby and Wilshere are both fine partners for Arteta, but are too energetic, too vertical with their movement together, with little sign the duo have a good understanding. A more natural replacement for Arteta might be the calm, disciplined Francis Coquelin, who breaks up play and distributes the ball calmly, before holding his position in front of the defence. He's featured relatively little this season, but six of his eight appearances have been in cup competitions, and he could be an option tonight against Swansea.
Certainly, Arsenal must be tighter between the lines than against Manchester City. Although clearly handicapped by Laurent Koscielny's early dismissal, and Alex Oxlade-Chamberlain being 'Piressed' as a result, City found too much space behind Arsenal's midfield. Wenger's side's best performances have come when they remain compact and disciplined without the ball – the 2-0 away win at Anfield still stands out as the most convincing display of their campaign, despite winning frantic games by large scorelines against Southampton, Reading and Newcastle.
Regardless of his role, Arsenal's record without Arteta is terrible – last year, they picked up just seven points in the ten league matches where the Spaniard didn't play (including one match where he got injured after 10 minutes). That record of 0.7 points per game was significantly lower than the 2.25 points when he was included. Such statistics must be treated with caution, of course, but when there's such a large difference in performance, as well as result, his importance becomes clear.
How Swansea exploit that space remains to be seen. Michu likes to play in the hole, but Michael Laudrup will probably return to the strategy so successful at Chelsea last week, with Michu upfront alone, and Jonathan De Guzman behind. Either way, Swansea will provide a goalscoring threat in that zone, and having scored seven in their previous three matches against Arsenal, backing both sides to score at [1.75] on Betfair seems good value.
Videos
Kev Lard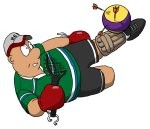 Kev Lard
Comic Strip