Vlad Chiriches, Tottenham
Spurs benefitted from the quality of Gheorghe Popescu and Ilie Dumitrescu in the early 2000s when Romania were one of the best international sides in Europe – but it's been a long time since any player from that country has truly starred in the Premier League.
Chiriches should help change that. Captain of the national team at just 23, he's the archetypical Villas-Boas centre-back – imposing without being particularly tall, fast enough to play in a high defensive line, and capable of bringing the ball forward in possession. He's not entirely dissimilar to Jan Vertonghen, and while it's arguable teams should have a better mix of qualities at the back, the two should form a good relationship.
Chiriches should make an immediate start for Spurs – this weekend's home game against Norwich is the perfect early run out.

Mesut Ozil, Arsenal
More than a week since his signing was confirmed, it's still difficult to believe that Arsenal have nearly trebled their previous record transfer fee – but considering Ozil's age, experience and raw quality, it's an understandable outlay.
Ozil is, put simply, one of the world's most prolific creators – no-one has recorded more assists in Europe's major five leagues over the past half-decade, and none are quite as complete stylistically. Ozil can run the show or play a supporting role for others, and is capable of both breaking down packed defences and counter-attacking at speed.
Expect the German to be fielded in his familiar number ten position – with Santi Cazorla drifting in from the left, Theo Walcott sprinting in behind from the right and Olivier Giroud scoring three in three so far this season.
Samuel Eto'o, Chelsea
Chelsea have now featured the three best African strikers of all-time – but will Eto'o turn out to be a George Weah or a Didier Drogba?
Much depends on Eto'o's mentality. At his best, Eto'o was close to being the best striker in Europe, and his consistency is often overlooked: the Cameroonian has reached double figures in each of his last eleven top-flight campaigns, an unparalleled record across the continent. If he still has the desire and hunger to succeed at the top level at 32, Chelsea have made a superb signing.
However, Eto'o essentially chose to join Anzhi in the first place because he'd achieved everything he could in European football – back-to-back trebles with Barcelona and Inter – and was happy to take a payday at the end of his career. It's up for Jose Mourinho to get Eto'o working as hard as he did under Mourinho at Inter.
Marouane Fellaini, Manchester United
It seemed inevitable that David Moyes would eventually sign his old favourite from Everton – the man whose opening day performance against United last season confirmed his status as one of the Premier League's best midfielders.
Fellaini must adapt to life at a big club, and tactically he'll have a slightly different role alongside Michael Carrick in the centre of midfield – although having been fielded in a variety of positions by Moyes at Everton, his versatility is clear.
It will be particularly exciting, however, to see United with such a huge physical force in the centre of the pitch once again. Their early Premier League days were characterised by the powerful nature of of Roy Keane and Paul Ince, but more recently the likes of Michael Carrick, Paul Scholes and Owen Hargreaves specialised in calm passing rather than ferocity. Fellaini changes that, and provides something United have clearly been lacking.
Victor Moses, Liverpool
Brendan Rodgers already had plenty of attacking options, but Moses offers something new. Whereas the likes of Coutinho, Luis Suarez, Daniel Sturridge, Jordan Henderson and Iago Aspas are all capable of playing wide, all of them are more comfortable in (various) central positions.
Moses is more of a natural out wide – a proper winger, a dribbler who commits opponents and delivers consistently good balls into the middle. In that sense, his role might be similar to the one he played last season for Chelsea – amongst players who drifted in from the flanks, Moses was capable of hugging the touchline and stretching the play.
Moses might not be the star attraction too often – Suarez remains Liverpool's most talented player, while Sturridge's form has made him the first-choice attacker – but he should help get the best from others.
Peter Odemwingie, Cardiff
Regardless of Odemwingie's impact, he seems destined to be remembered primarily for his amusing mix-up in the January transfer window, when he appeared outside QPR's training ground, only to realise that his mooted transfer was unlikely to go through.
However, this is a player who has scored 30 goals over the past three Premier League campaigns, despite regularly being fielded in a wide role. He's quick, cool in front of goal and surprisingly disciplined for such an attacking player – which will have been one of Malky Mackay's main considerations, considering how organised Cardiff were throughout their surprise victory over Manchester City.
At 32, Odemwingie probably isn't a long-term solution for Cardiff, but he might be crucial in establishing themselves in their debut Premier League campaign.
Mamadou Sakho, Liverpool
Anyone who witnessed Martin Skrtel's man-of-the-match performance in the 1-0 victory over Manchester United just before the international break will be surprised that Liverpool needed to spend over £20m on two new centre-backs, with Skrtel, Daniel Agger and Kolo Toure being joined by Sakho and Tiago Ilori.
Ilori is one for the future, but after five seasons as a regular at PSG, on the back of a title success and a £15m transfer fee, Sakho will be expected to deliver immediately. He's more of an all-rounder than Skrtel – more refined in terms of distribution, quicker across the ground and therefore capable of playing in a high defensive line.
The only concern is about his left-footedness – he'll expect to play alongside Agger, and it's rare to see two lefties together at the back.
Romelu Lukaku, Everton
Many expected Lukaku to get plenty of opportunities at Chelsea last season – he impressed in his brief cameos under Jose Mourinho, despite his missed penalty in the European Super Cup final against Bayern Munich.
However, Everton may have secured the loan signing of the season by purchasing the Belgian. His goalscoring record at West Brom was tremendous last season – he scored at a quicker rate, in terms of minutes per goal, than any other striker in the league.
Although frequently compared to his childhood idol Didier Drogba, Lukaku is a more complete footballer in terms of style, relying less on his physique and more on intelligent runs and reliable link-up play. He should be the perfect man to spearhead Roberto Martinez's side, adding a sense of power and directness in a side that has played at a rather slow tempo so far.
Christian Eriksen, Tottenham
Spurs have reinvested the Gareth Bale money extremely wisely – not only purchasing a tremendous direct replacement, in Argentina Erik Lamela, but also introducing a highly intelligent, versatile creator in Eriksen.
Long spoken of as a potential world-class star, the former Ajax man is one of those rare midfielders capable of running a game from deep positions, but simultaneously providing the difference in the final third, too. He's not quite a pure central midfielder but arguably not a true number ten either – he's somewhere in-between, and should Andre Villas-Boas use a 4-3-3 system, Eriksen would be capable of playing either in the midfield zone, or in a narrow left-sided role.
When Villas-Boas plays a 4-2-3-1, Eriksen is the obvious choice for the central role, and should become the side's key player – although it could take him a while to adjust to the physicality of English football.
Willian, Chelsea
The majority of newcomers are exciting because they're set to provide something their sides have been missing, but Willian is something of an anomaly – his debut will be interesting precisely because we're not sure what he'll bring.
Which isn't to say he's a complete unknown – he's been capped for Brazil and played in the knockout stages of the Champions League – but it's difficult to see why he's been signed. The one thing Chelsea didn't need was another wide attacking midfielder who is ruthless on the counter-attack – and while he's certainly improved Chelsea's squad, it's difficult to see where he'll slot into the first team.
Up against Andre Schurrle, Eden Hazard, Juan Mata, Oscar and Kevin De Bruyne, Willian might have to wait for a starting place. Mourinho has always stated his preference for two players in each position, but rarely has he boasted six genuinely top-class options for only three roles.
Videos
Kev Lard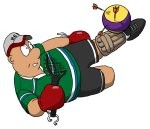 Kev Lard
Comic Strip