With old-fashioned number nines becoming increasingly rare, managers are particularly keen for players to share the goalscoring responsibility across the side. Defenders have scored 15% of the total Premier League goals this season, a considerable proportion – and with that in mind, here are ten of the most consistently dangerous defensive players:
Glen Johnson, Liverpool
Perhaps a unique talent in the Premier League – from right-back Johnson became a surprisingly consistent threat when cutting inside to shoot with his left foot, but after injury problems saw him deputising on the opposite flank, the England international has successfully 'mirrored' his game from left-back.
Genuinely two-footed English players are incredibly rare, and Johnson's unusual threat causes opposition wingers problems defensively, unsure of which foot to force him onto. Never afraid to pull the trigger, Johnson shoots more often per game than the likes of Lukas Podolski, Grant Holt and Stephane Sessegnon this season.
Russell Martin and Sébastien Bassong, Norwich City
33% of Norwich's goals this season have been scored from defenders, with both Martin and Bassong contributing three apiece. Interestingly, both have managed their hauls in a short period – Bassong managed three in the space of four games, while Martin hit three in the just two games over the Christmas period.
But while Bassong's goals secured important points, Martin's have been mere consolation strikes – and the reality is that Chris Hughton's side are depending upon their back four too much. Goals from across the side is certainly valuable, but if either of this duo notch another, they'll become Norwich's joint top scorer…
Patrice Evra, Manchester United
Who saw this one coming? Before 2012/13, Evra had recorded just two Premier League goals in 206 appearances – this season, he's managed four in 22. Evra's goalscoring threat from open play has always been minimal – he prefers to attack on the outside, allowing United's left-winger to take up more central positions – but he's become a consistent threat from set-pieces.
Few other 5'8 left-backs are such a danger in the opposition penalty box, but being such an unlikely threat – combined with a prodigious leap – is probably the reason he's frequently been afforded such space.
Thomas Vermaelen, Arsenal
It's not often a centre-back makes his name as a scorer of goals, but five in his first 10 Arsenal appearances meant Vermaelen had an instant impact at the Emirates. Arguably no other defender in this list can score such a variety of goals – the Belgian is an aerial threat at set-pieces, can hit left-footed thunderbolts from range, and can charge forward in open play to become an additional centre-forward threat, as he did against both Fulham and Newcastle last season.
This year, following a couple of shaky defensive displays, Vermaelen has become more cautious and has only scored once, away to Bradford, but he remains a genuine threat.
Craig Gardner, Sunderland
He might be a midfielder by trade, but having started 17 of Sunderland's 24 games this season at right-back, Martin O'Neill has used him primarily in the back four this season. Still, his manager has encouraged him to shoot more frequently. "I feel that Craig should have ten league goals at the end of every season," he said back in November, when Gardner had only scored one goal. "He has got a great shot, he gets into dangerous positions and he hits the ball as strongly and as truly as anyone in the Premier League."
Since then, Gardner has scored one free-kick, one penalty and two from open play – so is halfway to O'Neill's target.
Branislav Ivanovic, Chelsea
Sometimes he plays at right-back, sometimes at centre-back. Sometimes he looks solid and dependable, sometimes he plays like he did in the Capital One Cup semi-final first leg defeat to Swansea. But Ivanovic is unquestionably a consistent threat in the opposition box, having managed 20 goals in 190 Chelsea appearances.
Ivanovic's sheer size and physicality is an obvious reason for his goalscoring tally, but he's also excellent at timing his runs, particularly when the ball is crossed from the opposite flank – he has the ability to pop up unmarked in behind the defence, and has already equalled his best-ever tally for the season.
Sean Morrison, Reading
Morrison's ankle injury – combined with the form of Alex Pearce and Adrian Mariappa in Reading's good recent run – means Morrison has struggled to find a place in the team, with Kaspars Gorkss another option at the back. But when Brian McDermott does play Morrison, he's very conspicuous – in Reading's 1-1 draw at QPR, for example, Morrison's aerial ability in the opposition box was the main feature of the game, with every corner sent towards his head, and Gorkss' goal coming as a result of his initial effort.
He's scored two first-half headers in his seven starts this season, and if Morrison makes a return to the side, he'll be worth backing to open the scoring.
Leighton Baines, Everton
If Baines decides to leave Everton this summer, his new club will be purchasing an attacking weapon as much as a defensive option. Baines' left foot is useful in multiple ways – for crosses to the head of Marouane Fellaini and Nikica Jelavic in open play, to deliver dangerous dipping corners from either side, but also from direct free-kicks.
His astonishing 35-yard strike against Newcastle earlier this month was a fine example of his power, but Baines is also capable of free-kicks from shorter range, floated delicately over the wall. He's a penalty expert too – although having scored own goals in consecutive matches back in October, Baines' net goal tally for Everton this campaign is only +2.
David Luiz, Chelsea
Although Rafael Benitez has frequently used him in midfield, David Luiz is still primarily a centre-back – albeit one determined to break forward and join attacks. Luiz's four goals this season have been shared between penalties, which he dispatches with incredible confidence, and free-kicks.
His free-kick against Aston Villa, in Chelsea's thumping 8-0 win just before Christmas, was a fine example of the modern trend to place a ball directly behind a 'divot', giving the ball immediate top-spin and a devilish dip on its way towards goal – an inconsistent method of striking a ball, but one that can produce amazing results.
Pablo Zabaleta, Manchester City
Well-known as a versatile utility player, a tough tackler and a consummate professional, it's only recently that Zabaleta has become a genuine attacking threat. But he tends to score goals at crucial times – his only goal of 2011/12 was scored in the legendary final day of the season against QPR.
He has contributed three goals in the last two months – an equaliser against Manchester United, an opener against Stoke in the league, and then finally against Stoke again, the winner in the FA Cup fourth round on Saturday. Watch for him lurking on the edge of the box at corners – he's often left unmarked, ready to slam any half-clearances into the net.
Recommended bet:
Liverpool have let themselves down in away trips against good opposition by conceding sloppy goals from set-pieces, with John Terry and Nemanja Vidic both on target so far this season. That might play into the hands of Thomas Vermaelen, who can be backed at 29/1 with Betfair to open the scoring in tonight's fixture.
Videos
Kev Lard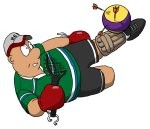 Kev Lard
Comic Strip