Michael Cox XI takes on Keane-Vieira XI
ITV4′s recent documentary exploring the relationship between Roy Keane and Patrick Vieira was one of the more fascinating football programmes of recent years.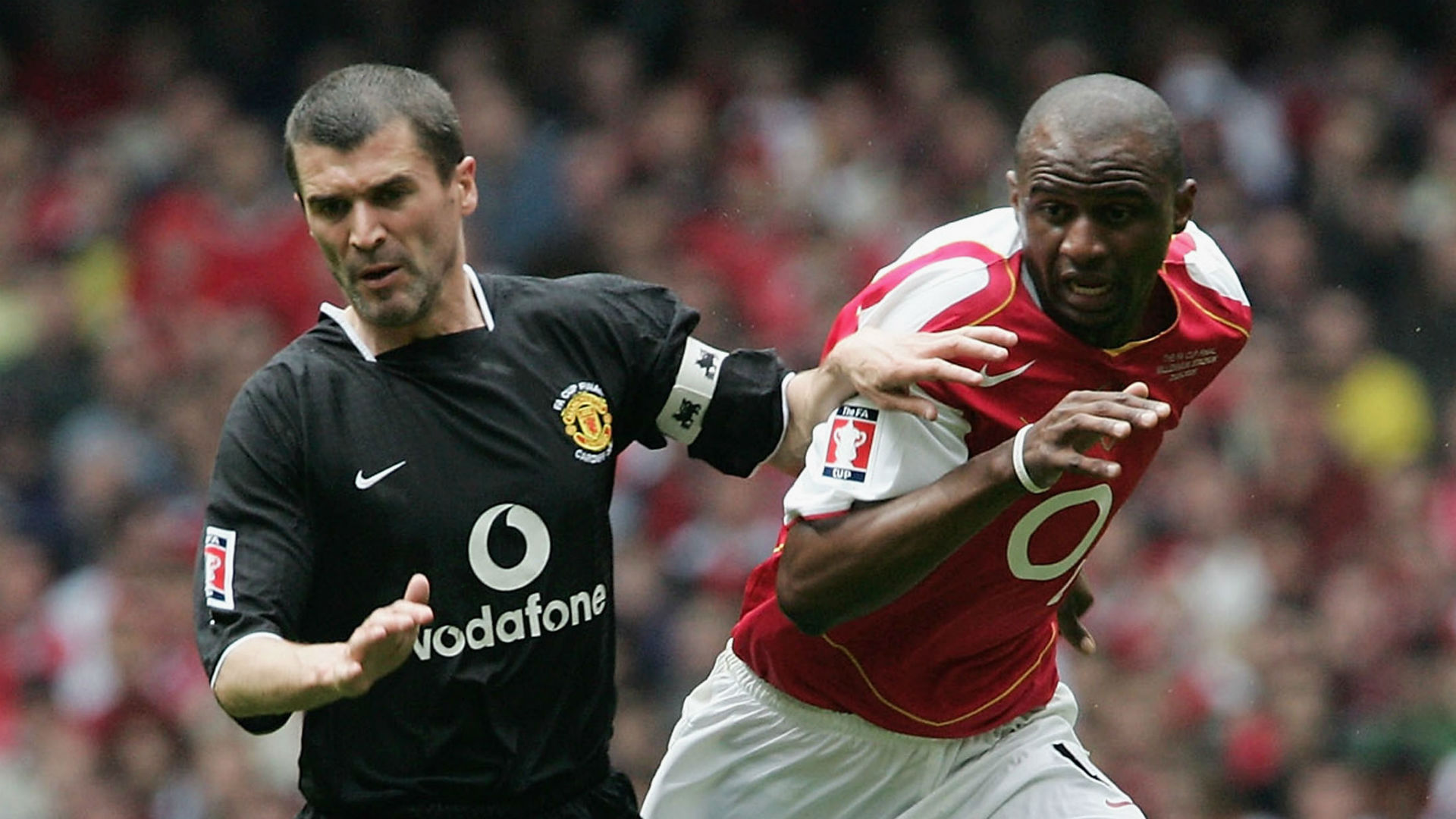 Both premise and format were very simple, and the feature that inevitably prompted most debate was the two players' combined starting XI, from their time at Manchester United and Arsenal respectively. With a handy 5:5 split between clubs – and a compromise reached at left-back, the two midfielders agreed on the following side:
Peter Schmeichel; Lauren, Tony Adams, Jaap Stam, Ashley Cole / Denis Irwin; Cristiano Ronaldo, Roy Keane, Patrick Vieira, Robert Pires; Eric Cantona, Thierry Henry.

But how would this side compare to a combined XI from players that have represented the two clubs since their departure? Both Keane and Vieira departed in 2005, and therefore a 2005-2013 combined side would read something like this:
Edwin van der Sar
While Jens Lehmann was a key part of Arsenal's Invincibles season, and David De Gea is growing into a fine goalkeeper, there's no real debate at the back. Van der Sar proved one of Sir Alex Ferguson's most successful signings, joining for just £2m and excelling over the course of six seasons – his final campaign, 2010/11, was arguably his best. He also set the record for the longest Premier League run without conceding – 1,311 minutes in 2008/09.
Schmeichel or Van Der Sar? The Dane's longevity wins the day.
Bacary Sagna
Keane controversially left Neville out of his Manchester United XI, instead preferring Paul Parker. That omission was extremely harsh, but it's tough to give Neville the consolation prize of a place in the post-2005 side. He inherited the captaincy from Keane and played a key role in the 2006/07 title, but injuries meant he missed the entire 2007/08 campaign, and he featured intermittently thereafter. Sagna, meanwhile, had a poor 2012/13 campaign but has generally been steady at Arsenal – he's rediscovered his form this season, and has shown glimpses of great crossing quality.
Lauren or Sagna? Realistically, Neville deserve the place ahead of both – but Lauren was more consistent than Sagna.
Rio Ferdinand
Another who has suffered from injuries since Keane's departure, but Ferdinand's consistency over the past few years has been extremely impressive. An intelligent reader of the game, composed on the ball and measured with his tackling, he's appeared in the PFA Team of the Year six times – four since 2005.
Adams or Ferdinand? Adams – a better pure defender, and a fine leader.
Nemanja Vidic
At their best, Vidic and Ferdinand were the best centre-back combination in the world – Ferdinand offered the intelligence and guile, whereas Vidic was a superb tackler and utterly dominant in the air. He's always lacked pace, but Ferdinand was usually on hand to sweep up behind.
Stam or Vidic? Vidic – performed consistently over a longer period.
Patrice Evra
Ashley Cole enjoyed only one unhappy season at Arsenal after 2005, and therefore Evra is the obvious choice at left-back. Although his form dipped noticeably at one stage, he recovered and was excellent throughout Ferguson's final campaign.
Irwin, Cole or Evra? Cole – amazingly consistent, and a brilliant attacker.
Michael Carrick
Doesn't boast the physical power or natural leadership qualities of Vieira or Keane, but has quietly been an absolutely essential feature of recent Manchester United sides. He's intelligent in a positional sense which compensates for his lack of tenacity, and he's a calm, efficient user of the ball – and is sometimes capable of great diagonal passes.
Keane or Carrick? Keane – was a more complete player and drove his sides forward with his power.
Cesc Fabregas
Emerged towards the end of Vieira's time at Arsenal – indeed, Wenger let Vieira go because he realised they both he and Fabregas needed to play alongside Gilberto Silva, as they didn't work together as a partnership. Fabregas was initially viewed as an intelligent deep-lying passer, but became an advanced playmaker, and a regular goalscorer.
Vieira or Fabregas? Vieira – Fabregas is held back by his lack of success with Arsenal
Cristiano Ronaldo
Keane included him in his Manchester United side – but realistically the Portuguese international's best form came long after Keane had left the club. Ronaldo struggled with the physicality with English football at first, before transforming himself after the World Cup of 2006 into a relentless, driven goalscoring winger. In 2008, he was the world's best player.
Pre-2005 Ronaldo or post-2005 Ronaldo? Unquestionably the latter.
Ryan Giggs
Perhaps his best quality came before 2005 in Keane's side, but Giggs' consistency since that period is remarkable. He's adapted his game and become a clever central midfielder having previously boasted great pace on the flank, and was voted PFA Player of the Year as recently as 2009.
Pires or a post-2005 Giggs – Pires' sheer efficiency in the final third means he gets the nod.
Wayne Rooney
Difficult off the pitch, ill-disciplined and inconsistent on it, Rooney has caused Manchester United plenty of problems. But he's also scored an amazing number of goals – double figures in each of his nine league campaigns so far. He should make that ten within the next few weeks, and will become United's third-highest goalscorer of all time, behind Bobby Charlton and Denis Law.
Cantona or Rooney? Rooney. Cantona remains United's most iconic player of this era, and probably more talented – but Rooney's longevity is rather underrated.
Robin van Persie
The only player on this list to have played for both clubs, Van Persie developed into a world-class player over eight years at Arsenal, before switching to Manchester United to win his first league title. Previously an arty, injury-prone number ten, he's become one of Europe's most prolific number nines.
Henry or Van Persie? Henry – mixed athleticism with aesthetic quality.
The overall score? Keane and Vieira's side have eight players in the combined side, and the post-2005 side just three: Vidic, Rooney and the latter version of Ronaldo.
There's always a danger of viewing football favourably in hindsight, but the Keane v Vieira conflict represented the fiercest club rivalry of the Premier League era – and this process demonstrates there was tremendous quality on the pitch during that period, too.
November 6th, 2018 by Simon A