UFC Fight Night Cowboy vs Gaethje : Cerrone can roll back the years again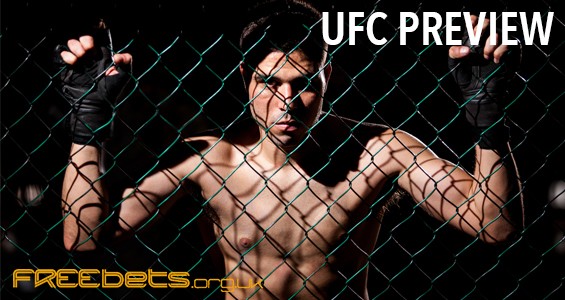 VENUE

Rogers Arena, Vancouver

TIME

11pm UK time, Sat 14 Sep
See Stats
There has been some hugely exciting fights for fans to get pumped about this year in the UFC, but few will get the juices flowing more than the main event in Vancouver this weekend, when Donald 'Cowboy' Cerrone takes on Justin Gaethje.
Both these lightweight contenders are must-watch entertainment when they are on any card against any opponent, and facing each other appears to be absolutely guaranteed fireworks.
Ahead of the main event, there are a few names to look out for, with Brad Katona on early against Hunter Azure, Uriah Hall returning at middleweight in a tough out against Antonio Carlos Junior and a bruising light heavyweight contest between Glover Teixeira and Nikita Krylov.
However, the tastiest bout on the undercard is another light heavy clash, between rising star Jimmy Crute and dangerous submission specialist Misha Cirkunov. Aussie youngster Crute has raced to 10-0 in his pro career and his two UFC appearances have seen him take out Paul Craig and Sam Alvey, which is a very handy start to the big leagues against well-respected fighters. Craig is himself a submission guy, so to submit him, and then knockout the durable Alvey shows how well rounded he is.
Cirkunov will take some dealing with if it goes to the floor, but the Latvian-Canadian's chin is in serious question. He has been knocked out in three of his last four fights, all of which have come in the first round. Yes these have come from the heavy shots of Volkan Oezdemir, Glover Teixeira and Johnny Walker, but it is still very worrying for the 32-year-old.
Crute is favourite and he will be out to make a statement in only his second fight outside of Australia. The 23-year-old is one of the most exciting young stars in the sport and is ready to crash the rankings by taking out the number 15 at 205lbs.
Back Jimmy Crute to beat Misha Cirkunov at 5/6 with Coral
PLEASE NOTE: This article expired on 17th September 2019 and is now for reference only.
Any odds quoted are at time of writing and will need to be checked by you on visiting the bookmaker's website.
18+. Terms & Conditions Apply. Please Gamble Responsibly.
Back to the main event and Gaethje is coming off back-to-back first round knockout victories over Edson Barboza and James Vick, which has seen him bounce back from two heavy defeats. Not that his stock fell in those losses because they were such sensational wars that he came up short in against Dustin Poirier and Eddie Alvarez.
You don't get a nickname like the Highlight by putting on boring fights, and the man from Arizona has never been in one. He comes forward, he throws everything with bad intentions and he is constantly looking to knock his opponent out. All three of his UFC wins have come via knockout and he has 17 on his record in total, while both his defeats have seen him stopped.
In Cowboy he is taking on a veteran who is not quite so crash-bang-wallop in the latter stages of his career, but who is still always ready for a tear up. Cerrone's last three fights have won Fight of the Night and the one before that he claimed Performance of the Night. He won Fight of the Night on his UFC debut way back in 2011 and that really set the tone for the rest of his career.
Cowboy returned to lightweight in January of this year and it looked a tremendous decision as he knocked out Alexander Hernandez and then was hugely impressive in beating Al Iaquinta over five rounds. Then he hit a stumbling block as he suffered a doctor stoppage loss to Tony Ferguson, but that is not a lot to worry about. Cerrone did very well in the first round of that fight, started to struggle in the second and then was forced to stop mid-round due to a swollen eye, so it was hardly a devastating loss.
There is going to be an awful lot of kicks thrown in this fight, Gaethje will be throwing his hideous leg kicks, while Cowboy will be going high, as he has enjoyed so much success at the head in the past. Cerrone cannot afford to take too many of those chopping leg kicks, while the Highlight may want to avoid any of Cowboy's head kicks landing as they can at least scramble the senses, if not shut off your lights.
Gaethje will be setting the pace, but Cowboy will never wither away from it, what will be interesting is if either of these men take the fight to the floor. Gaethje is an excellent wrestler and Cerrone's jiu-jitsu is brilliant but neither men use these skills very often. They both love standing and banging so much that they are happy to shelve some of their supreme talents just to entertain themselves and the fans. It would be a real surprise if either man tried to grapple, but would be really interesting to see how they got on down there, you would back Cerrone, just, because we have seen him pick up submissions in the UFC, while Gaethje has barely spent any time on the ground.
Gaethje's two losses have come against experienced, well-rounded veterans who can go all day, all facets of Cowboy's game. If you can avoid the Highlight's power early and drag him into deep waters then he becomes much more vulnerable. Hang in there and there are holes to exploit. If there is anyone in the division who can do this, Cerrone is capable. Even after 49 professional fights, there are no real questions over Cowboy's chin and his defence is good, for such an aggressive fighter.
The Highlight is the clear favourite for this one at a best price of 8/15, but that seems far too short and makes Cowboy extremely good value at 13/8. Cerrone might not be quite at the very elite level, but neither is Gaethje and should not be odds-against fighting anyone outside of the top three at lightweight.
Back Donald Cerrone to beat Justin Gaethje at 13/8 with Coral
PLEASE NOTE: This article expired on 17th September 2019 and is now for reference only.
Any odds quoted are at time of writing and will need to be checked by you on visiting the bookmaker's website.
18+. Terms & Conditions Apply. Please Gamble Responsibly.
Back To Top
Statistics
Cerrone has won UFC Fight of the Night six times
Cowboy has also seven Performance of the Night bonuses in the UFC
The veteran also has the most wins in UFC history (23)
Cerrone has the most finishes in UFC history (16)
Gaethje is the first fighter to earn a fight night bonus in each of their first five UFC fights
The Highlight won 2017 Fight of the Year against Eddie Alvarez
Gaethje's last nine fights have ended in a knockout
Cowboy has equal most bouts in UFC history (32)
Jim Crute is 10-0 as a pro, with seven finsihes
Todd Duffee is fighting for the first time since July 2015