Featured Bookmaker
Sky Bet are offering FREEbets.org.uk readers a 100% £30 bonus free bet.
Specials
April 1st, 2014 by Paul Wilson
April Fools!
Whilst an ancient tradition it's not entirely clear as to the origins with many countries claiming invention. One thing is clear, if done well, a good old April Fool prank can raise some laughs.
So here at FREEbets.org.uk we've provided our list of Top 12 favourite pranks within the sport's industry:

Read the rest of this entry »
Follow Paul on Google+
November 2nd, 2012 by Phil Haigh
After what has been one of the greatest years in history for British sport, the often slightly inane Sports Personality of the Year award has become a huge debating point and the 2012 winner will be the most deserving ever.
It is safe to say that there are at least a dozen candidates that in any other given year they would be odds-on favourites to win, but given the outrageous success of British sportsmen and women some are not even being considered.
Here at Freebets.org.uk we have assessed the leading candidates for the award.
Bradley Wiggins – 5/6 Favourite with Betfred
What seems an age ago before the start of the 2012 Olympic Games, there stood pretty much one man alone in any sort of discussion to be the Sports Personality of the Year this time around, that man being Bradley Wiggins. After becoming the first Britain in history to win the Tour de France he was a strong odds-on favourite, but when he backed this up with a gold medal in London, his fourth in total and seventh of any colour, surpassing Steve Redgrave's record he seemed an absolute shoe-in.
At this point the best odds on the cyclist were around 33/1 but given the exploits of his compatriots since then have seen him to come all the way in to a whisker away from evens. In Wiggo's favour as well is his actual personality as he won legions of fans either side of the Channel thanks to simply being pretty cool; this might just give him the edge over his fellow nominees if he even needed it.

Read the rest of this entry »
Follow Phil on Google+
September 26th, 2012 by Paul Wilson
Medinah Country Club is the idyllic setting for the 2012 Ryder Cup. Team USA will be out for revenge against Team Europe and though the Americans have home advantage, it's the Europeans who have dominated this event over the last decade.
FREEbets has teamed up with Boylesports to bring you this unique offer of Enhanced Odds of 3/1 (from 6/4) for Europe to win the Ryder Cup.
This fantastic offer also comes with a FREE £20 bet for all our readers when they sign-up and open an account at Boylesports.
Get Your Ryder Cup Enhanced Odds And FREE £20 Bet – Sign Up Now!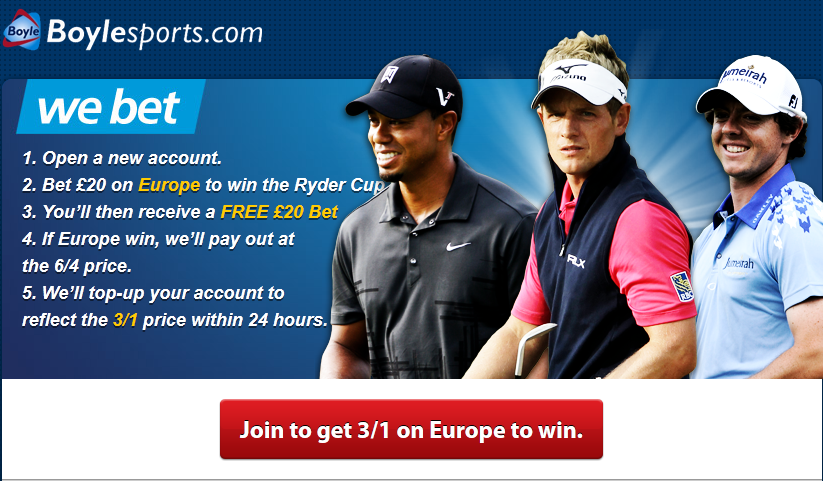 Follow Paul on Google+
Videos
Our Latest Poll...
Sorry, there are no polls available at the moment.