Responsible Gambling
Gambling is an addiction and just like any other addiction, if you don't handle it and use it in moderation, it can quickly turn into something more serious. Many people develop gambling problems because they don't know the basics about responsible gambling.
As long as you remember a few key things when it comes to logging onto your bookie account and placing a bet, you should be fine. Gambling as a bigger industry now than it ever has been and bookmakers and sports betting services lay on more help to promote responsible betting and gambling than ever before.
Bankroll Management
This is the most important area when it comes to gambling. Bankroll management is quite sampling managing your money to make sure you don't spend beyond your means and also to make sure you don't accumulate big debts quickly. There is a very simple way that you can manage your money.

Take a set amount of cash you can afford to lose every week or month and expect to lose it all, any wins will go into your account balance as a bonus. Divide this sum up by seven days or the number of days in that month and you will always have a small amount of cash to bet with each day.
Never view bankroll management with the thought that it's simply a case of putting money into your account when you run out. This is a sure fire way of blowing all of your cash in a very short space of time.
Deposit Limits
One of the common features in account controls with most bookmakers is the option to set deposit limits. This is a tool you can use which will allow you to only deposit a restricted amount of cash into your account at one time. For example, you could set yourself a limit of ï¿¡50 per month or ï¿¡10 per week. Deposit limits will be found in your banking section or under "account controls".

One of the main terms and conditions with deposit limits is that they are time controlled. In other words, when you make a change to your deposit limit, you will not be able to change it again for a certain amount of time. In most cases bookies will only allow one change per month.
Borrowing Money
This is a cardinal sin. Never borrow money to fund your gambling habits. There are a lot of websites and companies out there that will give short term loans to pretty much anyone. These are the sort of sites that gambling addicts go to in order to fund their addiction.

These short term loan companies often have high interest rates which are much higher than common money lenders. Another reason it is never a good idea to borrow money is because most of the time, the cash you win will not be enough to pay back the cash you have borrowed. If you are borrowing money each time to fund your bankroll then you are just going to carry on accumulating huge debts.
Useful Resources :
Get Betting Offers
Get the latest exclusive offers on bookmaker free bets as they happen - It's private & FREE!
100% Privacy, We will never spam you
Get exclusive offers
Videos
More videos »
Kev Lard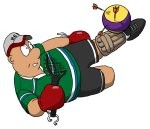 Kev Lard - Comic Strip
Click here to see Kev »
Topical Feature Lists
If you fancy a break from the serious side of betting, take a look at our Topical Feature List for a bit of a giggle.
Click Here To View The List »
Betting Blog
View our latest sports articles in our betting blog
Read Our Blog »