Get Involved with Free Bets
Premier League Free Bets
Over the past two decades the Premier League has grown into a global brand that is watched around the world by millions of football fans. The league is the top division in English football and consists of 20 teams. Each season three teams are relegated, four are offered entry into the Champions League and one is crowned champion.
Manchester United are the most successful team in the Premier League history having won 12 titles, followed by Chelsea with three successes, Arsenal with two and then Blackburn and Manchester City each with one.
Since the Premier League began online football betting has grown at an exponential rate. Punters can now use football free bets to wager on well over 100 markets for televised matches, with many markets being offered for In-Play betting. Premier League free bets are now an integral part of the online betting process.
Using your Premier League Free Bets
Making use of your Premier League free bet couldn't be simpler. Begin by picking out which of the sign-up offers best suits your punting style and budget, then register for a new sports betting account with that bookmaker by clicking on a link or banner that you see on FREEbets.org.uk and entering your details. Once you have registered you'll need to make an initial deposit (unless your chosen free bet offer states that no deposit is required) and place a bet.
Once your initial bet has been placed and settled, your Premier League free bet will be released. Then in order to utilise your free bet tokens simply place a bet in the same manner as you would normally, but select the 'free bet' icon before confirming.
Premier League free bets can be used on anything from backing a team for relegation or a top four finish, to betting on the first goalscorer in any particular game, the match result or the number of corners taken.
Premier League Betting
Betting on the winner of the Premier League was, for the most part, a four-horse race, now Manchester City's newfound wealth and Tottenham's resurgence has opened things up slightly. Throughout the history of the Premier League Manchester United have featured consistently towards the forefront of the outright winner betting. Rarely have Sir Alex Ferguson's side gone into a campaign where they have not been considered one of the favourites to lift the trophy at the end of it.
At the other end of the table the newly promoted sides are generally made the strong favourites to be relegated, with many punters opting to use their Premier League free bets to predict that a team coming up from the Championship will go straight back down. While the top-four finish market has become increasingly popular over the years as the battle for Champions League football takes increasing precedence.
Videos
Kev Lard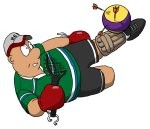 Kev Lard
Comic Strip