Football Free Bets
Betting on football has become increasingly popular over the past couple of decades. Whereas in the distant past punters would be restricted to betting on only the outcome of the game, now bettors can bet on every aspect of a match. Number of goals scored, number of bookings, team to win most corners, time of first goal and handicap betting are just some examples of the football betting opportunities.
Football free bets are also now an integral part of online football betting with almost every bookmaker on the Internet offering sign-up promotions to new customers. Whether you are betting on the English Premier League, German Bundesliga or Argentine Apertura there is bound to be something available for you. With so much football on our screens these days, there is always a fixture, competition or news that you can bet on. Be sure to keep up to date with all of the latest football talking points here.
Offer values vary from as little as £10 to as much as £200, some come with simple, non-complicated terms and conditions, others have a number of rollover requirements attached. Users should check our specific bookmaker pages for a list of the stipulations attached to each particular offer.
Football and betting now go hand in hand with bookmakers sponsoring the shirts of many top teams, all clubs now having official betting partners and advertising hoardings around the pitch decorated by bookmaker slogans and promotions, including football free bets.
What is the latest football talking point?
Who could replace Jose Mourinho as Chelsea manager?
The international break has done little to stop the speculation surrounding the future of Jose Mourinho. Following Chelsea's 1-0 defeat to Stoke last time out, the club are now 15 points off the top of the table, a spot they held for almost all of last season and they are even 13 points short of fourth place and that elusive final Champions League spot. They have lost three successive league games in a row since the 1999/2000 season and it's the first time it has ever happened in Jose Mourinho's managerial career. Though Mourinho has been backed publically by the Chelsea hierachy, you must wonder how much longer they will show such patience. Roman Abramovich is hardly renowned for giving struggling managers time but would he really want to part company with Jose Mourinho again after admitting his regrets at doing so the first time? What ever has gone wrong at Chelsea this season remains a great mystery and how a club can go from dominating the league, to seem vunerable at every turn will always reflect badly upon the manager, even one as great as Mourinho. So if Chelsea were to replace the 52-year-old, just who could replace him?
Carlo Ancelotti
Age: 56
Previous teams managed: Real Madrid (2013-2015) Paris Saint Germain (2011-13) Chelsea (2009-2011) Milan (2001-2009) Juventus (1999-2001) Parma (1996-1998) Reggiana (1995-1996)
The Italian won a league and cup double during his first spell at Stamford Bridge and has brought success wherever he has managed. After being somewhat harshly dismissed by Roman Abramovich after a disappointing second season, it is believed that their relationship has been repaired and that the Italian is open to the idea of returning to Chelsea. With such a glittering CV and with no complications of already being in employment, Chelsea know that they could act swiftly to bring in Ancelotti if he is indeed open to the move. Though having seen the return of Mourinho go sour, would Abramovich really want to bring another former Chelsea manager back for a second spell?
Fabio Capello
Age: 69
Previous teams managed: Russia (2012-2015) England (2008-2012) Real Madrid (2006-2007) Juventus (2004-2006) Roma (1999-2004) Milan (1997-1998) Real Madrid (1996-1997) Milan (1991-1996)
Another Italian and another manager that will be instantly recognised by football fans on these shores. Capello has flattered to deceive in his last two international jobs but does boast a strong C.V in the club game. He has recently criticised Mourinho for Chelsea's troubles this season and has been linked with the job in the past though despite the relatively short odds, it would be a very surprising move for all parties concerned.
Diego Simeone
Age: 45
Previous teams managed: Atletico Madrid (2011-Present) Racing Club (2011) Catania (2011) San Lorenzo (2009-2010) River Plate (2007-2008) Estudiantes (2006-2007) Racing Club (2006)
Diego Simeone's achievements with Atletico Madrid see him as one of the most highly regarded managers in Europe, after breaking the long standing duopoly of Real Madrid and Barcelona. He also led the club to the Champions League final in 2014, knocking Chelsea out en-route. His great man management skills would appeal to any club but would he be able to replicate his success at a club with more pressure? Under Simeone, Atletico look as though they would do anything for him but would he get the same intense work-rate from this Chelsea squad?
Pep Guardiola
Age: 44
Previous teams managed: Bayern Munich (2013-Present) Barcelona (2008-2012) Barcelona B (2007-2008)
Guardiola remains Roman Abramovich's dream target to take the Chelsea hotseat. His Barcelona side are often regarded as the greatest club side to have ever played the game and Pep's style of football is the kind that Abramovich wants Chelsea to play. The 44-year-old has made his ambitions clear that he does not wish to stay at any club too long and now in his third season at Bayern, you get the feeling he may be off in the summer. With Manchester City also keen on accquiring his services, Guardiola will be a man in demand come the end of the season but will Chelsea want to wait that long? It is almost unthinkable he will leave Bayern Munich mid season but if Chelsea were to get an interim manager in the meantime (something they are not adverse to) then Chelsea may well go after Pep come the summer.
Guus Hiddink
Age: 68
Previous teams managed: Netherlands (2014-2015) Anzhi Makhachkala (2012-2013) Turkey (2010-2011) Chelsea (2009) Russia (2006-2010) Australia (2005-2006) PSV Eindhoven (2002-2006) South Korea (2001-2002) Real Betis (2000) Real Madrid (1998-1999) Netherlands (1994-1998) Valencia (1991-1994) Fenerbache (1990-1991) PSV Eindhoven (1987-1990)
Another Dutchman and another previous incumbent of the Chelsea hot seat. Following his spell as interim boss in 2009, Hiddink remains a close friend of Roman Abramovich and would likely to be willing to step in until the summer again if required. He was very popular during his spell in 2009 and would bring a wealth of experience though it is unlikely that he would ever be considered as a long term solution.
%quadbox%
Football Betting
Opportunities to bet on football are now vast, varied and frequent. If you're betting on a live Sky Sports televised match, for example, you can be faced with the opportunity to bet on up to 170 different markets. Everything from the match odds and number of goals scored, to the time of the first corner, time of the first booking and even whether a named player will score with his head or his left foot, for example.
Free Bets Aplenty in the World of Betting on Football
If you have a free bet and you think of yourself as a bit of a football expert then there's just one betting opportunity after another out there. At one time gamblers were restricted to matches in the main British leagues with very few bets available aside from the standard win-draw-lose. Boy has that changed in recent years?!
Now you can bet on football matches that take place all over the world and the days of making selections on 3pm and 7.30pm kick-offs are becoming a distant memory. Whether it's a youth match being played in England on a Tuesday afternoon, a late-night Brazilian fixture or an early morning match in Australia, you can place a bet on it even while it's being played.
But football betting isn't restricted to the on-field action. If a managerial position becomes available at any football club bookmakers will almost immediately create "Next Manager Betting" markets. If a player is rumoured to be leaving his current club, or his contract is drawing to a close, then there'll be transfer betting markets made accessible speculating on which club he will join in the upcoming transfer window.
You Name it, You can Bet on It!
Betting on soccer isn't just about the matches that are played. Go to any betting site and you'll find a whole host of football markets available for you to use a free bet on and compile an accumulator. As we've mentioned already, there are bountiful opportunities for free bets to be used when a game takes place but the football industry is about a lot more than the next big match. You can bet on who the next manager of your club or country is going to be, even if there isn't a vacancy at the moment. A popular bet is which Premier League manager will be the next to leave their club. Many call this 'the sack race' but it's more complicated than that because it can include resignations and managers leaving to join another club.
The transfer window also provides gamblers with the opportunity to use their free bets. You can place bets on which team a certain player will be playing for when the transfer window shuts. There's so much transfer speculation this has become a popular bet and can go into overdrive when the transfer window is about to close.
The other relatively new concept nowadays is that of Live Streaming which has faciliated the use of mobile phones, tablets and home cpmuters to bascially "stream"" sporting events to their devices. This has made a massive difference to the accessibility of mainstream (excuse the pun!) events as well as broadeneing the appeal of different sports that 20 years ago would not have been able to have been viewed at all unless you were actually physically there. This phenomenon has now grown and stretched across most bookies to become common place but there some of the bigger names that like Bet365 that are know for doing it in the most robust way.
In-Play Football Betting
In-Play betting has taken placing sports bets to a whole new level. For those who aren't aware In-Play betting is the option to bet on an event after the match has, in the case of football, kicked off. Odds fluctuate throughout a game dependent on various factors, mainly scoreline and discipline. If a player has been red carded in a match then his team's odds will lengthen, whereas if a goal has been scored then the odds on that team winning, quite obviously, become shorter.
It used to be the case that as soon as a game began then the opportunity to bet on it came to a close. That's definitely something that has been consigned to the past to the extent that this concept has become one of the most popular bets that bookmakers make available to their customers.
Almost every bookmaker on the Internet now offers In-Play football betting, and most offer betting on leagues from around the world throughout the day. Rarely will you go to a bookmaker site and not see a football match being offered for format of punting.
Free bets on football can all be used for In-play betting, so if you're team take an early lead and you fancy them to hang on for the win you can use your free bet to back them, or if you want to bet on the team with 10 men to battle to a draw that's an option too. Almost every bookmaker on the Internet now offers this idea, and most offer betting on leagues from around the world throughout the day. Rarely will you go to a bookmaker site and not see a football match being offered for In-Play betting.
Odds change throughout the game and it gives you the opportunity to use your free bet to make higher profits:
Example : If you think Liverpool are going to beat Southampton at home, they might start the game at 4-5 but with in-play betting after say, fifteen minutes, if it's still 0-0 Liverpool's then the odds on winning will have changed and they may be even money.
If you still think Liverpool are going to win then get in there and take those better odds.
In-play betting also gives you the chance to rescue a situation. If you've bet on Liverpool to win and they go 1-0 down and don't look like getting back into the game, you can still stake some money on Southampton and make some profits.
The cash-out facility has also been introduced recently. This allows you to end your bet before the game finishes. So if Liverpool go 1-0 up you can cash out at a figure less than the amount if you waited for the whole ninety minutes to be played, but a profit is a profit and just imagine how pleased you'll be if Liverpool end up drawing or losing the game.
How to take Advantage of a Competitive Business
It's not just the number of games that you can bet on that has seen a massive increase. There has been an absolute explosion in the bets that are available to be placed on games. You can bet on everything from the first to last goalscorer, how many goals are scored, the number of corners and a lot more. You can even place a bet on what name David Beckham will give to his Miami franchise or if any more members of One Direction will sign for Doncaster Rovers - talk about endless opportunities!
All this increase in football betting and the overall growth of online bookmaking has led to a situation that can really help us in our ongoing quests to make profits from gambling. A hugely expanding market is also a competitive one and companies are trying their hardest to grab new customers.
To do this they offer the football free bets to get new customers and even more offers and bonuses to ensure they keep them. When there's a major match on the battle begins to make sure customers bet with their company not their rivals.
Ante Post Betting
Rather than betting on a match taking place at the end of the week or a game taking place at that very moment, there's another way to use your free bet. Bookmakers are always offering odds on future events such as the next World Cup, Champions League or Premier League title. These are great bets if your selection can stay in contention and you can get some excellent odds too. Just imagine how you'll feel if you place an ante post bet on your selection before the season starts at 20-1 and they get off to a great start. The odds on them winning the league may now be 4-1 but there you are sitting with your free bet at that tasty 20-1.
How Freebets.org.uk Can Help You
The bookmaking business is constantly going through changes and it's inevitable there will be more and more in the future. Bookmakers are continually finding new types of bets for their customers and at Freebets.org.uk we'll be keeping a close eye on what happens.
As soon as any new bets, offers or bonuses are introduced, our eagle-eyed staff will be seeking them out and testing just how good they actually are. That's our commitment to you now and well into the future, so become a regular visitor to our site and let us do all the hard work for you.
Get Betting Offers
Get the latest exclusive offers on bookmaker free bets as they happen - It's private & FREE!
100% Privacy, We will never spam you
Get exclusive offers
Videos
More videos »
Kev Lard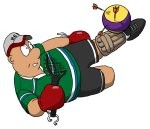 Kev Lard - Comic Strip
Click here to see Kev »
Topical Feature Lists
If you fancy a break from the serious side of betting, take a look at our Topical Feature List for a bit of a giggle.
Click Here To View The List »
Betting Blog
View our latest sports articles in our betting blog
Read Our Blog »