Free Football Bets
Betting on football has become increasingly popular over the past couple of decades. Whereas in the distant past punters would be restricted to betting on only the outcome of the game, now bettors can bet on every aspect of a match. Number of goals scored, number of bookings, team to win most corners, time of first goal and handicap betting are just some examples of the football betting opportunities.
Football free bets are also now an integral part of online football betting with almost every bookmaker on the Internet offering sign-up promotions to new customers. Whether you are betting on the English Premier League, German Bundesliga or Argentine Apertura there is a football free bet available to you.
Football free bet values vary from as little as £10 to as much as £200, some come with simple, non-complicated terms and conditions, others have a number of rollover requirements attached. Users should check our specific bookmaker pages for a list of the stipulations attached to each particular offer.
Football and betting now go hand in hand with bookmakers sponsoring the shirts of many top teams, all clubs now having official betting partners and advertising hoardings around the pitch decorated by bookmaker slogans and promotions, including football free bets.
Football News
Tuesday 31st March 2015
Monday 30th March 2015
Football News
Friday 27th March 2015

Thursday 26th March 2015

Tuesday 24th March 2015

Tuesday 24th March 2015

Friday 20th March 2015

Friday 20th March 2015

Thursday 19th March 2015

Wednesday 18th March 2015

Tuesday 17th March 2015
Football Betting
Opportunities to bet on football are now vast, varied and frequent. If you're betting on a live Sky Sports televised match, for example, you can be faced with the opportunity to bet on up to 170 different markets. Everything from the match odds and number of goals scored, to the time of the first corner, time of the first booking and even whether a named player will score with his head or his left foot, for example.
But football betting isn't restricted to the on-field action. If a managerial position becomes available at any football club bookmakers will almost immediately create "Next Manager Betting" markets. If a player is rumoured to be leaving his current club, or his contract is drawing to a close, then there'll be transfer betting markets made accessible speculating on which club he will join in the upcoming transfer window.
Football Previews
Sunday 17th May 2015
Sunday 17th May 2015
Football Previews
Sunday 17th May 2015

Sunday 17th May 2015

Sunday 10th May 2015

Sunday 10th May 2015

Sunday 10th May 2015

Saturday 9th May 2015

Sunday 3rd May 2015

Sunday 3rd May 2015

Sunday 3rd May 2015
In-Play Football Betting
In-Play betting has taken placing sports bets to a whole new level. For those who aren't aware In-Play betting is the option to bet on an event after the match has, in the case of football, kicked off. Odds fluctuate throughout a game dependent on various factors, mainly scoreline and discipline. If a player has been red carded in a match then his team's odds will lengthen, whereas if a goal has been scored then the odds on that team winning, quite obviously, become shorter.
Free bets on football can all be used for In-play betting. So if you're team take an early lead and you fancy them to hang on for the win you can use your free bet to back them, or if you want to bet on the team with 10 men to battle to a draw that's an option too.
Almost every bookmaker on the Internet now offers In-Play football betting, and most offer betting on leagues from around the world throughout the day. Rarely will you go to a bookmaker site and not see a football match being offered for In-Play betting.
Featured Bookmaker
" alt="" />
Paddy Power have a very generous Bet £10 get £30 Free Bet.

Videos
Kev Lard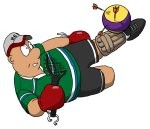 Kev Lard
Comic Strip