Featured Bookmaker
Sky Bet are offering FREEbets.org.uk readers a 100% £30 bonus free bet.
The UK's No.1 Free Bets Blog
April 17th, 2014 by Willie Thorne
The dust has settled on the pre-tournament qualifiers, the draw has now been made and the tables have, as always, been lovingly prepared. As the players assemble and the crowds begin to gather, here at The Crucible in Sheffield we're all set for the first round of the 2014 Dafabet World Championship Snooker to cue off at 10am on Saturday morning.
This is the highlight of the snooker calendar, drawing more and more interest every year from TV audiences all around the planet. A ball is yet to be struck but already there is a discernible sense of tension around the place, one which will only intensify as we go through the rounds and head towards the last session of the final on May 5th.

Read the rest of this entry »
April 16th, 2014 by Michael Cox
1 – The run-in
Fulham's primary objective is to overhaul Norwich City, the side they defeated 1-0 last weekend. There is more to it than that, of course – Cardiff are also battling to get out of the relegation zone, and others might become dragged in. But if Fulham get ahead of Norwich, they'll probably survive.
We all know the difficulty of Norwich's run-in, but Fulham's looks perfect. They have a game against an increasingly apathetic Spurs side, before matches against Stoke, Crystal Palace and Hull – currently 10th, 12th and 13th in the table.
At this stage of the campaign, you don't want to face fellow relegation battlers. You're better off against midtable sides already thinking about their summer holidays, and in that respect it seems to be working out nicely for Fulham.

Read the rest of this entry »
April 9th, 2014 by Michael Cox
This Sunday's match between Liverpool and Manchester City is the most important match of the Premier League so far, and a meeting between the division's two top goalscorers. Here are five battles that might prove crucial in shaping the result.
Steven Gerrard v David Silva
There is a possibility Brendan Rodgers could recall Lucas Leiva against a side so comfortable in possession – but even if the Brazilian does feature, it could be on the right of a diamond, where he played the second half against West Ham last week. Either way, Steven Gerrard will be Liverpool's deepest midfielder.

Read the rest of this entry »
April 2nd, 2014 by Michael Cox
Paris Saint-Germain are now in their third season as one of European football's superpowers – and they might just translate that status into a genuine European Cup challenge this season. Here's five reasons why they're real contenders.
1 – Good Form
Of the remaining European Cup contenders, PSG are playing in the weakest league. After a couple of years struggling to assert their dominance in Ligue 1, this year has been a breeze despite the threat of another newly-rich club, Monaco. Claudio Ranieri's side haven't been able to seriously challenge PSG, however, and the capital club will win the title comfortably.

Read the rest of this entry »
April 2nd, 2014 by Chris O'Connor
MMA Card: Chris "The All American" Weidman
Chris Weidman is an American Mixed Martial Artist and the current UFC Middleweight Champion. A standout wrestler in college he made his MMA debut in 2009 at Ring of Combat 23. He won the Ring of Combat Middleweight Championship in his third fight and was signed by the UFC after just one title defence.
His debut in the UFC came against Alessio Sakara in a fight he took on just two weeks' notice. Weidman won via unanimous decision and followed this up with impressive stoppages over Jesse Bongfeldt and Tom Lawlor respectively.
His first step up in class came against the dangerous Brazilian Demian Maia in a fight that Weidman won via unanimous decision before he was matched against fellow contender Mark Munoz. Weidman dominated the first round before stopping Munoz in the second with a perfectly timed elbow strike. It was this performance which landed Weidman a shot at the Middleweight title against Anderson Silva, widely considered to be the greatest Mixed Martial Artist of all time.
Weidman shocked the world by knocking out Silva in the second round catching the Brazilian with a perfectly timed left hook as he attempted to taunt Weidman. A rematch was immediately set up at UFC 168 with many believing that Silva would avenge his defeat. Weidman dominated the first round of the highly anticipated rematch before Silva suffered a freak leg injury as Weidman checked one of the Brazilian's kicks. A third fight with Silva looms on the horizon but before then there are many other contenders in the likes of Lyoto Machida and Vitor Belfort that Weidman must conquer.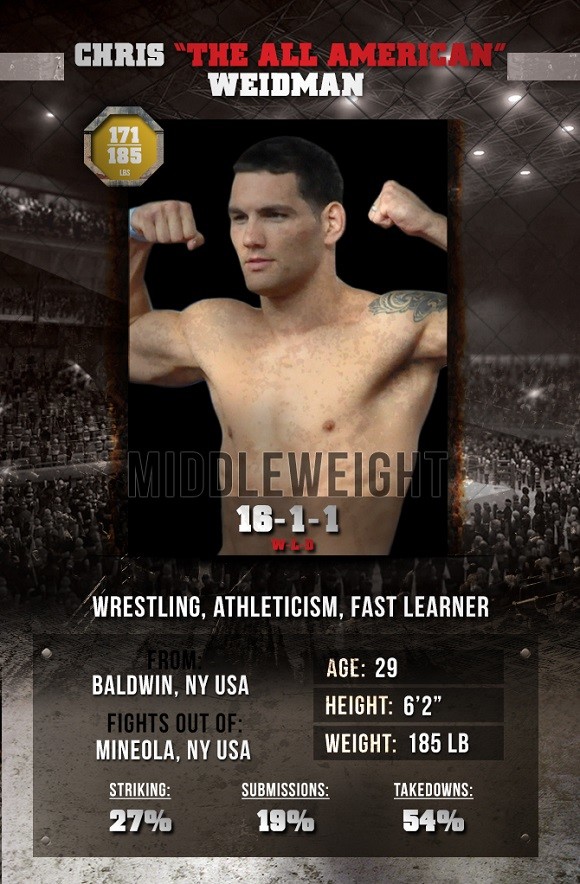 April 1st, 2014 by Paul Wilson
April Fools!
Whilst an ancient tradition it's not entirely clear as to the origins with many countries claiming invention. One thing is clear, if done well, a good old April Fool prank can raise some laughs.
So here at FREEbets.org.uk we've provided our list of Top 12 favourite pranks within the sport's industry:

Read the rest of this entry »
March 26th, 2014 by Michael Cox
With eight games remaining, Liverpool are unquestionably still in the title race. They might be third-favourites, but there are five good reasons why Brendan Rodgers' side can triumph this season…
1 – The SAS
It's the obvious factor, of course, but Luis Suarez and Daniel Sturridge are currently sitting first and second in the Premier League goalscoring charts. Never before has one side boasted the two most prolific players in a Premier League season, and should Liverpool lift the title, these two will be the main reason.

Read the rest of this entry »
March 26th, 2014 by Simon Ellis
MMA Card: Jon "Bones" Jones
Jon Jones is an American Mixed Martial Artist and the current UFC Light Heavyweight Champion. Coming from an athletic family, his two brothers are both American footballers, Jones excelled at high school wrestling before transitioning into MMA at an early age.
He won six fights in a row all by stoppage before being called up on two weeks' notice to fight at UFC 87. Jones won his debut by unanimous decision and due to his strong showing was immediately matched against Light Heavyweight veteran Stephan Bonnar. Jones won again in impressive fashion and began to be talked about as a future star. In his next four fights he made light work of each of his opponents, albeit with a DQ loss against Matt Hamill in a fight he was dominating, and was matched against fellow undefeated prospect Ryan Bader. Jones outclassed Bader submitting him in the second round and was told immediately after that he would face Mauricio "Shogun" Rua for the Light Heavyweight title in just six weeks.
The fight against Shogun proved that the hype that surrounded Jones was real as he defeated the Pride and UFC legend in brutal fashion becoming the youngest ever UFC champion in history. He followed this up with wins over top contenders such as Lyoto Machida, Rashad Evans and Quinton Jackson to cement his position as the world's top Light Heavyweight.
The sky is the limit for Jon Jones as he continues to carve out his legacy as one of the greatest fighters of all time.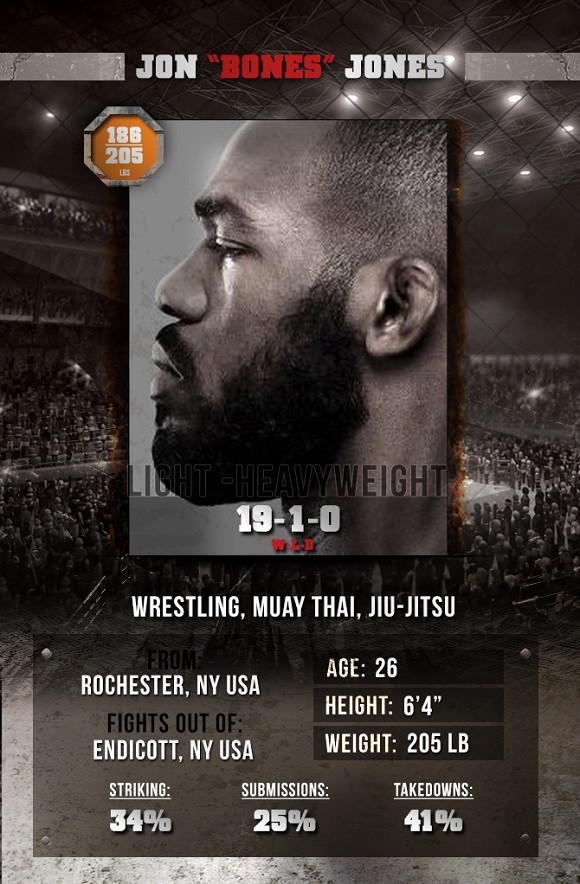 March 19th, 2014 by Michael Cox
In literal terms, Everton's improvement this season has been slight – they're in sixth, the same position as last year, and have won only two extra games.
Nevertheless, few doubt that Roberto Martinez has changed the club for the better, and the Toffees are in a good position to push on.
Here are five key features of Martinez's reign…

Read the rest of this entry »
March 19th, 2014 by Simon Ellis
MMA Card: Cain Velasquez
Cain Velasquez is an American MMA fighter who competes in the Heavyweight Division of the UFC. He is the current UFC Heavyweight Champion and widely considered to be the best heavyweight in the world.
He began his MMA career in 2006 under the Strikeforce banner and joined the UFC in only his third fight. He won six straight in the UFC before facing Brock Lesnar for the belt at UFC 121. Velasquez ruthlessly exposed the limited Lesnar and stopped him in the first round making a huge statement in the process. Many thought that Velasquez would go on to dominate the heavyweight division for a long time but he came unstuck in his next fight losing to Junior Dos Santos in his first defence via strikes in the first round.
He next came up against the huge Antonio Silva stopping him early on to set up a rematch against Dos Santos. Velasquez dominated Dos Santos in the second fight winning a unanimous decision and then defended his title in a rematch against Silva. This victory led to a grubber match against Dos Santos where Velasquez cemented his status as the most dangerous man on the planet by outclassing Dos Santos en route to stopping him in the fifth round.
Velasquez has it all, solid wrestling, versatile striking and the cardio of a middleweight – he will take some stopping.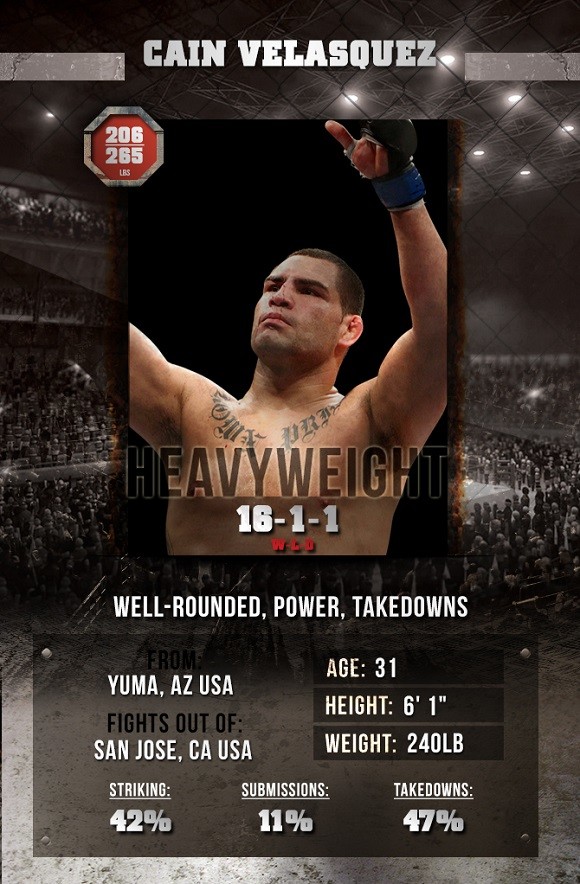 Videos
Our Latest Poll...
Sorry, there are no polls available at the moment.