Featured Bookmaker
William Hill are offering FREEbets.org.uk readers a 200% £50 bonus free bet.
The UK's No.1 Free Bets Blog
March 12th, 2014 by Michael Cox
Sunday's two big Premier League matches make for extremely exciting reading – Manchester United host Liverpool, before Arsenal make the short journey to White Hart Lane, to face Spurs.
The North London derby has provided some memorable moments in the Premier League era, particularly over the last decade. Here are ten of the best Premier League meetings between the sides…

Read the rest of this entry »
March 12th, 2014 by Simon Ellis
MMA Card: Jake "The Juggernaut" Ellenberger
At the turn of the year Jake "The Juggernaut" Ellenberger climbed into the top five of the UFC welterweight rankings. A former two-time Division II All-American wrestler and US Marine, Ellenberger began his MMA career fighting in the International Fight League (IFL).
His debut fight in the IFL Championship was back in 2006 and Ellenberger suffered his first taste of defeat to Jay Hieron by unanimous decision. He joined the ranks of the UFC in 2009 and quickly began to make a name for himself. Back in October 2012 Ellenberger finally had revenge on Jay Hieron by defeating him in a UFC Welterweight fight by unanimous decision.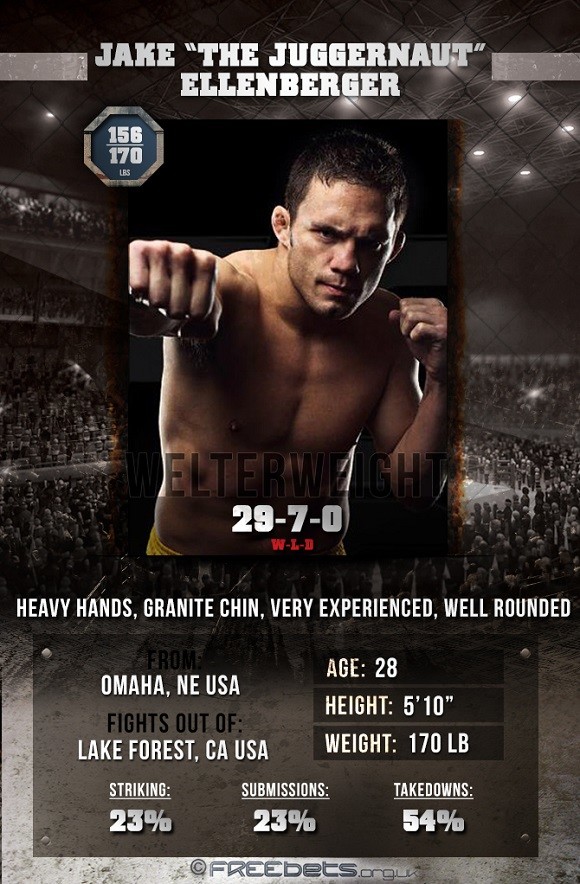 March 10th, 2014 by Paul Wilson
The 2014 Cheltenham Festival is almost upon us and here at FREEbets we've designed our very own Infographic stuffed full of facts on the Blue Riband race of the jump-racing season.
Our Cheltenham Gold Cup Facts Infographic has detailed facts on previous Gold Cup winners plus the right hand column focusses on this year's race which, hopefully, might help you pick the winner…

Read the rest of this entry »
March 5th, 2014 by Michael Cox
The announcement of Roy Hodgson's 30-man squad for tonight's friendly with Denmark was greeted with a predictable chorus of complaints, despite the fact it appears a reasonable selection – a mix of promising youngsters and established stars, and, more importantly, a balance between club form and past international performance.
That balance is frequently misunderstood when it comes to international squad selection. Peculiarly, no-one ever remembers the performances of individuals in past England matches, which is obviously a decent barometer of how they might perform in future England matches – in the same system, with the same team-mates, under the same manager, with the same level of pressure and expectation.

Read the rest of this entry »
March 5th, 2014 by Simon Ellis
MMA Card: Travis "Hapa" Browne
Travis Browne is an American Mixed Martial Artist who currently fights in the UFC's Heavyweight Division. He began his MMA career in 2009 and went on an impressive nine fight winning streak before joining the UFC in 2010. He won his debut against James McSweeney stopping him with punches in the first round at the Ultimate Fighter 11 Finale.
His next fight however saw him falter for the first time when he drew against UFC veteran Cheick Kongo, a fight in which he was lucky to not taste defeat as Kongo was deducted a point for repeatedly grabbing Browne's shorts. Browne bounced back winning his next three in the UFC to set himself up with a clash against Antonio 'Bigfoot' Silva in a fight many thought Browne would win. After starting brightly Browne tore his hamstring and was stopped by punches in the first round, his first career loss.
Since then however Browne has been extremely impressive stopping Gabriel Gonzaga before knocking out elite heavyweights Alistair Overeem and Josh Barnett. He was undoubtedly one of the fighters of 2013 and in 2014 will have his eyes firmly set on a fight for the pinnacle of the sport; the UFC Heavyweight Title.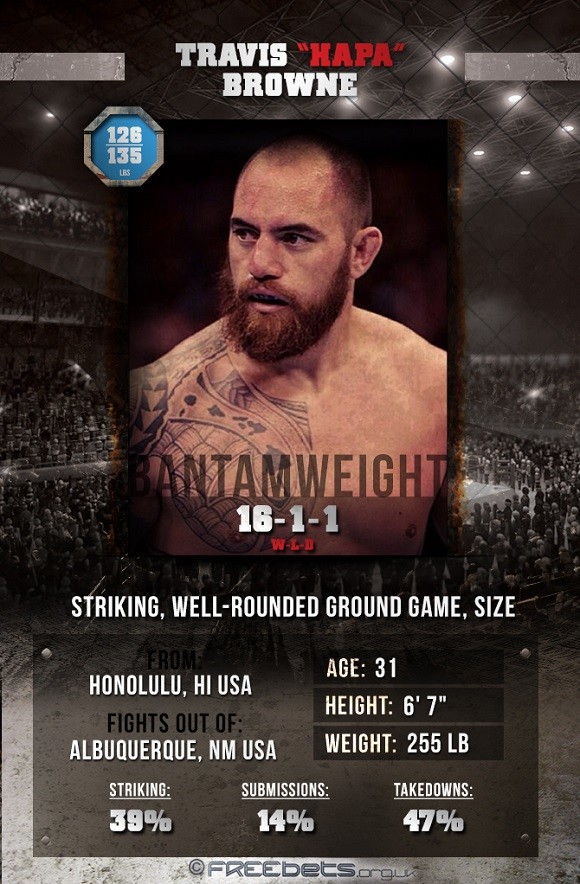 February 26th, 2014 by Michael Cox
Tonight, Jose Mourinho comes face-to-face with Didier Drogba for the second season running, having faced the Galatasaray centre-forward with Real manager last year.
"I'm not going to say that he is my favourite player because I have had a lot of truly special players, but if I had to choose one, I might go for Didier," Mourinho said ahead of that meeting. "As a player he is out of this world."
But who would accompany Drogba in Mourinho's favourite XI of players he's worked with? Amongst four top clubs and dozens of players, it's a tricky task – but it would probably look something like this…

Read the rest of this entry »
February 19th, 2014 by Michael Cox
A treble winner taking charge of treble winners was always likely to create a formidable side, and there are questionably echoes of Pep Guardiola's Barcelona team in this Bayern Munich side.
But what are the main differences between Pep's Barca and Pep's Bayern? Here are five major differences.

Read the rest of this entry »
February 14th, 2014 by Simon Ellis
The F.A. Cup has entered its 143rd year now and stands as one of the leading competitions in club football, running alongside the Premier League. The FA Cup final is the full-stop on the end of another English football season and marks the beginning of European tournaments.
Quizmasters of the UK – put your feet up! To celebrate 143 years of this English Footballing tradition we have found 143 of the most interesting facts about the competition:

Read the rest of this entry »
February 12th, 2014 by Michael Cox
After looking at the key player for each of the Premier League's top-half clubs last week, here's part two…
Swansea – Leon Britton
As Swansea start the post-Michael Laudrup era, interim coach Garry Monk will probably make Britton the focal point of his side. Like Monk, Britton has come through the divisions with Swansea and Monk is likely to focus upon restoring the identity of the club, something chairman Huw Jenkins appears particularly keen on.
On the pitch, Britton epitomises the possession-based attacking play Swansea have played throughout the past few years. Although Laudrup wasn't as obsessed with ball retention as Brendan Rodgers, Swansea's average of 60% possession is the highest of any Premier League club, and Britton will be crucial in maintaining that statistic.

Read the rest of this entry »
February 11th, 2014 by Simon Ellis
Winter Olympics reports on social media from journalists and athletes alike in Sochi seem to paint a bleak picture of unfinished buildings, non-flushable toilets and no hot water – we thought we'd focus on the positives! Here's a round-up of some of the most inspiring, promising and exciting women of these 2014 Winter Olympics.
Team GB
Name: Eve Muirhead
Born: April 22nd 1990 Scotland
Sport: Curling
Muirhead won the 2013 World Women's Curling Championship, and it seems like curling runs in the family as her father Gordon is also a world championship medal holder.
Other than curling she has modelled and is an accomplished bagpipe player.
---

Read the rest of this entry »
Videos
Our Latest Poll...
Sorry, there are no polls available at the moment.