Featured Bookmaker
Titanbet are offering FREEbets.org.uk readers and exclusive £35 free bet.
The UK's No.1 Free Bets Blog
March 5th, 2014 by Michael Cox
The announcement of Roy Hodgson's 30-man squad for tonight's friendly with Denmark was greeted with a predictable chorus of complaints, despite the fact it appears a reasonable selection – a mix of promising youngsters and established stars, and, more importantly, a balance between club form and past international performance.
That balance is frequently misunderstood when it comes to international squad selection. Peculiarly, no-one ever remembers the performances of individuals in past England matches, which is obviously a decent barometer of how they might perform in future England matches – in the same system, with the same team-mates, under the same manager, with the same level of pressure and expectation.

Read the rest of this entry »
March 5th, 2014 by Simon Ellis
MMA Card: Travis "Hapa" Browne
Travis Browne is an American Mixed Martial Artist who currently fights in the UFC's Heavyweight Division. He began his MMA career in 2009 and went on an impressive nine fight winning streak before joining the UFC in 2010. He won his debut against James McSweeney stopping him with punches in the first round at the Ultimate Fighter 11 Finale.
His next fight however saw him falter for the first time when he drew against UFC veteran Cheick Kongo, a fight in which he was lucky to not taste defeat as Kongo was deducted a point for repeatedly grabbing Browne's shorts. Browne bounced back winning his next three in the UFC to set himself up with a clash against Antonio 'Bigfoot' Silva in a fight many thought Browne would win. After starting brightly Browne tore his hamstring and was stopped by punches in the first round, his first career loss.
Since then however Browne has been extremely impressive stopping Gabriel Gonzaga before knocking out elite heavyweights Alistair Overeem and Josh Barnett. He was undoubtedly one of the fighters of 2013 and in 2014 will have his eyes firmly set on a fight for the pinnacle of the sport; the UFC Heavyweight Title.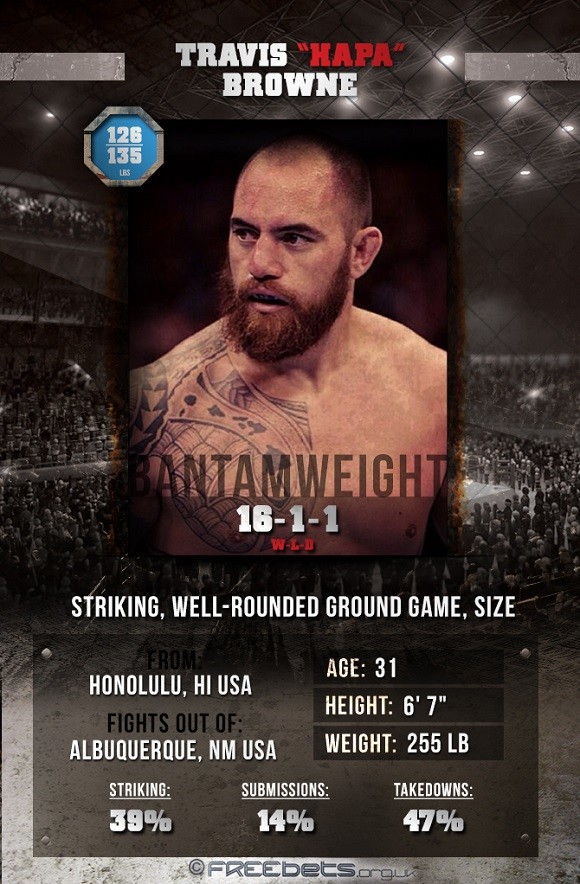 February 26th, 2014 by Michael Cox
Tonight, Jose Mourinho comes face-to-face with Didier Drogba for the second season running, having faced the Galatasaray centre-forward with Real manager last year.
"I'm not going to say that he is my favourite player because I have had a lot of truly special players, but if I had to choose one, I might go for Didier," Mourinho said ahead of that meeting. "As a player he is out of this world."
But who would accompany Drogba in Mourinho's favourite XI of players he's worked with? Amongst four top clubs and dozens of players, it's a tricky task – but it would probably look something like this…

Read the rest of this entry »
February 19th, 2014 by Michael Cox
A treble winner taking charge of treble winners was always likely to create a formidable side, and there are questionably echoes of Pep Guardiola's Barcelona team in this Bayern Munich side.
But what are the main differences between Pep's Barca and Pep's Bayern? Here are five major differences.

Read the rest of this entry »
February 14th, 2014 by Simon Ellis
The F.A. Cup has entered its 143rd year now and stands as one of the leading competitions in club football, running alongside the Premier League. The FA Cup final is the full-stop on the end of another English football season and marks the beginning of European tournaments.
Quizmasters of the UK – put your feet up! To celebrate 143 years of this English Footballing tradition we have found 143 of the most interesting facts about the competition:

Read the rest of this entry »
February 12th, 2014 by Michael Cox
After looking at the key player for each of the Premier League's top-half clubs last week, here's part two…
Swansea – Leon Britton
As Swansea start the post-Michael Laudrup era, interim coach Garry Monk will probably make Britton the focal point of his side. Like Monk, Britton has come through the divisions with Swansea and Monk is likely to focus upon restoring the identity of the club, something chairman Huw Jenkins appears particularly keen on.
On the pitch, Britton epitomises the possession-based attacking play Swansea have played throughout the past few years. Although Laudrup wasn't as obsessed with ball retention as Brendan Rodgers, Swansea's average of 60% possession is the highest of any Premier League club, and Britton will be crucial in maintaining that statistic.

Read the rest of this entry »
February 11th, 2014 by Simon Ellis
Winter Olympics reports on social media from journalists and athletes alike in Sochi seem to paint a bleak picture of unfinished buildings, non-flushable toilets and no hot water – we thought we'd focus on the positives! Here's a round-up of some of the most inspiring, promising and exciting women of these 2014 Winter Olympics.
Team GB
Name: Eve Muirhead
Born: April 22nd 1990 Scotland
Sport: Curling
Muirhead won the 2013 World Women's Curling Championship, and it seems like curling runs in the family as her father Gordon is also a world championship medal holder.
Other than curling she has modelled and is an accomplished bagpipe player.
---

Read the rest of this entry »
February 5th, 2014 by Michael Cox
With the January transfer window now finished, managers are unable to strengthen their side this season, and must instead concentrate upon maximising their existing resources.
Here's the first part of a look at each Premier League club's key player for the remaining 14 games of the campaign…
Arsenal – Olivier Giroud
Aaron Ramsey's return will be crucial, and Mesut Ozil needs to rediscover his early season form, but Arsenal have enough creative midfielders to compensate for their potential absence, or underperformance.
Upfront, Arsenal are obviously dependent upon one player, and while back-up Nicklas Bendtner isn't quite the liability some would suggest, Giroud plays a crucial role for Arsenal with his link-up play, and his penalty box presence. Without Theo Walcott, Arsenal need all their players to contribute their share of goals, something they've done excellently over the past 18 months – but Giroud will probably need to score a goal every other game, if
Arsenal are to win the league.

Read the rest of this entry »
January 30th, 2014 by Michael Cox
With just two days remaining of the January transfer window, there have been extremely few permanent moves amongst the Premier League clubs – and even fewer that look good value for money.
Perhaps it's best for clubs to keep their money in their pockets, however – here are ten January signings that proved completely unsuccessful.
10. Alan Hutton (Rangers to Tottenham, £9m, 2008)
It seemed like a reasonable move when Juande Ramos shelled out for the Scottish right-back midway through the season. Hutton had impressed in Scotland's impressive qualification campaign for Euro 2008, where they nearly toppled World Cup finalists France and Italy, and the move allowed Pascal Chimbonda to move across and plug the gap at left-back.
Things started well for Hutton, winning the League Cup after less than two months at Spurs, but he never truly showed his Rangers form in the Premier League. Harry Redknapp effectively made him an outcast, with Hutton complaining, "He never said anything to me when I left the club. I can't actually tell you the last time we spoke. It was probably when I heard the words, 'I don't want you to train with us any more, I want you to train with the kids'. I just don't think anyone should be treated like that. For me, Spurs was an unhappy place."

Read the rest of this entry »
January 23rd, 2014 by Michael Cox
Europe's title races are generally being fought by familiar names, but there are a variety of clubs who have suffered a significant dip compared to last season.
Here are ten of the biggest losers in 2013/14 so far…
10 – Freiburg
Freiburg's decline is more about them overachieving last season, rather than underachieving this season. Nevertheless, it's been a sharp drop from their exciting 2012/13 campaign, when only a final day defeat to Schalke saw them miss out on Champions League football for the first time.
There's no secret to their problems – they've lost the stars of last season. The excellent strike duo of Max Kruse and Jan Rosenthal (the main reason why Freiburg excelled) both departed, with Kruse excelling at Borussia Monchengladbach and Rosenthal joining Eintracht Frankfurt. Combative midfielder Cedric Makaidi and steady winger Daniel Caliguiri also left.

Read the rest of this entry »
Videos
Our Latest Poll...
Sorry, there are no polls available at the moment.