Get Involved with Free Bets
Ryder Cup Free Bets
Once every two years 12 Europeans and 12 Americans do battle for the Ryder Cup. Although the four Majors throughout the year are seen as the sport's pinnacle and that upon which the game's great players are judged, many of golf's most memorable moments are ingrained in Ryder Cup history.
While the Presidents Cup, which pits America against the Rest of the World, follows a similar format, the Ryder Cup evokes emotions and passion like no other golfing event. The venue for the biennial competition alternates between Europe and the U.S.A. with raucous home support often playing a pivotal role in the outcome.
The tournament is played over a match play format. Each Ryder Cup contested consists of eight foursomes matches, eight fourball matches and 12 singles matches, with all matches played over 18 holes. The winner of each match earns a point for their team, with a 1/2 point going to each player for any match that is tied after 18 holes.
Ryder Cup free bets can be used to bet on any of the 28 individual matches throughout the event, as well as who will win the Ryder Cup, which player will score the most points for their team, which player will score the winning point and even which players will be named in their respective teams.
The 2012 Ryder Cup will be played at the Medinah Country Club in Medinah, Illinois, United States from September 28 to September 30.
"I trust that the effect of this match will be to influence a cordial, friendly and peaceful feeling throughout the whole civilized world." - Samuel Ryder
How to use your Ryder Cup free bets
Using your Ryder Cup free bets can be done in a similar way to using regular Golf Free Bets. Once you have selected the free bet offer that best suits your budget and betting style from the FREEbets.org.uk menu you should then to go to the bookmaker and register for your new account.
After you are all set up with your new sports betting account it is time to utilise your Ryder Cup free bets. Begin by navigating your way to the golf section of your chosen bookmaker, then find the Ryder Cup section. Here you will see a range of Ryder Cup markets, the number and variety of which will depend upon your bookmaker.
Find the market and the selection that you would like to bet on then add it to your bet slip. Once you have added all your desired selections to the slip tick the box that indicates you wish to use your Ryder Cup free bets, then hit confirm.
European Ryder Cup Team
The European Ryder Cup 2012 team is comprised of the leading five members of The Ryder Cup European Points list at the conclusion of the 2012 Johnnie Walker Championship at Gleneagles, plus the leading five members (not otherwise qualified) from the Ryder Cup World Points List as of Sunday 26th August 2012. After these 10 places have been determined captain Jose Maria Olazabal is permitted two captain's picks.
Ryder Cup free bets can be used to punt on which player(s) will be named in the European team, as well as betting on who will be Europe's top points scorer once the event begins and how many points each individual player will score.
USA Ryder Cup Team
The USA Ryder Cup 2012 team is comprised of the top eight players in the United States points system on August 12, 2012, plus four captain's picks made by Davis Love III. The United States points system is based upon a combination of prize money earned in 2011 major championships, prize money earned in 2012 official events and prize money earned at the 2012 major championships.
With Tiger Woods edging back to form and Keegan Bradley, Bubba Watson and Webb Simpson all winning Majors in the period since the last Ryder Cup, the Americans go into this tournament as the Ryder Cup betting favourites.
Team USA Ryder Cup free bets can be used to bet on which players will be named in the Ryder Cup team, which players will receive captain's picks and which player will score the most points for their team.
Daily Betting Offers

Get your money back on losing Top Batsman bets if your pick is out without scoring.

Money back if your horse is beaten by a head or less in ANY UK flat race. Full details inside.
Videos
Kev Lard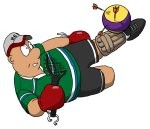 Kev Lard
Comic Strip