Daily Horse Racing Tips
Running Total
| | | | | |
| --- | --- | --- | --- | --- |
| Number of tips | Winners | Strike Rate | Profit/Loss | Winning Streak |
| 877 | 295 | 33.64% | +190.66 | 0 |
Today's Nap
Today's bet comes from Newbury where in the 2:10 Value At Risk should be tough to defeat. He makes his chase debut today and looks set to be a real classy chaser. He performed well in hurdles last year, being sent off 8/1 for the Albert Bartlett Hurdle at the festival. He struggled in the mud that day, and the run can be written off. Before that he raced over too short a trip and was screaming three miler. This will be his first proper effort over that trip and he should relish it.
Horse Racing Nap History
| | | | | |
| --- | --- | --- | --- | --- |
| Date | Horse | Race | Odds | Result |
| 25th November | Brave Deed | 25/11/15 Fontwell | 7/4 | PU |
| 24th November | Master Jake | 14:00 Lingfield | 13/8 | WIN |
| 23rd November | Mindurownbusiness | 15:05 Chelmsford | 5/2 | WIN |
| 22nd November | Minellaforlunch | 13:50 Uttoxeter | 5/4 | 2nd |
| 21st November | Red Hanrahan | 12:20 Ascot | 7/4 | 8th |
| 20th November | Vintage Clouds | 15:05 Haydock | 15/8 | WIN |
| 19th November | Uhlan Bute | 13:00 Market Rasen | 11/10 | 4th |
| 18th November | Richard Pankhurst | 18:55 Kempton | 7/4 | 7th |
| 17th November | Jumpandtravel | 13:05 Fakenham | 5/2 | WIN |
| 16th November | Stephanie Frances | 14:25 Leicester | 11/10 | PU |
| 15th November | Garde La Victoire | 13:35 Cheltenham | 11/10 | WIN |
| 14th November | Hi Vic | 14:50 Uttoxeter | 7/4 | WIN |
| 13th November | Penglai Pavilion | 14:15 Cheltenham | 5/4 | 3rd |
| 12th November | Howlongisafoot | 15:40 Taunton | 4/1 | WIN |
| 11th November | Take The Cash | 13:30 Bangor | 9/2 | 3rd |
| 10th November | Lil Rockerfeller | 14:10 Huntingdon | 5/1 | 3rd |
| 9th November | Maximiser | 13:45 Carlisle | 3/1 | 2nd |
| 8th November | Special Tiara | 14:50 Navan | 9/4 | 4th |
| 7th November | Zarib | 15:15 Wincanton | 3/1 | 3rd |
| 6th November | Village Vic | 15:30 Musselburgh | 6/4 | WIN |
| 5th November | Spanish Squeeze | 18:15 Chelmsford | 5/2 | 2nd |
| 4th November | Mansfield | 18:40 Aintree | 11/8 | 2nd |
| 3rd November | Vibrato Valtat | 14:20 Exeter | 5/2 | WIN |
| 2nd November | Dancing Dik | 15:30 Plumpton | 6/4 | 4th |
| 1st November | Lord Lir | 14:20 Huntingdon | 2/1 | 3rd |
| 31st October | Mitchum Swagger | 15:45 Newmarket | 9/2 | 2nd |
| 30th October | Priceless | 13:25 Newmarket | 13/8 | 5th |
| 29th October | Hold Tight | 14:50 Lingfield | 5/2 | 2nd |
| 28th October | Mystery Code | 14:10 Fakenham | 7/4 | WIN |
| 27th October | Real Smart | 14:05 Lingfield | 9/4 | 2nd |
How to pick your nap
Talk to any serious punter and the most important aspect of betting for them is their staking. Striking the balance between how strongly you fancy a horse and how far away you believe the price to be from a horse's true chance of winning is a challenge that will remain constant throughout everyone's betting life. This is where the term NAP comes from. It stands for 'not a problem', i.e. a certainty. Now obviously there is no such thing as a certainty in any sport, look at MK Dons vs Manchester United, Ivanisevic at Wimbledon or Foinaven in the Grand National. These are just a few examples of sporting shocks and highlight that there are no certainties in the sporting world. Obviously, this is all part of the attraction of these sports and why the Premier League is the most popular club league in the world and why horse racing is one of the most popular betting mediums in the world. With racing you have the control to decide your betting fate however there are a number of outcomes; anything can happen - and it usually does, to borrow a phrase from the great Murray Walker. For the considered bettor you have to factor that into calculations and even if a horse is NAP material one can never use their entire bank/budget on one outcome.

Most punters will work to a staking plan with a number of 'points' in their bank. A standard bet would be one point but some punters may go as high as five points on one they really fancy, these would be their NAPs. There are no specific rules for what makes a horse NAP material, however the longer you bet, the more you get a nose for a strong bet over a bet with more risks. Ironically though, younger punters can do better when betting with NAPs as they tend to be less risk adverse than their older contemporaries and therefore will take more of a chance on their fancied runner which, assuming they are a good judge, leads to a better profit.
What goes into picking a NAP out?
The beauty of horse racing is the large number of variables. There are too many list and pretty much every punter in the land will only focus on one or two areas where they have been successful in the past. Some take an analytical approach and there are numerous methods such as form study, speed figures, handicapping, race trends and dosage which are all interesting subjects but not for everyone. Others will prefer to visit the tracks, these are usually professionals who can afford that life of luxury through their punting. The advantage they have is they will be tuned into the whispers and latch onto market movers earlier. Some punters will meticulously watch racing replays looking for anything which suggests a horse was unlucky and better than the paper form. There are also the less serious punters who are more happy to just enjoy a bet, they will go by gut instinct or use tipsters to guide them towards a bet.

The sheer breadth of punting styles means it's impossible to truly define a NAP but to us it means a horse who has the trip, going and form in their favour. We also like to look for something the bookies may have missed as to me there might be horses with a better chance of winning than my NAP but the odds reflect that. No one will ever be able to take into account every factor in a horse race, even bookmakers tend to offer themselves a fairly large over-round to cover themselves. As punters we don't have that advantage but we do have the advantage of not having to bet every horse unlike a bookmaker. We can cherry pick the best odds and the most stand out prices can be considered our NAPs.

From our perspective, one example would be that bookmakers often over price smaller stables and foreign horses. That's not to say they are always value but if you can latch onto a good horse in a small stable then the profit is much greater and in a way more rewarding. Coneygree in the Gold Cup would be an example of this; a beast of a horse who murdered his rivals in the same style of Denman but with the odds much more generous. Obviously the risk with smaller stables is their horses are never as consistent so that needs to be factored in. The bigger stables are harder to NAP but they offer more opportunities, simply because they have more horses running. Often a big trainer will get their horse to run up a sequence, and the time to latch onto that is early on. You will find that flat horses just out of maidens require a bit more guesswork for bookmakers as they haven't reached their full potential yet. Using breeding and replays of their earlier race you can learn to spot when a horse has a real chance of improving.
The best guidance that we can offer is to make your own decisions, listen to what others say but don't always follow if you feel something is missing. No one will ever be correct 100% of the time, indeed, in racing you don't even have to be right more often than not to make a profit.
One 3/1 shot from 3 bets is a profit!
The goal is to make a profit and the only way to do that is by beating the odds and making the most of it when that stand out bet, or in other words a NAP, comes along
Get Betting Offers
Get the latest exclusive offers on bookmaker free bets as they happen - It's private & FREE!
100% Privacy, We will never spam you
Get exclusive offers
Videos
More videos »
Kev Lard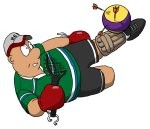 Kev Lard - Comic Strip
Click here to see Kev »
Topical Feature Lists
If you fancy a break from the serious side of betting, take a look at our Topical Feature List for a bit of a giggle.
Click Here To View The List »
Betting Blog
View our latest sports articles in our betting blog
Read Our Blog »