Cricket
November 27th, 2014 by Matthew Hoggard
Matthew Hoggard looks at why the Sri Lanka tour is a crucial time for England to improve with the Cricket World Cup looming in February of next year.
November 10th, 2014 by Fred Boycott
There are many theories as to why Andy was never again picked to represent the West Indies; slow scoring, his anti-establishment attitude… even that he was the wrong colour. Whatever the reason, no Test cricketer has ever achieved what Andy did!
September 13th, 2012 by Paul Wilson
The 4th Twenty20 World Cup takes place in Sri Lanka this year from the 18th of September, 2012, and defending
Follow Paul on Google+
Videos
Kev Lard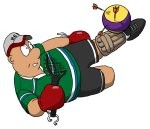 Kev Lard
Comic Strip