Football
For all the latest football free bets, news and previews.
September 24th, 2014 by Michael Cox
Man Utd's defence came under fire after they suffered a heavy defeat at the weekend at the hands of Leicester City. Can Van Gaal stop the rot at the back for the Red Devils?
Follow Michael on Google+
Videos
Kev Lard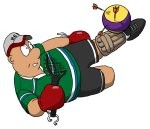 Kev Lard
Comic Strip