Premier League
Free bets posts, news and previews on the English Premier League.
November 20th, 2014 by Michael Cox
The three Premier League relegation spots are currently filled by the three newly-promoted sides. QPR seem to be 'clicking' together but Burnley and Leicester are going in reverse. Who, out of the three, can avoid the dreaded drop?
Follow Michael on Google+
Videos
Kev Lard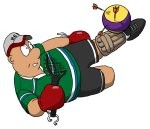 Kev Lard
Comic Strip