Tennis Free Bets
Tennis is one of the biggest sports in online betting with punters given opportunities to bet on tournaments throughout the year. From the Australian Open in January to the US Open in September, with the French Open and Wimbledon in between, there is rarely a week goes by when a top class tennis tournament is not taking place somewhere in the world.
Tennis free bets can be used on ATP and WTA tour events throughout the calendar, but the most popular events for punters are the four Grand Slam events of the year. The Australian Open, French Open, Wimbledon and US Open see the best players in the world competing for the most coveted prizes. Because the top tennis players gear their preparations towards the Grand Slams punters know that the players that they are backing with their tennis free bets will be at the peak of their powers. Or at least intend to be so.
Daily Betting Offers
French Open Money Back Special
Bet on ANY French Open match for a special money back as a free bet offer from Betfair
French Open 5th Set Decider Money Back
Place a pre-match bet on any Men's French Open Singles game for a free bet offer from BoyleSports
Tennis Previews
Friday 7th November 2014
Monday 27th October 2014
Tennis Previews
Monday 20th October 2014

Monday 6th October 2014

Tuesday 30th September 2014

Saturday 23rd August 2014

Tuesday 12th August 2014

Monday 4th August 2014

Monday 21st July 2014

Sunday 13th July 2014

Friday 4th July 2014
Tennis Betting Markets
Betting on tennis, as with most sports, largely revolves around picking the winner in a Match Odds market. There are, however, plenty of other markets for punters to use their tennis free bets on.
In one-sided matches Handicap Betting often takes precedence as bettors look for an opportunity to gather healthier returns from backing their favourite players. Set Betting is also popular in matches where there is a heavy favourite, here punters can bet on the correct set score and tend to bet on the match favourite to come through in straight sets.
Other markets available for Grand Slam and Tour events include :
Total Points
First Set Winner
Second Set Winner
Tie Break
Total Number of Games
Set Score
Number of Aces
Most Aces
...... and many, many more.
Tennis News
Tuesday 24th March 2015
Friday 6th March 2015
Tennis News
Friday 30th January 2015

Monday 26th January 2015

Friday 23rd January 2015

Tuesday 20th January 2015

Friday 16th January 2015

Friday 9th January 2015

Friday 31st October 2014

Thursday 23rd October 2014

Monday 20th October 2014
Grand Slam Tennis
In tennis all players are ultimately judged by their Grand Slam success. When looking back through history the true greats of the game are all multiple Grand Slam winners, with Roger Federer at the top of that list having won 16 (four Australian Opens, one French Open, six Wimbledons and five US Opens) Grand Slam titles in his career. He is one of only three players to complete a career Grand Slam; Rod Laver and Rafael Nadal being the other two.
It is a testament to the standard of men's tennis at present that both Nadal and Federer are competing in the same era, yet at the time of writing, neither man occupies the world number one spot. That accolade belongs to Novak Djokovic whop would join the illustrious list of players to have won all four Grand Slams if he could add a French Open title to his name. It is surely only a matter of time before he joins that list.
These three modern greats dominate the majority of selections for a tennis free bet. Their superiority in the game means that punters are almost guaranteed a good run for their money when backing them to win tournaments.
Andy Murray Free Bets
Andy Murray's position in history will be determined by weather or not he wins a Grand Slam title. He is perhaps unlucky to be playing in an era where there are three of the best players in history, but unless he can add a major title to his name he is destined to join the list of British nearly-men including the likes of Tim Henman and Greg Rusedski.
That isn't to say that the Scotsman doesn't continue to attract plenty of tennis free bets tokens. Punters will continue to be tempted by a patriotic bet and whilst Murray goes into tournaments with a chance of at least making the latter stages he will be backed the by the British public.
Featured Bookmaker
" alt="" />
Paddy Power have a very generous Bet £10 get £30 Free Bet.

Videos
Kev Lard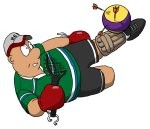 Kev Lard
Comic Strip