5 Reasons Why Liverpool Can Win The Premier League
With eight games remaining, Liverpool are unquestionably still in the title race. They might be third-favourites, but there are five good reasons why Brendan Rodgers' side can triumph this season…
1 – The SAS
It's the obvious factor, of course, but Luis Suarez and Daniel Sturridge are currently sitting first and second in the Premier League goalscoring charts. Never before has one side boasted the two most prolific players in a Premier League season, and should Liverpool lift the title, these two will be the main reason.

Brendan Rodgers has done his utmost to incorporate these two in their favoured position – upfront together – at the risk of leaving his defence exposed. The early-season 3-5-2, and to a certain extent the recent midfield diamond, have been used solely because Rodgers wants two upfront plus three central midfielders.
The downside is Liverpool's poor defensive record – amazingly, they've conceded more goals than Hull City. But the 6-3 win over Cardiff at the weekend sums it up: however many they concede, Liverpool are always confident of outscoring the opposition.
2 – Tactical Flexibility
Peculiarly, despite Liverpool's title charge, Rodgers hasn't yet found a definitive formation for his Liverpool players. There's been a 4-3-3, a 4-2-3-1, a 3-5-2 and a midfield diamond, each of which have their weaknesses – but it's kept opponents guessing. Liverpool's players have adapted well to the different systems.
More important, however, has been the variation in overall approach. Rodgers initially wanted a possession-based side but Liverpool have increasingly played on the counter-attack this season, and they've now found a point where they're capable of playing in either fashion to a very high level. They have the possession play to break down minnows, and the counter-attacking ability to outwit title rivals, such as in the 5-1 home win over Arsenal.
Therefore, there isn't a particularly obvious way for opponents to play against Liverpool. Whereas Manchester City don't always break down narrow teams, Chelsea struggle against deep defences and Arsenal don't like being pressed, Liverpool are the most adaptable of the top four sides.
3 – Fixture List
In truth, overall the fixture list hasn't been particularly kind to Liverpool – being forced to play their two most difficult away games of the campaign, away to Manchester City and Chelsea back-to-back over Christmas, was extremely harsh and might prove crucial.
Their remaining fixtures, however, are more promising. Both Chelsea and Manchester City have to visit Anfield before the end of the campaign, and while these are certainly tough fixtures for Rodgers' men, this gives them the opportunity to take points off their direct rivals.
It means overhauling Chelsea is in Liverpool's own hands, and while they need Manchester City to slip up once elsewhere, Manuel Pellegrini's side still have tricky games at Everton and Arsenal, from which they probably won't take six points. If Liverpool win the rest of their games, they'll probably be champions.
4 – Player Freshness and Availability
Liverpool have actually suffered from a succession of injuries this season – at one point arguably their entire first-choice back four was unavailable, plus Lucas Leiva and Joe Allen, their two most disciplined central midfielders. Again, the quality upfront was crucial in hiding this weakness.
But when Liverpool's players have been fit, they've been fresh. Rodgers hasn't been forced to rotate his side to cope with European football, and therefore like Dortmund in 2010/11 or Juventus in 2011/12, the freshness has been obvious come Saturday afternoons. Liverpool have also played just five domestic cup matches this season, three of them against lower-league opposition. By the end of the campaign Liverpool will have played only 43 matches, compared to Manchester City on 57, and Chelsea between 55 and 58 depending upon their European Cup progress.
Another subtle positive has been Liverpool's discipline. They haven't received a single red card all season, nor have they received a suspension for accumulation of bookings – Suarez's early-season suspension was the last time they had a player banned.
5 – Form
Liverpool's fine form has been overlooked. They haven't lost a single league game in 2014, and are therefore unbeaten in their last 11 games, over twice as long as any other Premier League side.
They've collected 18 points from their last six matches – Chelsea and Man City have only collected 13.
They've also scored in their last 20 matches – City's streak is four, Chelsea's just one.
If they keep this up, Liverpool will be champions.
March 26th, 2014 by Michael Cox
Videos
More videos »
Kev Lard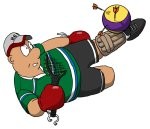 Kev Lard - Comic Strip
Click here to see Kev »