5 Surprise Performances of the World Cup So Far
World Cup's are always billed as being about the big name stars – but often it's more obscure players who shine. Here are five relative unknowns who sparkled in the first week of the tournament…
Christian Gamboa, Costa Rica
While Arsenal's Joel Campbell grabbed the headlines after Costa Rica's surprising 3-1 victory against Uruguay, he wasn't actually his side's star performer. That status fell to the side's right-wing-back, the highly energetic Christian Gamboa – playing his football in Norway for Rosenberg.
The absence of left-sided Bryan Oviedo of Everton means Costa Rica depend almost solely upon Gamboa for genuine width in their defensive-minded 5-4-1 system, and throughout the Uruguay match he relentlessly charged up and down the touchline, supporting his defence well and nullifying Cristian Rodriguez, while also getting to the byline and whipping in crosses.
That was the most surprising thing – the quality of his delivery into the box. He seemed to be running out of space shortly before supplying the cross for Campbell's equaliser, yet somehow still wrapped his foot around the ball superbly. England will have to be careful of that when they face Costa Rica on Tuesday, considering their problems in the left-back position against Italy.
Guillermo Ochoa, Mexico
This tournament has been littered with goalkeeping errors – and some outright blunders from keepers as high profile as Iker Casillas – and there have been just two genuinely impressive goalkeeping displays so far. Both are from North American sides – Tim Howard was excellent against Ghana, but Mexico's Guillermo Ochoa was even better against Brazil the following day.
Ochoa made six fine saves, the standout moments being a full-length dive to his right, to block a Neymar header, and then a close-range reaction stop from a powerful Thiago Silva header in the final moments of the contest.
Ochoa was only confirmed as Mexico's first-choice goalkeeper days before the tournament, with Jesus Corona seemingly set to be favoured. But Ochoa has justified Miguel Herrera's decision, and after finishing bottom of Ligue 1 with Ajaccio last season, will be relieved he's a free agent after his contract expired – the 28-year-old will surely move to a high-profile club on this evidence.
Serge Aurier, Ivory Coast
You might well have heard about Aurier, as he's been constantly been linked to Arsenal in recent weeks, after Bacary Sagna's departure to Manchester City. As it happens, he's become a regular for his national side having displaced another former Arsenal right-back, Emmanuel Eboue.
But you probably hadn't seen him play – and from first viewing, it seems Aurier has all the qualities to play for a club like Arsenal. He shares many qualities with Sagna, particularly the way he seems good in the air despite not being particularly tall, and has great energy to scamper up and down the right flank all game.
Particularly noteworthy, though, was his crossing ability. He created both of the Ivory Coast's goals in the 2-1 win over Japan, supplying two near-post ball for first Wilfried Bony, then Gervinho. Arsenal fans will be excited, although Arsene Wenger might be frustrated if Toulouse will bump up their price amongst competition from other clubs!
Matteo Darmian, Italy
Although a Serie A regular with Torino for the past couple of seasons, Darmian was relatively unknown outside Italy – he'd never played European football, and only made his international debut two weeks before this tournament. He's one of those players that missed the cut for the sticker album, but made the cut for the squad.
While Italy have more established full-backs like Ignazio Abate and Mattia De Sciglio (who was injured for the win over England) it's Darmian who has made the right-back slot his own. He and Antonio Candreva constantly caused problems down England's left flank, forcing long spells of pressure that often resulted in Darmian getting space to cross.
Darmian was caught out of position a couple of times, including for England's equaliser, but he showed great attacking intent, and got in a couple of strong tackles too. In a tournament of great full-back displays, Darmian has turned in one of the best.
Charles Aranguiz, Chile
Unless you're a regular viewer of Brazilian football, you won't be too familiar with Aranguiz. But in Chile's convincing 2-0 victory over Spain, he was one of the stand-out performers, and showed he's capable of playing for a top club in Europe.
Chile's strategy was all about pressing, and Aranguiz was the best presser in the side, constantly pressuring Xabi Alonso and forcing the Real Madrid midfielder into possibly the worst performance of his career, constantly getting caught in possession, and conceding fouls. Aranguiz also provided an excellent, scooped finish for Chile's second goal after Iker Casillas had punched out a free-kick, putting the game beyond Spain's reach.
Aranguiz is currently on loan to Internacional from Udinese – although he's never played for the Italian club. They remain masters of spotting talent in far-flung countries, and he could be sold on for a profit without ever appearing for his current employers.
June 19th, 2014 by Michael Cox
Videos
More videos »
Kev Lard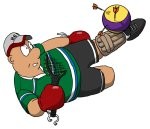 Kev Lard - Comic Strip
Click here to see Kev »