Skybet Free Bets
Current Sky Bet Free Bet - £10 No Deposit
Hover
New customers to Sky Bet can pick up a £10 free bet, without any initital deposit, when registering for a new sports betting account. Plus a free Now TV Sky Sports Day Pass worth £9.99.
There is no deposit required for the iniital £10 free bet, which makes Sky Bet a more appealing bookmaker to competitors that have deposit based bonuses. To be eligible for the Now TV Day Pass users must register via a desktop device, this promotion is not available via Sky Bet Mobile.
Once you have filled out the details and the application has been confirmed, Sky Bet will release £10 in free bets into your account. There are no restrictions on how you can use this £10, it can be broken up to cover multiple sports or it can be used in one big bet on your favourite team or in your favourite sport.
The current Sky Bet free bet is a great way to build up a solid and healthy account balance without having to spend a penny of personal cash.
Click here to go to Sky Bet and claim your £10 in no deposit Free Bets
Using Your Sky Bet Free Bet
Your free £10 will show in your account balance box which is commonly displayed on screen on all Sky Bet pages. You can make a selection by choosing one of the sports or events listed down the left of the Sky Bet screen, this will take you to various markets linked to that sport/event.
Hover
For example, selecting football from the list will bring up a detailed selection of featured matches for that day. You can choose to back a team to win that match or look at the markets associated with that match. Once you have made your selection, the bet will be lodged in your bet slip which you can change at any time.

Using your Sky Bet free bet is very simple. Every time you make a selection, your bet slip will pop up from the bottom of the screen. You will need to manually enter an amount you wish to bet which will be immediately taken away from your free £10 in the account balance. It's that simple.
Sky Bet 'What if' Offers
Sky Bet runs a range of regular promotions which are designed to offer better value to the customer. The 'What if' offers are a great example of this. Sky Bet 'What if' offers are based around a hypothetical question such as what if a certain player scores in a match, what if all of these teams win their matches or what if someone scores in injury time of a certain match.


This offer changes on a daily basis and will be displayed on the main Sky Bet home screen. Clicking on the 'What if' tab on the promotional box will display the 'What if' offer for the day giving you the option 'bet now'. If you do choose to take the bet then that selection will go straight into your bet slip at the bottom of the screen. The 'What if' offer will also appear on the main page of the sport it relates to.
About Sky Bet
Sky Bet was created in 2000 and is primarily the sports betting section of Sky Betting and Gaming. Sky Bet is unique because the company is controlled by BSkyB, a broadcaster. This has allowed Sky Bet customers to be able to gamble through their television as well as over the internet, over the phone or via their mobile telephone.

Sky Bet has enjoyed rapid growth because the site has had a very large bet thanks to the association with BSkyB. The website has always been very slick and simple, matching the brand image BSkyB has developed as time has passed. This allows customers to go onto the site, see the colour scheme and familiarity which leads to trust and a feeling of safety.

Sky customers can have their betting experience enhanced through live streaming links to sports which are broadcast over Sky Sports. This amplifies the live betting experience with the site.

Getting a Sky Bet account is very simple and involves simply following a few links and filling in basic details. New customers are required to register a debit card, credit card or e-wallet with the site but this is precautionary and has no effect on the no deposit £10 free bet.

The promotions change on a regular basis and always offer a great level of value to customers who are fans of various sports. Nearly all Sky Bet customers will only ever use this site to gamble.


Sky Bet Loyalty Rewards
Sky Bet loyalty rewards are designed to give something back to the customers who stick with the site for longer. There are two main rewards that can be earned; money off of a Sky TV bill or £20 in free bets for those who don't subscribe to Sky TV.

These rewards can be earned by accumulating stamps. A stamp is rewarded for every day that you bet £10, whether in one bet or in a series of small bets. As soon as this £10 is reached, the stamp will be awarded to your personal page. Rewards can be claimed each month, the number of stamps you have is reset to nothing at the end of each month.

Rewards are awarded for every five stamps that customers collect; £5 off your Sky bill or a £5 free bet. There is a maximum of £20 which can be spent on reducing your sky bill or having a free bet but this cannot be mixed.

You will need to opt-in for Sky Bet Loyalty Rewards, they are not awarded automatically. You can choose to have money off your Sky bill or to have free bets but you cannot change your selection until the end of the month. Once you have opted-in, Sky Bet will presume you are staying in the loyalty scheme until you act otherwise.
Kev Lard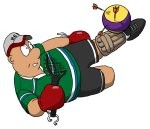 Kev Lard
Comic Strip
Free Bets App

New Free Bets App