Top 12 Sporting Pranks
Whilst an ancient tradition it's not entirely clear as to the origins with many countries claiming invention. One thing is clear, if done well, a good old April Fool prank can raise some laughs.
So here at freebets.org.uk we've provided our list of Top 12 favourite pranks within the sport's industry:

Karl Power, Sneaking onto the Manchester United Team Photo – April 2001
How can anyone forget this! The notorious photobomb occurred right before the Manchester United match against Bayern Munich back in 2001 for the UEFA Champions League.
Causing him to be one of the most widely remember British pranksters in history and widely feared by organisers during the 2012 Olympics. But has now since retired from conning his way onto the pitch and was last heard managing his own kid's football team – Ancoats Football Club.
London Marathon – April 1981
During 1981 The London Marathon ran for the first time on March 29th. The Daily Mail decided to create an April Fool's story surrounding this event, which involved a Japanese runner who had been given the wrong information about the length of the marathon itself so goodness knows how free sports bets and bonus offers would have been affected byt his as it's the sort of event that gets punters hurrying to open an account, then realising that it's …… not quite real.
According to the paper, an inexperienced translator had told the runner the race lasted 26 days rather than 26 miles, and as a result he was still running three days after the race had finished.
Diego Maradona Prank – April 1988
A huge story shocked the football world in 1988 when Diego Maradona, who had led Argentina to the World Cup only two years previously, was reported to have agreed a move to Russia.
The story instantly caught fire and was picked up by one of the leading news agencies, causing the story to go global, this was mainly due to the source (Soviet newspaper Izvestia) being never previously been linked to light-hearted banter. never has one single person been so responsible for the take up of football free bets than this genius whenever he took the field so you can see how this ruse was easily followed.
Orlando Magic Prank – April 2009
This Orlando Magic prank was brilliant to begin with without the amazing twist at the end.
Half-time allowed someone in the audience to win $100,000 if he could sink a shot from the halfway line, blindfolded. A fan was selected, took the shot and missed, but the crowd were instructed to roar thereby convincing him he had won the money.
He was over the moon with his win, as it turned out he had been laid off from work, causing many red faces all around and making everybody feel rather more uneasy about the joke played on him. He was then informed of the prank but took it gracefully despite being harshly tricked.
However, then came that second twist as it was revealed the man was actually an actor and it was the audience who were the fools!
Grandstand's Prank – April 1989
This is an oldie but still a classic and has nothing to do with legendary sport presenter Des Lynam being involved.
Rangers Football Club – April Fools 2003
April Fool's Day 2003, Alex McLeish, manager of Rangers, announced that he had signed Yardis Alpolfo, a seventeen-year-old Turkish player, to a £5 million deal. Many news organisations including Reuters published the story as fact without noticing that Yardis Alpolfo was an anagram of "April Fool's Day".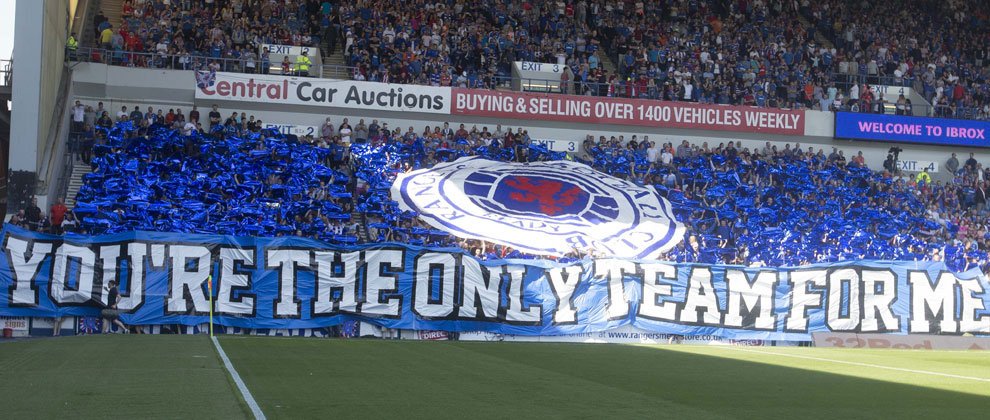 Rugby Union April Fool's Day – 2006
The following Ad was placed by the Rugby Football Union:
"At the Rugby Football Union (RFU) we're constantly striving to improve things for players and public alike. That's why we're harnessing the latest technology to give hard-pressed referees "an extra pair of eyes". Eight fibre-optic cameras in the ball, a GPS satellite and laser read-out glasses should once and for all put an end to interminable "was it a try or not?" arguments…"
Gives a whole new look on "Google Glasses"…
Square Dartboard – April Fool's Day, 2007
The News of the World revealed that the sport of darts was about to be changed with the introduction of a square dartboard at that year's Blue Square UK Open. The board was designed by a professor who was quoted saying "Darts needed a new look."
Dogs on Ice – April Fool's Day, 2008
The Daily Mirror reported that online bookmaker Blue Square, wanting to combine the popularity of the reality show "Dancing on Ice" with greyhound racing, specifically by having the race happen on an ice rink. Obviously there would be concerns about animal cruelty but the report assured readers that the dogs really enjoyed it. They have to wear special non-slip shoes, but there have still been occasions when one has slid into the crash barriers which ring the track.
Google gBall – April Fool's Day, 2009
Google Australia in April 2009 announced it had partnered with the Australian Rules Football League to develop the gBall:
"The gBall contains inbuilt GPS and motion sensor systems to monitor the location, force and torque of each kick. The data is interpreted by a new curvilenear parabolic approximation algorithm developed in Google's Sydney office, known as DENNIS ("Dimensional, Elastic, Non-Linear, Network-Neutral, Inertial Sequencing"), which plots the ball's trajectory, accuracy and distance.
Using artificial intelligence technology, Google can provide users – from amateurs to professional players – with detailed online kicking tips, style suggestions and tutorials based on their gBall kicking data.
Kicking data is also sent to national talent scouts and player agents. The gBall will vibrate if talent scouts or player agents want to make contact with the user. Users can log in to their gBall account to make contact."
Sounds ridiculous doesn't it but some people still were fooled by the announcement.
iPad Fit Series – April Fool's Day, 2010
Health and Fitness Company Dailyburn introduced the iPad Fit Series, an app which they proclaimed would turn a user's iPad into a set of scales. Once the user stepped onto the screen it would instantly examine the body fat percentage, work out the BMI and will either scold or congratulate you based on the results
It seems unlikely people fell for this prank, but considering the "recharge your iPhone by putting it in the microwave" fooled several gullible people, you never know!
The World's Longest National Anthem – April 2009
In 2009 The Sun got involved with the April Fool's spirit, claiming that the World Cup match between England and Ukraine would be preceded by a full length version of Ukraine's national anthem "Oi Ukrainy", lasting an "unparalleled" 6 minutes. The paper added that any fan that booed or sat down before the anthem was over would be ejected from the stadium.
Honourable Mentions:
In the true spirit of April Fool's, here's some of the best sport related pranksters:
Remi Gaillard
Many of this Frenchman's videos have gone viral all over the internet, including his amazing footie skills, but also for the notorious pranks he pulls on unsuspecting sports stars.
Mansour Bahrami
Also a notorious prankster this French/Iranian tennis player has delighted audiences across the globe with his in match hijinks from playing against players whilst sat on a chair to tormenting the umpire. There ar emany betors who would have gone for one of the free bet offers for tennis and joined a betting entity just to se this guy.
October 18th, 2018 by Simon A