Chelsea's Juan Mata Conundrum
This weekend's first Premier League clash is a repeat of one of last season's outstanding matches. Chelsea's 4-2 victory over Tottenham Hotspur was much less comfortable than the scoreline would suggest – an amazingly open, topsy-turvy game was decided in stoppage time, in Andre Villas-Boas' first meeting against his former club.
The star was one of his favourite players at Chelsea – Juan Mata. The Spaniard became his key attacking weapon during his half-season at Stamford Bridge, and it was inevitable that he'd play a crucial part in the victory. He scored two goals, taking Chelsea from 2-1 down to 2-3 up, and then assisted the fourth for Daniel Sturridge.
But Mata will almost certainly be absent from Chelsea's starting XI for this weekend's battle. Clearly out of favour with Jose Mourinho, not even making the 18-man squad for the win over Fulham last weekend, Mata's absence is extraordinarily considering he was named Chelsea's Player of the Season in May. There are, it seems, three separate factors in Mata's exclusion.

The first are tactical concerns about his style. Although perfect as a number ten in a side that played relatively high up the pitch, Mourinho has changed Chelsea's football this season, and favours more of a fast-paced approach. The 1-0 defeat to Everton demonstrated that Mata isn't entirely comfortable playing on the break – he kept receiving the ball in promising situations, yet doesn't have that burst of pace and immediacy required.  "He played against Everton from the start and you can analyse his performance," Mourinho said pointedly.
In that respect, it's entirely understandable that Mourinho favours Oscar as the number ten. Indeed, it's worth remembering that when Roberto Di Matteo was selecting Mata, Oscar and Eden Hazard in the same side, he broadly favoured that approach. Oscar would play a clever tactical role in the centre, Mata would move inside from the flank – that's what happened in the 4-2 win last season.
But Mourinho's concerns about Mata are more specific, and concern his lack of defensive work. He will play "only when he adapts to what we want," Mourinho said. "I'm not ready to ask Oscar to track opposing full-backs, I want the other two players, from the side, to learn how to do things they were not ready to do before."
Which, reading between the lines, means he wants Mata to become better at nullifying opposition full-backs. It broadly makes sense, then, that Mourinho hasn't used Mata against Fulham or Manchester United, who both have decent attacking full-backs, and that against Everton he was used centrally, so he didn't have to deal with Seamus Coleman or Leighton Baines. The home game against Aston Villa, one match where Chelsea didn't face dangerous full-backs, was when Mata did start out wide.
It's ironic, however, that the defining moment of Chelsea's trip to Spurs last year was the final goal. Mata had been squabbling with Kyle Walker a few minutes from full-time – but the Spaniard had the last laugh by nicking the ball from Walker, then squaring to Daniel Sturridge to tap in. On that occasion, he was more than capable of closing down a full-back.
Secondly, however, there's a sense of bravado about Mourinho's actions. Leaving Mata on the bench is justifiable for tactical reasons, but leaving him out of the 18-man squad entirely is inexplicable. Last week's match against Fulham saw Oscar, Hazard and Andre Schurrle (seemingly Mourinho's favoured three attacking midfielders) start, with Kevin de Bruyne and Willian on the bench.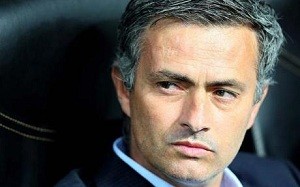 But even if Mourinho considers Mata ill-suited to his first-choice system, what about the back-up plan, the alternative? Fulham were always likely to sit deep against Chelsea, which meant there was a decent chance Mourinho would need a more creative, intelligent playmaker capable of threading passes through the opposition defence. Mata is more capable of that than any of Chelsea's other playmakers, and Mourinho's grandstanding to make a political point meant his squad was weaker than necessary.
Third, however, there's a suspicion that Mourinho dislikes Mata from a personal point of view. Ruud Gullit suggested something similar, prompting a spiky response from Mourinho – but when a manager ignores such a high-profile player to such an extent, there's often something more private involved.
There are two possible angles here – perhaps Mourinho is suspicious of Mata's friendship with some of the Real Madrid players he fell out with last season. Alternatively, he's concerned that Chelsea's new generation of (generally Spanish-speaking) players have too much influence in the dressing room, and wanted to return to a squad led primarily by John Terry, Frank Lampard and Ashley Cole – Mourinho's old favourites.
These remain conspiracy theories, but it's odd that Mourinho informed close journalists that he was prepared to listen to offers for Luiz and Mata before the season had even started. That suggests a deep-rooted opposition to these players, rather than a gradual dissatisfaction based upon poor performances.
Knowing Mourinho, Mata will return in about a month, Mourinho will exaggerate his increased defensive contribution, and declare him a more complete player when the goals and assists inevitably follow, almost taking credit for his form. This period is surely the means to an end, rather than the end itself – Mata is too good to ignore for much longer.
November 6th, 2018 by Simon A