Forwards are the First Line of Defence for AVB Sides
When Emmanuel Adebayor was dismissed against Arsenal at the Emirates earlier this month, it seemed particularly unfair that some blamed Andre Villas-Boas for selecting him in the first place.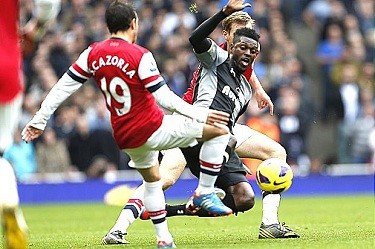 Yes, Villas-Boas had taken the decision to start Adebayor in a potentially fiery battle against his old club, when he was likely to be jeered throughout the match – but he could hardly be accountable for such a reckless, unnecessary tackle on an opponent. In that kind of situation, the player must take responsibility for his actions– and besides, in opening the scoring, Adebayor had shown there was some merit to Villas-Boas' selection decision.
But what if Adebayor's tackle was a natural result of Villas-Boas' gameplan? The Portuguese coach wants his team to be compact, and his players to be all-rounders. Defenders must start attacks, attackers must be the first line of defence. Under Harry Redknapp, Tottenham's attackers had few defensive instructions – Defoe sometimes occupied an opposition holding midfielder when fielded alongside Crouch, but Rafael van der Vaart was hardly a winning runner. Now, they must chase, harry and tackle – and that doesn't come naturally to strikers. Why else is 'a forward's tackle' an established football cliché?

Statistics from Tottenham's 3-1 win over West Ham at the weekend were particularly enlightening. They showed that Spurs committed nine fouls in the match, and seven of these were by Jermain Defoe and Clint Dempsey. The American was playing in the centre of the attacking band of three in a 4-2-3-1, but he's essentially a support striker. Therefore, Tottenham's two forwards were responsible for 78% of their fouls.
Villas-Boas is clearly not telling his side to commit fouls on purpose, but he's certainly instructing his forwards to close down. Adebayor's tackle against Arsenal could be dismissed as a one-off – a reckless piece of stupidity from an irresponsible player – but Defoe and Dempsey's fouling against West Ham fits into a broader pattern. Neither is a remotely dirty player, but both constantly mistimed tackles.
Granted, two of Dempsey's indiscretions were Kevin Davies-style fouls when challenging opposition centre-backs in the air. But two were in 'ground tackles', when either trying to assist his midfield in winning back the ball, or – if you were being more cynical – successful attempts to stop quick counter-attacks. Defoe's first foul, for a mistimed tackle on Winston Reid, saw him pick up a caution. He later tripped James Tomkins when chasing back after possession was lost, then accidentally brought down Joey O'Brien in stoppage time – again, they weren't malicious challenges, but he was surprisingly careless when on a booking.
Last season, Villas-Boas encountered a similar problem at Chelsea. Twice in the first nine league games, a striker was shown a straight red card for serious foul play – Fernando Torres for a two-footed tackle on Swansea's Mark Gower, and Didier Drogba for a similarly rash challenge on Adel Taarabt away at QPR. Villas-Boas has been in charge of 40 Premier League games, and on three occasions one of his strikers has been shown a straight red.
Just a coincidence or a natural consequence of his insistence that strikers tackle back?
Defoe, for the record, has already committed more fouls this season than he did in the entire 2011/12 league campaign – although that's partly due to being selected more frequently. In real terms, there has been a small but interesting change – last season he committed a foul every 98 minutes, this season it's one every 67.
As a whole, Tottenham are a very clean side. Only Manchester United and Reading commit fewer fouls per game, and the disciplinary record of the back four is very impressive; Steven Caulker has made just two fouls in eight appearances, William Gallas four in 12. There's simply a strange – but possibly explainable – tendency for the forwards to get in trouble with the referee.
It's a difficult thing to translate into a reliable bet, but if you're able to back Defoe to be booked at decent odds, it might be worth a go.
November 6th, 2018 by Simon A