Top 10 Premier League Individual Performances
10. Moussa Sissoko, Newcastle 3-2 Chelsea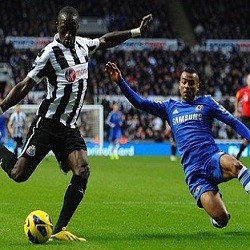 Many expected January signing Moussa Sissoko to be used in a deep midfield position, with Yohan Cabaye playing at the top of the triangle – but Alan Pardew had other ideas. Sissoko was pushed forward in support of Papiss Cisse, and constantly drove Newcastle forward with powerful midfield runs.
Chelsea seemed unprepared for his direct running even in only his second appearance in the Premier League when Sissoko was involved in everything good about Newcastle, creating three chances for teammates, and popping up with two crucial goals in a 3-2 victory. His subsequent performances have been decent rather than spectacular, but this was evidence that Sissoko can be an invaluable player for Newcastle next season.

9. Jonathan Walters, Stoke 3-1 Liverpool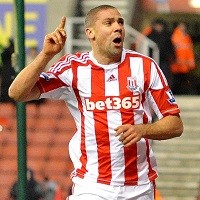 Jon Walters would be guaranteed of a place in the worst ten performances of the season, too – against Chelsea, he managed two own goals and a missed penalty. But a couple of months earlier, on a cold Boxing Day evening at the Britannia, Walters turned in a truly excellent performance as Stoke deservedly beat Liverpool 3-1.
There were the usual features of Walters' game – battling aerially, getting through a great amount of running and dropping back manfully to help in midfield – but also great technical quality. His first goal was a calm finish past Pepe Reina, the second a more spectacular finish from a Kenwyne Jones flick-on. Two shots, two goals – and coming from a family of Evertonians, Walters would have particularly enjoyed the win.
8. Robin van Persie, Southampton 2-3 Manchester United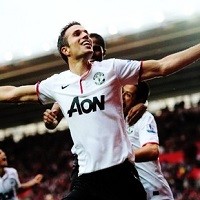 This was nearly a disastrous afternoon for Robin van Persie. With Manchester United trailing 2-1 against a newly promoted side in the second weekend of the season, the Dutchman had a penalty, and a chance to equalise in the 68th minute. Inspired by Andrea Pirlo's 'Panenka' in the summer – which Van Persie had tweeted about approvingly – he chipped it tamely down the middle, with Kelvin Davis making an easy save. After last season's incredibly narrow title win, dropping points in such an unnecessary fashion was highly dangerous.
But Van Persie didn't hide – he instead proved his quality, scoring a well-taken equaliser in the 87th minute, then heading in a near post corner in stoppage time, to seal his first Manchester United hat-trick.
7. Luis Suarez, Norwich 2-5 Liverpool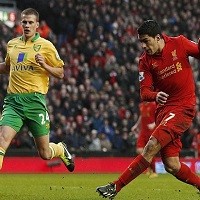 Luis Suarez enjoys playing against Norwich. Last season he hit a stunning hattrick at Carrow Road, this season he repeated the feat – and assist a goal for Nuri Sahin, which in itself is something of a miracle.
This was a crucial game for Liverpool – in their sixth game of the Premier League season, they'd yet to win under Brendan Rodgers. Flanked by two youthful wide forwards – Raheem Sterling and Suso – Suarez took command, opening the scoring after just two minutes. He spent the game roaming the pitch laterally, working the channels and looking for shooting opportunities from all angles. All three goals were hit from the same range – just outside the 18-yard line. Not only was it a hattrick, it was an outside-the-box hattrick.
6. Juan Mata, Tottenham 2-4 Chelsea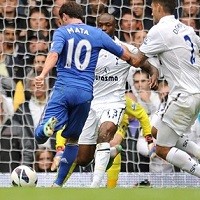 Juan Mata's consistency this season has been amazing – whereas others concentrate their goals and assists within a short spell, Mata has contributed routinely over the course of the campaign.
But his performance against Tottenham at White Hart Lane in October was particularly impressive. In an incredibly frantic game, with Spurs still getting used to Andre Villas-Boas' pressing game, Sandro was drawn to Oscar – used as the central playmaker – allowing Mata to dart inside from a wide position into space between the lines.
Mata scored two good goals, but his best moment was an assist – after a squabble with Kyle Walker a couple of minutes before, Mata has his revenge by embarrassing Walker close to the corner flag, dispossessing him coolly before squaring the ball for Daniel Sturridge to tap in. It was a fine way to round off a superb performance.
5. Alex McCarthy, Reading 0-0 Liverpool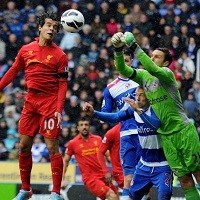 It's rare that you see such a fine goalkeeping performance from such an unheralded player. Last weekend, Alex McCarthy was Reading's third goalkeeper in as many matches, and had missed the last four months through injury.
On Saturday, he returned to the side to produce one of the finest goalkeeping performances you'll see anywhere in Europe this season. A string of genuinely superb saves kept Liverpool at bay – they may have 'won' the shots count 26-6, but McCarthy's brilliance meant Reading earned a rare point. Liverpool manager Brendan Rodgers, who briefly worked with McCarthy in his spell at Reading, declared him good enough to play for England in future.
4. Gareth Bale, West Ham 2-3 Tottenham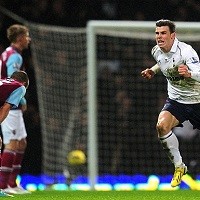 There has been a strange insistence on overhyping Gareth Bale in recent years. His displays against Inter were brilliant, but this resulted in sensationalised transfer speculation based upon little evidence. His 2010/11 campaign was impressive, but PFA Player of the Year was a bit much. His 2012/13 has been superb, but comparisons with Lionel Messi and Cristiano Ronaldo are ludicrous.
Then, Bale comes up with genuinely staggering performances like this, performances where practically the entire game is about how his side can get the ball to him, and how the opposition can stop him. His stoppage time strike, hit from 30 yards into the top corner, was a goal that underlined quite why Bale receives so much attention.
3. Christian Benteke, Liverpool 1-3 Aston Villa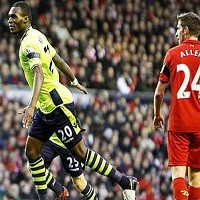 Aston Villa may have been struggling at the bottom half of the Premier League for most of the campaign, but on the few occasions they've found a cohesive strategy and decent levels of confidence in the same game, they've been genuinely superb.
The 3-1 win at Anfield must go down as one of the most impressive away performances of the campaign. It was textbook stuff – defend deep to prevent Liverpool playing incisive passes, then break quickly through a big central striker. Christian Benteke's display was utterly brilliant – two goals, and a brilliant backheeled assist for Andreas Weimann. He battled against Daniel Agger and Martin Skrtel, two of the Premier League's most established centre-backs, and came out on top.
2. Jordi Gomez, Wigan 3-2 Reading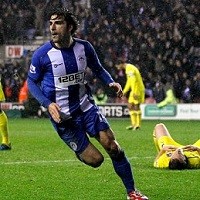 Jordi Gomez doesn't score hattricks – his previous treble came for Barcelona's Under-12 side. In fact, Gomez doesn't really score at all – he's only managed three goals all season. Amazingly, they all came in Wigan's second half against Reading at the DW Stadium in November.
It was also a perfect hat-trick: left foot, head, right foot. Playing in a more advanced role than he's accustomed to, as one of the two playmakers just behind Arouna Kone, the Spaniard was constantly involved. He attempted no fewer than nine shots and created four chances with clever through-balls into the box. Gomez is a decent player, but no-one quite understands where this performance came from.
Of course, context is also crucial: Wigan snatched the win in injury time against a fellow relegation struggler, and those two points could be crucial at the end of the season. Sadly, Gomez's performance came in the least-attended match of the campaign: just 15,436 bothered with this one.
1. Marouane Fellaini, Everton 1-0 Manchester United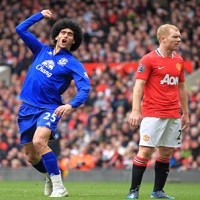 On the first Monday night fixture of the season, Marouane Fellaini outlined his quality with a superb display – dominating the centre of midfield and scoring the only goal of the game.
Manchester United had an injury crisis at the back, with Sir Alex Ferguson forced to deploy Michael Carrick and Antonio Valencia as the right half of his back four. With Nikica Jelavic pinning back Nemanja Vidic, Fellaini was told to play high up the pitch, drifting left and challenging Carrick in the air.
Fellaini's sheer physical dominance was remarkable, collecting chips forward from Leighton Baines and bringing Steven Pienaar into play – Gary Neville had practically declared him the man of the match even before his winner. It was the first top-quality performance of the season, and still the best.
November 6th, 2018 by Simon A