Top 10 Under-performing Premier League players
Samir Nasri, Manchester City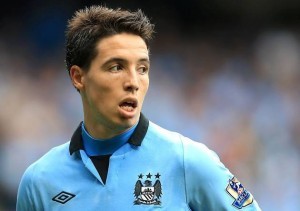 From nearly five years in the Premier League, Nasri has only played consistently well for half a campaign – the first part of 2010/11. "A player of this quality could be one of the best players in Europe, but it's not happening," a rueful Roberto Mancini told The Guardian last week. Nasri's purpose in Mancini's side is unclear – David Silva expertly plays the Frenchman's natural role, and City look superior when James Milner offers mobility and clever runs to compliment Silva's incision.
Nasri's laughable understanding of what constitutes a defensive wall against Manchester United probably won't turn out to be mathematically crucial – United will win the league by a distance – but it could be the defining moment of the season.
Nikica Jelavic, Everton
Jelavic was a revelation following his arrival last January, scoring 11 in 13 games. This season, his form has been worrying – sometimes he gets into good positions but misses chances, at other times he barely offers any threat whatsoever. David Moyes has voiced his concern, and his January pursuit of Sevilla striker Alvaro Negredo was a recognition that Everton desperately need a reliable source of goals.

Maybe the Croatian is simply too predictable – a large proportion of his goals came from one-touch finishes following sudden dashes towards the near post, and opponents have worked this out.
Fernando Torres, Chelsea
Is Torres still underperforming? Or is this simply his level? Torres hasn't reached double figures in the league since 2009/10, Rafael Benitez's final season at Liverpool. Since then, he's struggled for form and fitness, and his initial run of form following Benitez's arrival at Chelsea (a goals record inflated by the poor calibre of opposition) has come to a grinding halt.
Torres has been so bad, for so long, that you sometimes lose track of how terrible his current record is – but one goal in his last 15 appearances provides the answer.
Bacary Sagna, Arsenal
Sagna was a fine example of Arsene Wenger's talent for plucking obscure players from abroad and turning them into consistent performers – the right-back was a steady right-back for midtable Auxerre and yet to make his full international debut, but overtook Emmanuel Eboue to become an Arsenal regular. In 2010/11 he was arguably the best right-back in the league, but he's failed to recover from his injury problems last season.
Guilty for both Arsenal goals in their 2-1 defeat to Chelsea earlier this year, Sagna won't be too disappointed to be missing Sunday's clash against Gareth Bale.
Emmanuel Adebayor, Tottenham
It's not that Adebayor has been dreadful, more that his record at Tottenham fits perfectly with the predictions of his harshest critics. When on loan at Spurs, and angling for a permanent contract, the Togo striker was 17 goals and 11 assists in 33 league games. Since his transfer was completed, it's been two goals and no assists in 16.
Even his most important goal, away at Arsenal, was ruined with a red card for a ridiculous tackle eight minutes later. Adebayor has a habit of scoring against Arsenal, as Arsene Wenger noted follow that performance – he'll get another chance to wind up their fans this weekend.
Fabricio Coloccini, Newcastle
A couple of months ago, statistics website WhoScored.com revealed that Coloccini had the worst aerial success rate for any Premier League centre-back this season – a surprising revelation. The personal problems that prompted Newcastle's captain to request a transfer shouldn't be ignored, of course, but they seem to be affecting his performance on the pitch.
As well as the aerial weakness, his positional play has been poor – witness his odd positioning for Bale's second goal in Newcastle's 2-1 defeat at Tottenham earlier this month. Coloccini was alongside Vincent Kompany in last year's PFA Team of the Year – he won't be elected for a second consecutive season.
Matt Jarvis, West Ham
Jarvis is hardly the most celebrated player on this list, but the winger is both an England international and West Ham's record signing –the transfer fee for his move from Wolves was undisclosed, but was estimated to cost £7.5m initially, rising to over £10m with add-ons. For that sum, Jarvis has contributed just one goal – a far post, headed opener against QPR in October – and not a single assist.
There's been a stream of crosses – 161, in total – yet not a single one has been converted by West Ham's strikers. Jarvis is to 2012/13 what Stewart Downing was to 2011/12 – Andy Carroll, unfortunately, appears to be the common denominator…
Charlie Adam, Stoke City
First he was the key man in Blackpool's successful promotion bid, then he was one of seven nominees for the PFA Player of the Year in his debut Premier League campaign, then he was Liverpool's new deep-lying playmaker. Now, Adam's on the periphery of a Stoke City side that haven't found the right role for him – when high up he's not involved in play, but when deployed deeper, his weakness without the ball is obvious.
He's contributed just two goals and no assists this season – and amazingly, for a player once described by Sir Alex Ferguson as worth £10m for his corners alone – doesn't take all the set-pieces. From 17 starts, he's been substituted 15 times.
Fabio Borini, Liverpool
Granted, injury has been the primary cause of Borini's woes – a broken foot caused him to miss four months, now a shoulder injury might keep him out for the rest of the campaign. But from his nine Premier League appearances, Borini has yet to impress – his off-the-ball movement is very good, his contributions in possession have been terrible.
Before this season Borini appeared a key player for Brendan Rodgers – having worked together before, Borini was the perfect man to implement Rodgers' methods naturally. Now, Liverpool have learnt Rodgers' style without the Italian, and the arrivals of Daniel Sturridge and Coutinho have caused him to drop further down the pecking order.
Jose Bosingwa, QPR
Less than a year ago, Jose Bosingwa was playing a crucial role in a European Cup victory – he played as an emergency centre-back in Chelsea's miraculous performance at the Nou Camp following John Terry's dismissal, then played his usual right-back role in the final, stopping Franck Ribery. Released by Chelsea as part of their supposed revolution under Roberto Di Matteo, Bosingwa has frequently been dreadful at QPR – defensively sloppy, and unreliable with his crossing.
"He felt he was too good to be on the bench," Harry Redknapp complained following the QPR's win over Fulham. "I've fined him two weeks' wages, which is £130,000, which isn't bad for two weeks work is it? How do I handle a player like that? Maybe he'll find out in January." Nevertheless, the former Portuguese international was back in the side for the defeat to Manchester United last weekend, summing up how desperate QPR have become.
November 6th, 2018 by Simon A