United benefit from admirable disciplinary record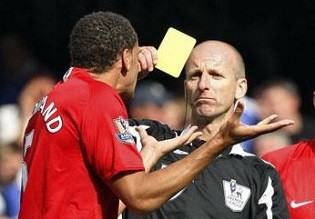 When we look back upon the 2012/13 season in years to come, we'll hardly consider the lack of bookings as a vital part of Manchester United's title success – but a small, interesting part of their campaign has been their admirable disciplinary record. In the past couple of years, Sir Alex Ferguson has been in trouble with the FA more frequently than any of his players.
Along with Southampton and Sunderland, United are one of only three clubs not to have suffered from a red card this season – in fact, the last Manchester United player to be sent off in the Premier League was almost 18 months ago, when Jonny Evans was shown a red card for hauling down Mario Balotelli in the Manchester derby. United were only 1-0 down at that point, and went onto be thrashed 6-1 after pushing men forward and leaving their depleted defence exposed on the counter-attack. If they need it, that was a perfect lesson in keeping eleven men on the pitch.

Of course, poor discipline also costs a manager the services of his players for future matches. This is another thing United have avoided – no player has been suspended following retrospective action from the Football Association, and only once this season has Ferguson been without one of his players because of yellow card accumulation. Somewhat inevitably, that was Paul Scholes – who managed to collect his fifth booking of the season in the 3-1 win over QPR in November, having played just 556 minutes until that point. Even that suspension was barely a problem – United's subsequent league game was at home to West Ham just four days later, and Scholes wouldn't have started two games in such quick succession anyway.
Strangely, United have actually picked up a fair number of yellow cards across the league season: 47 in total. QPR are the same, while eight other clubs have collected fewer. United's 'trick', in not picking up suspensions, is the way the bookings have been distributed relatively evenly across the side.
In fact, United's centre-forwards have a surprising tendency to be cautioned. Wayne Rooney collected his seventh yellow of the league campaign against Manchester City on Monday night, while Robin van Persie has been booked five times. United don't press non-stop from the front like Barcelona a couple of years ago, or Bayern this season – but the forwards contribute without the ball, and United's four forwards have been booked 14 times in total, only one less than the 15 yellows the eight defenders have been shown.
Amazingly, no Manchester United centre-back has been cautioned more than twice all season – partly because of Ferguson's rotation in that position, but also because it's rare to see United's defenders diving into tackles – Rafael, with five bookings, is an exception. Rio Ferdinand, for example, has only committed seven fouls in 23 Premier League games, and has only been booked nine times in the last five league seasons. The disciplined work of Michael Carrick in the holding midfield position is crucial – his excellent positional sense means centre-backs rarely have to follow centre-forwards into deeper zones, where they run the risk of being turned, and been tempted into rash fouls.
This weekend, United are away at Stoke City, where Tony Pulis' side have the worst disciplinary record in the league, with 64 yellows and three reds in 2012/13. They also commit more fouls than any other team in the top division, while both Robert Huth and Andy Wilkinson have been retrospectively been banned for three matches after being charged with violent conduct.
With these statistics in mind, it's worth venturing into the disciplinary markets ahead of Sunday's televised clash. Backing Stoke in Bookings Match Bet is an obvious option, but considering United have benefited from four opposition players being sent off this season, I like the look of a Stoke player being shown a red card, available at 31/4 on YouWin.
November 6th, 2018 by Simon A