5 Reasons for Atletico's Success
Atletico Madrid recorded an incredible title victory by overthrowing Barcelona to win La Liga on Saturday, and this weekend they're attempting to upset Real Madrid in the European Cup final too.
Here are five reasons Diego Simeone's side have proved so effective this season.

The work rate of the forwards
The defensive roles performed by Diego Costa and David Villa are almost unprecedented. Whereas other sides tell their forwards to harry the opposition defence when they don't have possession, Costa and Villa do something different – they drop back, goalside of the opposition holding midfielder, and make Atletico extremely compact.
They pressure the man with the ball, but it's really about minimising the space their teammates have to cover. Central midfielders Tiago and Gabi therefore don't have to push up to close down midfielders, and can focus upon keeping it tight in the central zone, denying opposition playmakers space to work in. They can move across the pitch laterally if required, but they don't leave their defence unguarded.
Narrow defending
Miranda and Diego Godin are both excellent centre-backs, but the key to Atletico's defensive play is the role of the full-backs. Although Juanfran and Filipe Luis are both good on the ball – with Juanfran's runs past Eden Hazard the major reason Atletico qualified from their semi-final against Chelsea – they also get back into extremely deep, narrow defensive positions. They almost appear like third and fourth centre-backs at times, with Atletico conceding space out on the flanks.
This invites crosses, but Atletico are dominant in the air and therefore entirely happy battling in this manner. This will be particularly interesting this weekend against Real, considering Gareth Bale and Cristiano Ronaldo like cutting into the centre of the pitch before shooting – they might find the centre simply too congested.
Lightning transitions
There's no such thing as an Atletico clearance – it's the start of an attack. As soon as they win possession, often by surrounding the man in possession with two or three players, they break forward quickly, directly and in great numbers too. Particularly adept in this respect are the wide midfielders Koke and Arda Turan, who are naturally creative but also very energetic and adept at winning possession in the first place – they make brilliant, quick decisions to transfer the ball into attack immediately.
The deep positioning of Costa and Villa also helps – they don't receive the ball with their back to goal, moving away from the centre-backs, but instead on the run, breaking into space and taking on the centre-backs at great speed. Real will attempt to foul Atletico cynically, breaking up attacks quickly.
Set-piece ability
Major finals are often decided by set-pieces – indeed, last weekend's league match at the Camp Nou was effectively a final, with Godin's header from a corner clinching the league title. It's not simply that Atletico are tall, strong and powerful in the air, it's that they evidently spend lots of time on the training ground, working on moves.
There are two particularly favoured routines. One is a clever, around-the-wall passing move from a close-range, central free-kick. It's the type of move perfected by Argentina and Javier Zanetti with his famous goal against England in the 1998 World Cup, and it's no coincidence that Simeone, Atletico's coach, was a part of that Argentine side.
The other is when Atletico have a free-kick further out, in a slightly wide position, where the opposition expect Atletico to drift the ball towards a crowd of players at the far post. Instead, they switch the free-kick towards the near post, and get a tall player – often Raul Garcia – isolated against one opponent, and he flicks the ball on towards the larger group of players. Attention to detail in this respect makes Atletico extremely effective.
Bucking the trend
Atletico have proved so successful, particularly in Spain, because they're unlike every other big side. Barcelona have long depended upon possession play, while Real Madrid are excellent on the counter but also boast great technicians in midfield.
Atletico are completely different. They don't seek to dominate possession – they won the league averaging less than 50% of the ball – and are instead about tenacity, defensive organisation and sudden transitions. They topped the tackling charts in La Liga, something you usually associate with scrappy bottom-half sides.
Teams are still trying to work Atletico out – it remains difficult to identity a clear weakness in Simeone's side. While others tried to overthrow Barca by copying their style of play, Atletico did so by fighting against it – on the pitch, they did so quite literally.
May 21st, 2014 by Michael Cox
Videos
More videos »
Kev Lard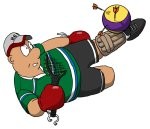 Kev Lard - Comic Strip
Click here to see Kev »