Why the Europeans are struggling at Brazil 2014
When numerous high-profile teams are eliminated from the World Cup early, we tend to concentrate upon the raw, isolated failure of these sides. Poor tactics? Tiredness at the end of a long season? Simply not enough quality?
Sometimes this is natural, logical, and finds the root cause. The 2002 World Cup, for example, saw various big sides toppled in the group stage, including the two pre-tournament favourites, France and Argentina. Both sides looked utterly exhausted. At this point, there was such a strong feeling that footballers were playing too much, for example, that UEFA scrapped the European Cup's second group stage, in favour of a straight knockout format after Christmas. In hindsight, this feels incredible – UEFA agreeing to cope without four games, and therefore eight matchdays' of Europe-wide television viewing.
In 2002, those who profited at the big sides' expense were nothing special. South Korea relied upon fortunate referring decisions to make the semi-finals, Turkey reached the same stage despite being decidedly average. USA were decent but nothing more. In truth, it was more about big names flopping than the fringe sides excelling, and the raw quality in the latter stages was the weakest in recent memory.
This time around, the situation is very different. The defeated sides have been underwhelming, but they're clearly not terrible, and is it primarily about fatigue? England and Italy were two of the early fallers, for example, but their meeting in Manaus produced plenty of good football from both sides. Spain, similarly, might be past their best – but they're clearly still an outrageously talented group of players who will return to brilliance soon, while the likes of Croatia and Bosnia have plenty of top-class performers, but were unable to fight their way past others.
There are two major factors for the underachievement of top European sides. The first is the simple fact that the tournament is being played in South America – home advantage is always considered important in World Cups, but it's been so long since there was a South American World Cup, that it was difficult to judge quite how much this would affect European teams.
Traditionally, the World Cup is all about European and South American sides. No-one else has triumphed in the history of this competition, and if you consider the World Cup a duopoly, it's not since 1978 that there has been a proper 'away' World Cup for the European teams. 1982 (Spain), 1990 (Italy), 1998 (France) and 2006 (Germany) have been 'home' World Cups for European sides. 1986 (Mexico), 1994 (USA), 2002 (Japan and South Korea) and 2010 (South Africa) have been, as far as this duopoly is concerned, 'neutral' – although you could make a case for Mexico and USA favouring the South American sides, with Argentina and Brazil triumphing respectively.
The climate has clearly played a huge role – the humidity as much as the heat – but it's also worth considering the impact of supporters, too. The South American sides have been roared on with incredible intensity, perhaps most obvious in the singing of the national anthems, which has surely created a difficult environment for the European teams.
An equally big factor, however, is simply that the lesser teams are extremely well-organised and disciplined. Italy and England came up against a well-drilled, resolute Costa Rica side who are both cohesive and tactically flexible. Spain weren't able to cope with Chile's relentless pressing high up the pitch, while Croatia had problems against Mexico's wing-backs, and Bosnia weren't good at stopping Nigeria's counter-attacking into wide areas.
There are, put simply, lots of good sides at this World Cup. The likes of Chile and Colombia have a decent chance of winning, which feels natural having looked at the bookmakers' favourites for the tournament repeatedly over the last two months – but sometimes you have to stop and think, "Chile? Colombia? These countries often struggle to qualify." The overall quality at the World Cup is very high, with CONCACAF sides excelling, in particular.
It remains to be seen whether the poor European performance continues. In 2010, only three European teams made the quarter-finals, and yet they eventually finished first, second and third.
The draw has been unfortunate for the South Americans, with the winner of Brazil against Chile facing the winner of Colombia against Uruguay in the quarter-final. That means four will become one, with Argentina all alone in the other half of the draw. At most, there will be two South American semi-finalists – which means there's a good chance of two European semi-finalists too.
Time will tell what we're experiencing, whether this is simply the European sides underperforming in South America, or the start of the true globalisation of the World Cup. Either way – in stark contrast to the terrible 2002 edition – the European superpowers' struggles have contributed to the freshness and excitement of the tournament.
June 26th, 2014 by Michael Cox
Videos
More videos »
Kev Lard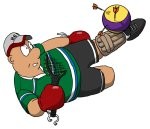 Kev Lard - Comic Strip
Click here to see Kev »