February Sporting Preview : Finally, It's Brook v Khan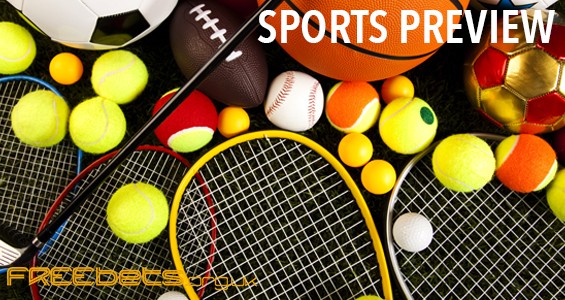 February is here and we have non-stop sporting action throughout the month. The Super Bowl champions will be crowned and we'll finally see Kell Brook take on Amir Khan. As for football, the month begins with the AFCON final and then there's the return of all the top European competitions. February ends with the EFL Cup final at Wembley as Chelsea take on Liverpool.
Rams out to win the Super Bowl
February 13 sees Super Bowl XLI take place at the SoFi Stadium. For the second year in a row, one of the teams playing in the Super Bowl are on home territory. LA Rams play at the SoFi Stadium so will be in very familiar surroundings. They take on the Cincinnati Bengals in a Super Bowl that few predicted. The Rams won the NFC West with a 12-5 regular season record. That made them the fourth seeds for the play-offs behind Green Bay, Tampa Bay (the reigning Super Bowl champions) and the Dallas Cowboys.
The Rams comfortably beat the Arizona Cardinals at home in the Wild Card round. That saw them on their travels to take on the second seeded Tampa Bay Buccaneers in the divisional play-off and they beat the 2021 winners 30-27. That left us with an unlikely NFC Championship match against the sixth seeded San Francisco 49ers, fresh from knocking out the number one seeds Green Bay. With home advantage again, the Rams won 20-17. This is their second Super Bowl appearance in four years. 2018 saw them beaten 13-3 by the New England Patriots. They'll certainly be looking to score more than three points this time around.
Cincinnati have had to wait since the 1980s to play in their third Super Bowl. It was in 1989 that they narrowly lost to San Francisco and they've been waiting for another chance to win their first Super Bowl for over 30 years. The Bengals won the AFC North with a 10-7 season record. They won three of their last four games to win that divison, though they owe a lot to the collapse of early leaders the Baltimore Ravens who went from 8-3 to end on 8-9 with five of those losses being by a margin of three points or under, though they did lose by 20 points to Cincinnati and only by one to the Rams.
Winning their division made the Bengals the fourth seeds for the play-offs. The Wild Card round saw them beat the Las Vegas Raiders 26-19. That took them into the divisional play-offs and they caused a big shock winning 19-16 at the top seeded Tennessee Titans. The AFC Championship match saw them up against the Kansas City Chiefs and again they were the underdogs. Another shock result saw them win another away game. They trailed by 11 points at half-time, got back level with an 11-0 third quarter and the game ended up going to overtime with the Bengals getting the win.
Now they have another away game against the Rams. The home side are owned by Stan Kroenke whose company also owns Arsenal. Whether their fans will be cheering the Rams on is debatable. Matthew Stafford will be a key player here and the Rams quarterback can help his team become the Super Bowl champions.
Tough Task for United
The Champions League makes its return this month. We're at the last 16 stage (the other two tournaments are at the play-off stage of the knockout rounds) and after a couple of attempts at the draw, Manchester United take on Spanish champions Atletico Madrid. United play the first leg away in Madrid on February 23 with the return leg at Old Trafford on March 15.
United had a few problems in the group stages and continually went behind in games. They are unbeaten on their travels in the Champions League this season and will hope to come back from Spain with a good result. You can never quite tell what Manchester United are going to do next. A top four finish in the Premier League will need more consistency but they are unbeaten in their last five Champions League games.
Atletico Madrid only won two of their six group games and lost three but still finished second. They were 11 points behind group winners Liverpool. Atletico earned seven points in their group and six of them came from away fixtures. Just one point from three home matches must give United some hope of success in this tie. So does the fact that at the time of writing this preview, they'd lost five of their last nine league and cup games and are 14 points behind leaders Real Madrid. United have the second leg at home, though so did Liverpool a while back and lost to Atletico. United will hope to avoid that and at least come back from Spain with the scores level.
Brook to finally beat Khan
The long awaied bout between Kell Brook and Amir Khan finally takes place this month. The pair meet at the Manchester Arena on February 19. Will it happen? There's still time for one of them to pull out of the fight that's been talked about for years.
Both boxers are former world champions and they are also past their best. Khan is the only one of the two with a top 15 ranking. The WBC have him at number 14, that's seven places below Conor Benn, who may well face the winner of this bout later in 2022. Considering the fact that Khan hasn't fought since 2019 it's a mystery how he is ranked 14th in the world, then again few world ranking lists make sense.
Khan last fought against Billy Dib in Saudi Arabia, stopping him in four rounds. Three months prior to that bout, Khan lost a world title fight against Terence Crawford in six rounds.
Brook hasn't fought since 2020 when only lasting four rounds in a challenge to Terence Crawford for the WBO Welterweight title.That's two rounds less than Khan lasted. He's only had two fights since 2018 and it's six years since he held a world title belt. This isn't an easy fight to predict with both boxers having a lot of inactivity. Khan's jaw can't really be trusted and Brook has had eye problems in the past. Brook wants this win on his record before he retires and he's tipped to win this fight.
Get odds of 8/13 on Kell Brook beating Amir Khan with BetVictor
PLEASE NOTE: This article expired on 28th February 2022 and is now for reference only.
Any odds quoted are at time of writing and will need to be checked by you on visiting the bookmaker's website.
18+. Terms & Conditions Apply. Please Gamble Responsibly.
Liverpool Bid for Record EFL Cup Win
For the past four seasons, this trophy has been won by Manchester City. Their attempt to win it for a fifth year in a row ended in defeat at West Ham United. City share the record of EFL Cup wins with eight to date. Liverpool have also won this competition eight times and now bid for a record ninth triumph. They last lifted the EFL Cup in 2012 and have only been in one final before getting to Wembley this season. It's their 13th final, will that number be lucky for them?
After wins over Norwich City and Preston North End, it looked as if Liverpool would be exiting the competition in the quarter finals. They went 2-0 down at home to Leicester City within 13 minutes and were 3-1 down at half-time. Liverpool fought back and a 95th minute goal from Takumi Minamino took the game to a penalty shoot-out that Liverpool won 5-4. That late strike was the fourth goal Minamino had scored in three games in this competition this season. The semi-finals saw Liverpool held at home in the first leg 0-0 by Arsenal but two goals from Diogo Jota saw Liverpool reach Wembley.
Chelsea have won the EFL Cup five times, the last win being in 2015 when beating Tottenham 2-0. They defeated that team in the semi-finals to reach their first final since 2019. The third round saw them need a penalty shoot out to get past Aston Villa after being held to a 1-1 home draw. It was the same story in the fourth round with a 1-1 home draw against Southampton (again taking the lead) and a penalty shootout win.
The quarter finals saw Chelsea drawn away at Brentford. It took them until the 80th minute to break the deadlock and that was by a Jansson own goal. A Jorghino penalty five minutes later took them into the semi-final against Tottenham. They won the home leg 2-0 (another own goal) and then won the second leg 1-0 to win the tie 3-0. Chelsea have reached the final without having to leave London once.
This is a repeat of the 2005 final that Chelsea won 3-2 at the Millennium Stadium in Cardiff after conceding a goal in the first minute. Liverpool will have Salah and Mane back and they can be fancied to lift the EFL Cup.